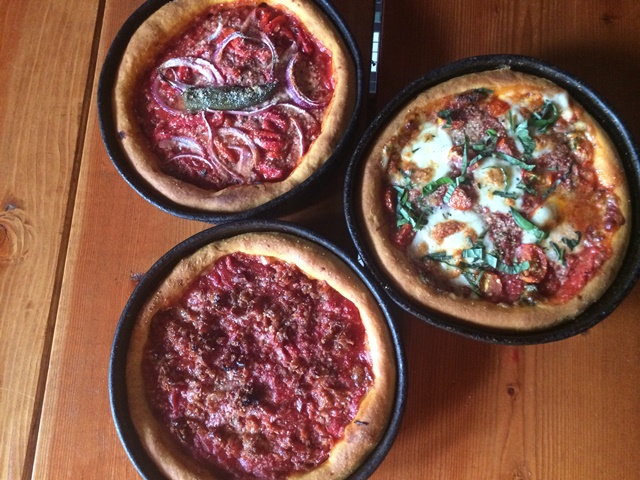 Deep-dish lovers have plenty of celebrating to do as Gino's East opened in Phoenix last month. Gino's East has been a Chicago favorite since 1966, with locations that now span the United States. The just-opened Phoenix outpost marks the restaurant's first Arizona locale.
The atmosphere is warm and family-friendly, with Chicago memorabilia decking the walls, large TV's playing the big game and large, oversized booths that beg diners to get comfortable and enjoy the delicious ride. (The deep-dish 'za can take up to an hour to cook so you'll definitely want to be cozy.)
On a recent tasting event prior to opening, we started with the homemade spinach sticks, which are similar to mozzarella sticks but with plenty of green to take out some (some!) of the guilt. The sticks are hearty and filling, but also have that ooey gooey factor that everyone loves and expects when it comes to mozzarella sticks. For a lighter app that is served cold, the eggplant burrata bowl is the perfect dish to kick off a super-decadent meal of deep-dish pizza. The caponata with flavor-packed and refreshing, paired with heaps of burrata and crisp crostini.
If you're not in the mood for pizza–or you are just super hungry–dig into the buffalo chicken mac and cheese. Large slices of breaded chicken are dredged in spicy buffalo sauce and top a sizable helping of creamy, dreamy mac and cheese.
Though there is plenty of goodness to fill the Gino's East menu, it is no secret that the start of the show is the deep-dish 'za. (There are thin-crust options available, too.) As mentioned above, all diners are warned that the deep-dish options can take up to an hour to cook, but it is well worth the wait. (Plus, there is a long list of appetizers, pasta and sandwiches to enjoy while you watch the clock.)
There is a selection of designated pizzas, like the Meaty Legend (which is packed with meat, naturally) and the spicy Chicago Fire, but we opted to craft our own with sausage, pepperoni, artichoke and basil from a long list of ingredient options. Though each hot, cheesy bite was delicious, the crust at Gino's East will ensure you are never happy with your usual delivery-brand-variety again. Made with cornmeal, the crust is toothsome and gritty (in a good way) and could be a meal itself when dunked in a little marinara sauce.
Though our attempt at dessert was futile after appetizers and pizza, we admired papers cones overflowing with golden cinnamon sugar beignet balls that filled with dining area. Next time, Gino's East. Next time.