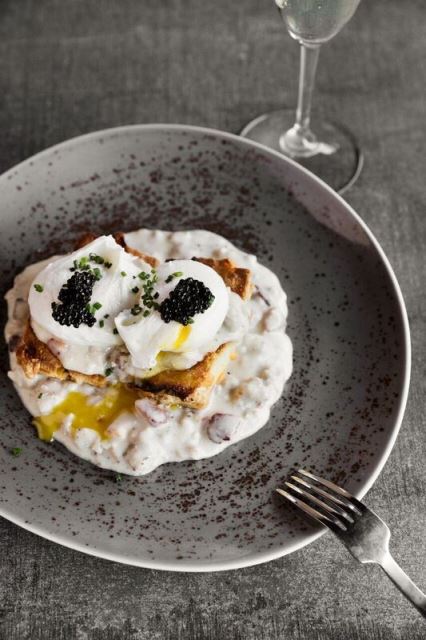 Tanzy Restaurant at Scottsdale Quarter recently released its new weekend brunch menu. From 11 a.m. to 3 p.m. Saturdays and Sundays, guests can order dishes like slow-poached egg + short ribs, custom order omelets, arugula and endive salad, and a crispy chicken waffle sandwich with spicy bacon maple syrup, among a number of other delectable items.
The latest menu features the "Brunch Box," where for $20, guests can choose one entrée and one drink from the brunch menu list (includes coffee, classic morning cocktails like Bloody Marys and mimosas, plus more). For an extra $10, you can add on three more drinks.
Tanzy, located on the upper floor of the North Scottsdale shopping district, has an air of relaxation and sophistication. Soaring high ceilings, tall doors and massive windows evoke the feeling of stepping into a grand palace. Deep, dark wood and a contemporary design accentuate the laidback setting, with music that isn't overbearingly loud. It's probably one of the most enjoyable atmospheres for brunch because it truly allows for good conversation which, let's be honest, is half the experience of a mid-morning get-together.
We tried the brioche French toast with candied pecans, ricotta, bananas and mascarpone whipped cream, as well as the biscuits + gravy and the monkey bread babka. The mascarpone cream on the French toast had a slightly tart flavor that paired nicely with the sweetness of the rest of the dish, while the addition of bananas bathed in caramelized pecan sauce was reminiscent of Bananas Foster. The biscuits + gravy (pictured, buttermilk biscuits with country gravy and eggs, any style) was the perfect savory food to offset the sweets. We tried ours with scrambled eggs and a sprinkle of cheddar cheese.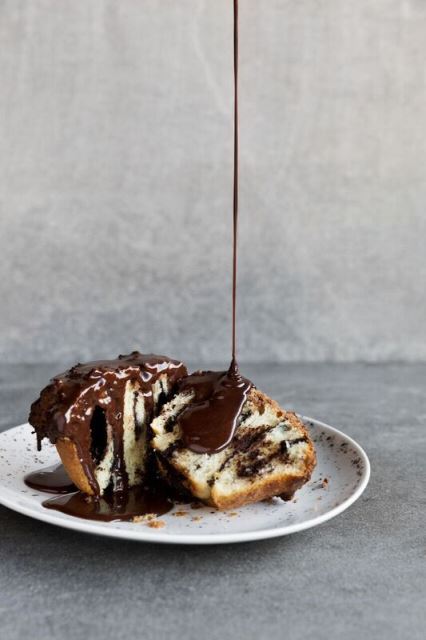 And speaking of sugar, the monkey bread babka (pictured), a side dish, was positively delicious. While entrée items must be ordered as part of the Brunch Box, guests are free to individually add as many sides as they'd like for themselves or the table. Part of the allure of the monkey bread is the presentation: the server drizzles a boat of decadent chocolate sauce over the top upon bringing it to the table. This to-die-for treat is made up of swirling, twirling layers of fluffy yeast dough with chocolate, cinnamon and a crumbly streusel topping.
Of course brunch isn't complete without the drinks. A cup of house coffee with cream provided a smooth, robust flavor to ease into the day, while the mimosa was bright and sparkling with energy. In addition, we tried the house punch, an adult spin on the traditional party drink, made with blood orange/passion fruit/pomegranate juice mix, rum, lime juice, and El Corazon mix. Also cut with a splash of soda water to mellow it out, this beverage was slightly tart and citrusy.
With large, garage-style windows offering a gentle breeze and beautiful views of the Scottsdale Quarter below, Tanzy Restaurant makes for a wonderful brunch experience. –Alyssa DeMember