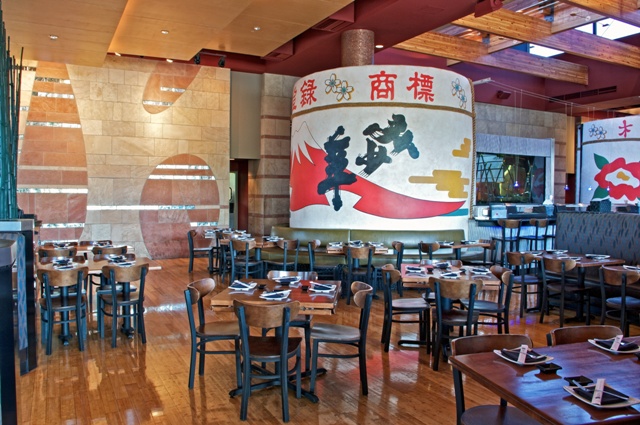 One of Scottsdale's sexiest restaurants now has a new look and menu. But don't worry–those iconic torches are still safe and sound. Nine-year-old Sapporo, located on Scottsdale Road near Thunderbird Road, was recently updated by architect Chris Smith of CMS Architecture and Design (his projects include Buddakan, Philadelphia and New York; Grayz, New York and OLA, Miami). Smith added Asian-inspired touches to the Pacific Rim-style restaurant, including a red torii gate that frames the stairs leading to the sushi bar (the traditional architectural element of Japanese Shinto shrines) and two sake barrels. The barrels and torii gate were designed by Silver Hill Atelier in New York.


Sapporo's menu centers in on teppanyaki (which guests can see created at the teppan table), inventive sushi and Pacific Rim-inspired eats. On a recent lunchtime trip to Sapporo, I had the chance to sample some of the restaurant's mid-day favorites. For starters, the Pad Thai tacos (you can pick either seared sea bass or hoisin barbecue pork) were a delicious way to kick off the meal. The tacos featured a tangy Sriracha remoulade, slaw and avocado, all served in a crispy rice paper shell. The satay trio of grilled filet, Pad Thai chicken and shrimp rolls were another tasty pick, with the shrimp rolls being my favorite of the three.


For the main event, Sapporo's tempura shrimp bowl was wonderfully warming, delicous and wallet-friendly. (The large bowl of tempura shrimp, egg noodles, shitake mushrooms and bok choy soy broth was only $10.) Be sure to ask for a spoon to sip up the yummy broth. When it came time for something sweet, I sunk my teeth into the bananas foster spring rolls. The bananas were snug in a crispy spring roll wrapper and coated with cinnamon sugar–a delightful ending. 14344 N. Scottsdale Rd., Scottsdale, 480.607.1114. www.sapporoscottsdale.com.