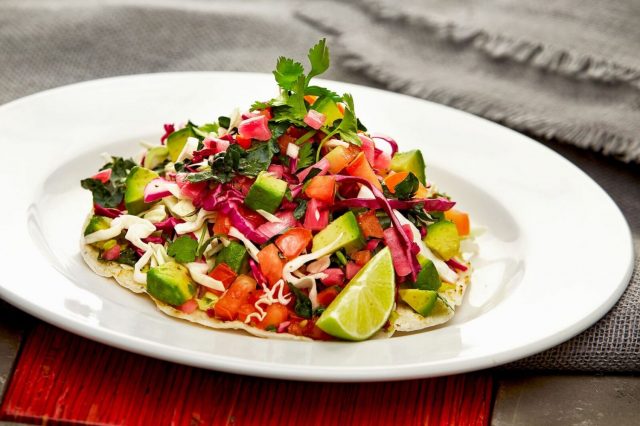 As we crave more healthful, lighter dishes come summertime, Pita Jungle has introduced a delicious new superfood seasonal menu with nutrition-packed eats that won't weigh you down. Here are our favorites.
Avocado Hummus Tostada (pictured above): This picturesque dish features a baked corn tortilla topped with avocado hummus, Tuscan kale and cabbage slaw, avocado, pickled onions, garlic, pico de gallo, jungle damage green sriracha and cumin-yogurt sauce. It offers a spicy punch courtesy of the sriracha and a mouthwatering medley of textures, thanks to the creamy hummus and crunchy baked tortilla.
Crouching Kale & Hidden Berry Bowl (pictured below): This dish simply screams "summer." It comprises Tuscan kale, blueberry, pomegranate seeds, carrots, fresh jalapeno, white and red cabbage, red bell peppers, garlic, ginger, fresh mint, toasted almonds and a Thai tahini dressing. The blueberries, pomegranate seeds and mint make this dish bright and refreshing, while the jalapeno adds a little kick and the almonds provide a crunchy finish. This would be delicious alongside a salmon add-on.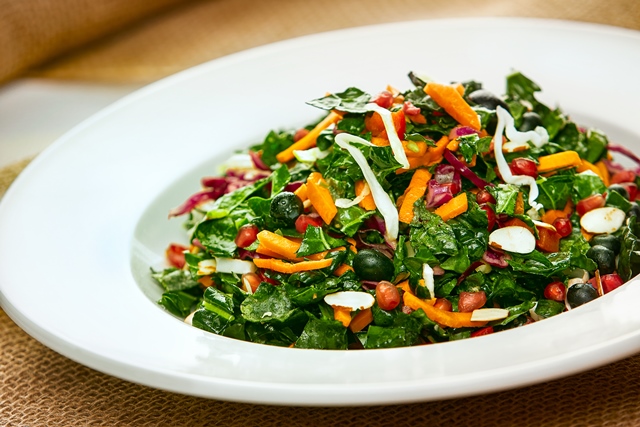 Avocado & Garbanzo Southwest Bowl: The heartiest of the new superfood dishes, this bowl is chock-full of avocado, chickpeas, red quinoa, Roma tomatoes, Persian cucumbers, celery, roasted jalapenos, organic blue corn chips, pickled onions, fresh mint, parsley, minced garlic, pumpkin seeds, cumin and herb-honey-apple-cider vinaigrette. The unique vinaigrette provided a surprising but subtle sweetness to this dish. And though the celery seemed like an unexpected addition to a Southwest bowl, it added a welcomed crunch to each bite. Add chicken to up the protein factor even more.
Gingered Roasted Sweet Potatoes: One of three new superfood sides, the gingered roasted sweet potatoes aren't much to look at, but a lot of flavor and a delicious fragrance is packed on each little orange cube.
Brownie Ice Cream Sandwich: For dessert, you can't go wrong with this gluten-free brownie that sandwiches a large serving of vanilla ice cream–especially if you have kids in tow. The brownie is thin and slightly crispy (reminded us of the edge piece that everyone always clamors for).