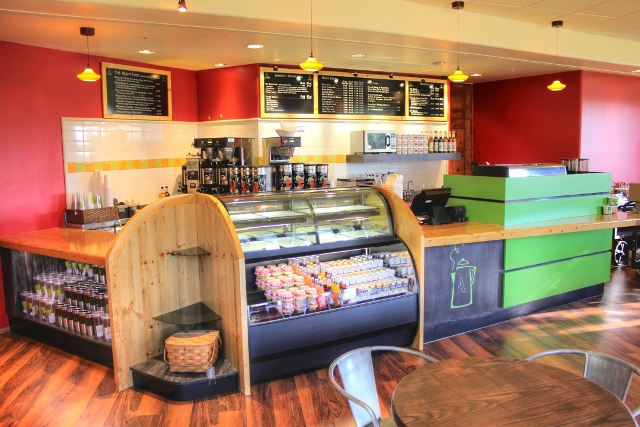 The Valley is brimming with excellent breakfast spots (think Overeasy and Matt's Big Breakfast to name few) but the addition of a new place to get divine pancakes and omelets is always welcome. Lucky for a.m. eaters, Grayhawk Golf Club in Scottsdle announced the opening of a new coffee shop and breakfast eatery, Morning Joint. "Many of our guests are looking for a breakfast option," says Brian Bevard, Director of Operations at Grayhawk Golf Club. "Like everything we do here at Grayhawk, we will serve great food with great service and try to have a little fun doing it. We think everyone needs some good MoJo to start the day."
Morning Joint (nicknamed MoJo) is now open daily from 6 a.m. to 1 p.m. in the clubhouse at Grayhawk Golf Club. The new Scottsdale-based breakfast restaurant offers 2,000 square feet of indoor/outdoor dining space while the menu features a variety of coffees both hot and iced, espresso drinks in a variety of flavors, drip coffee, teas (black and herbal), fruit smoothies, frappes, hot chocolate and soft drinks. There are even breakfast pastries for diners on the go (think muffins). If you have time for a delish, hot breakfast, MoJo dishes up both traditional and unique a.m. eats:
MoJo Burrito – scrambled eggs, Italian sausage, caramelized onions, roasted peppers and pickled fennel balsamic salsa
Pizza Frittata – pepperoni, sausage, basil, tomatoes and mozzarella cheese
Skinny Frittata – pesto, spinach, Portobello mushrooms, mozzarella cheese, artichokes and sundried tomatoes
Fried Egg Sandwich – potato bun, fried egg, red peppers, bacon, arugula and chipotle aioli
Breakfast Lasagna – shredded hash browns, tomato parmesan cheese sauce with poached or fried egg
For more information, visit http://grayhawkgolf.com/mojo_morning_joint/.