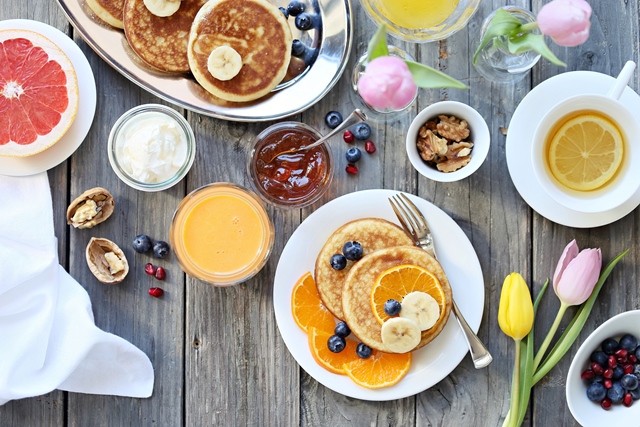 A recent study says that being a mom is the equivalent of working 2.5 full-time jobs. Yup. So treat your mama this coming Mother's Day (May 13), whether she's craving a decadent brunch or simply a free cup of coffee. Be sure to make reservations and check restaurant Web site's for pricing and full menus.
Sanctuary on Camelback Mountain Resort & Spa will celebrate Mom with two elaborate Mother's Day brunches on May 13. elements will serve a delightful Mother's Day three-course prrix-fixe menu prepared by Executive Chef Beau MacMillan, while The Views Ballroom, touting a wrap-around terrace and panoramic views of Mummy Mountain, will showcase an inspired Mother's Day buffet complete with action/carving stations and seasonal favorites.  The prix fixe brunch will be served from 10:30 a.m. to 2:30 p.m. and the buffet will be served from 10 a.m. to 2 p.m.
Treat Mom to breakfast classics, a selection of small bites and wood-fired meats, or stop by the raw bar for seafood complete with shrimp and sushi at Prado at Omni Scottsdale Resort & Spa at Montelucia from 9 a.m. to 2 p.m. When it's time for dessert, enjoy a plethora of Mother's Day-inspired creations which includes mini pastries and petit fours.
Spend Mother's Day at The Wigwam with two different and delicious brunch offerings: a buffet at Wigwam Ballroom from 9 a.m. to 2 p.m. or a four-course prix-fixe menu at the resort's signature Litchfield's restaurant. Also, stop by and enjoy dinner at Litchfield's with an à la carte menu from 4 to 8 p.m.
From 9 a.m. to 4 p.m., El Chorro honors mom with an incredible brunch menu with dishes like macadamia nut pancakes, lobster-and-shrimp-stuffed sole, slow-roasted leg of lamb, seared beef tenderloin, a variety of sweets and much more–plus, the restaurant's famous sticky buns, of course.
This Mother's Day, The Scottsdale Resort at McCormick Ranch, A Destination Hotel will offer a celebratory Champagne brunch. Brunch guests will enjoy live music, sparkling wine and mimosas, beautiful golf course views from the Vista Verde Dining room as well as a complimentary flower for every mother in attendance. Guests can indulge in a breakfast bar, made-to-order omelet and pasta stations, a salad bar, a carving station, a seafood bar and an array of sweet treats. The brunch is available 10 a.m. to 3 p.m.
Hosted from 5 to 10 p.m. on Sunday, May 13, J&G Steakhouse is the ultimate Mother's Day dining destination, combining a choose-your-own three-course feast with the Valley's most scenic dining room. Seasonal favorites include tender carrot soup with pea dumpling, yuzu and mint, and be sure to save room for housemade desserts such as ooey-gooey warm chocolate cake or fluffy, meringue-filled strawberry pavlova.
Enjoy a garden-party themed brunch in Talavera from 10 a.m. to 2 p.m. or treat Mom to a special dinner at Proof, an American Canteen this Mother's Day, from 7 a.m to 1 p.m. on Sunday, May 13, at Four Seasons Resort Scottsdale at Troon North.
Hearth '61 at Mountain Shadows hosts a decadent brunch on May 13 from 11 a.m. to 2:30 p.m. with a delightful spread, complete with an expansive selection of refreshing starters from the "cold buffet," indulgent main courses, a dessert table and much more.
Treat all the special ladies in your life to an Italian-accented Mother's Day feast at Fat Ox in Scottsdale. Pairing a gourmet European-style antipasto buffet and dessert bar with the ability to choose your own chef-crafted entrée, Fat Ox's Mother's Day Brunch will be served from 10 a.m. to 2 p.m. on Sunday, May 13.
Treat Mom to a brunch to remember and enjoy chef-manned food stations including: fresh raw bar full of seafood favorites, seasonal spring salads, pastas, and fresh fruit, cheese and charcuterie, made-to-order omelets, breakfast items, and a carving station at the Wrigley Mansion. Three seatings are available (10 a.m., 1230 p.m. and 3 p.m.)
LON's, at the Hermosa Inn, offers a three-course Mother's Day brunch, from 9 a.m. to 3 p.m., with a variety of starters, entrees and desserts. A cast-iron skillet of LON's famous fresh baked brioche "monkey bread" welcomes diners as they then choose between five appetizers, six entrees and three desserts.
Andaz Scottsdale Resort & Spa will be hosting a special brunch at Weft & Warp Art Bar + Kitchen from 10 a.m. to 2 p.m. The dining format will be buffet-style first course, choice of composed entrée, family-style entrée sides and buffet display of desserts. A "Mimosa Cart" will be going around the dining room and patio offering tableside "Build Your Own Mimosa Creations." The restaurant will also have a "why my mom is a superhero" art wall on the kitchen glass panels.
The Gladly is opening its doors from 10 a.m. to 2:30 p.m., Sunday, May 13, to deliver a delectable Mother's Day brunch menu, featuring Chef Bernie Kantak's inventive takes on traditional brunch classics alongside a few contemporary creations. Try Chilean crab cakes, baked French toast and other delights.
From 11 a.m. to 2 p.m., families can enjoy a brimming Mother's Day brunch with carving stations, desserts, assorted salads and pastries, and much more at We-Ko-Pa Resort & Conference Center.
BRIO is honoring moms all weekend long with a special brunch menu offered May 12 and 13 until 3 p.m. Dishes include shrimp and grits, surf and turf, berries and cream French toast and much more.
Sonata's Restaurant will be featuring a special Mother's Day brunch on Sunday, May 13m featuring live music, a complimentary "Mom-osa" for Moms, a brunch buffet featuring specialty menu items and more.
Roaring Fork honors Valley moms on Sunday, May 13, with a specialty Mother's Day Brunch from 10 a.m. to 2 p.m.  The buffet-style menu features a selection of breakfast items, signature side dishes, hearty entrees and tasty desserts.
The Boulders Resort & Spa invites guests to a special Champagne brunch on Sunday, May 13, from 10 a.m. to 2 p.m. featuring a grand seafood display, omeletes made to order, and an artisanal cheese station, a dessert station and much more.
Celebrate Mother's Day with the great tradition of a special Mother's Day brunch or dinner at Steak 44 or Dominick's Steakhouse. Mother's Day hours for both Steak 44 and Dominick's Steakhouse will be from 11 a.m. to 10 p.m., with the regular dinner menu available all day and the brunch menu available from 11 a.m. to 3 p.m.
Salty Sow celebrates Valley mothers with a specialty Mother's Day brunch from 9 a.m. to 2:30 p.m. The culinary team will feature an assortment of breakfast and lunch items like carved-to-order chorizo-stuffed pork belly, green chili pork and more.
From crab and eggs to blackened salmon salad, among other tasty eats, Ocean Prime offers a brunch dedicated to spoiling moms with sumptuous seafood.
Treat Mom to all of her favorites at Artizen Crafted American Kitchen & Bar at The Camby this Mother's Day. On May 13 from 11 a.m. to 3 p.m.,  live acoustic music courtesy of Tyler Matock will be accompanied by family photos and a sweet and savory brunch crafted by Executive Chef Dushyant.
Market Street Kitchen is offering exclusive menu items and special prices on menu favorites, including the smoked salmon benny, lobster tail and other decadent dishes, all in honor of Mom.
TRES Tempe offers a special holiday brunch from 11 a.m. to 3 p.m. with chicken tinga tacos, salmon wellington and more–plus, Mama receives a special treat.
On Sunday, May 13, moms who dine at TEXAZ Grill will receive a slice of fresh-baked apple pie and a scoop of ice cream. Whether it's for a hearty Sunday brunch or a celebratory dinner, pie will be served all day. Proof of motherhood is required.
From brunchtime to dinner, Zappone's Italian Bistro is offering specials to celebrate Mom, including mascarpone French toast, truffle chips, crab cakes and much more.
The all-day special (Tagiolini Mare e Monte) will be served from 12 to 3 p.m. at Marcellino Ristorante, while dinner is served from 4 to 9 p.m. Monte Procopio will showcase classic songs of the old masters and smash hits from contemporary crooners starting at 5:30 p.m. Plus, moms enjoy complimentary tiramisu.
From 11 a.m. to close on Sunday, May 13, Mom will enjoy a half-price salad, sandwiches or flatbreads at Sorso Wine Room.
Rusconi's American Kitchen honors moms with a special brunch that includes an array of starters, main courses and desserts, including lobster bisque, braised beef short ribs, steak and eggs and much more.
For flavorful Italian cuisine and an upscale, yet cozy atmosphere, look no further than EVO in Scottsdale. The menu features classics from lasagna and bruschetta to more exotic fare, and the restaurant features a happy hour that families can take advantage of from 4 to 7 p.m. on Mother's Day.
The Market Restaurant + Bar by Jennifer's celebrates Mother's Day with a special three-course feast with options like seafood risotto and eggs benedict quiche.
24 Carrots Natural Café and Urban Juicery offers the vegan and gluten-free specials for Mother's Day, like veggie quiche and loaded Chilaquiles.
The Cutting Board Bakery & Café hosts an ample brunch spread highlighting creative vegan dishes in celebration of Mother's Day. Try apple-sage biscuits and gravy, banana walnut pancakes and much more.
Ko'sin Restaurant is offering a memorable Mother's Day brunch buffet from 9 a.m. to 3 p.m. with delectable entrées, decadent desserts and breathtaking views of the Sierra Estrella Mountains.
This Mother's Day, Voila French Bistro hosts a prix fixe, three-course meal and includes coffee, tea, a selection of wines or mimosas. Voila will be serving brunch from 10 a.m. to 2 p.m. on Sunday. May 13.
Guests can treat Mom to a special meal on Mother's Day, Sunday, May 13, at Liberty Station American Tavern and Smokehouse with eats like pork chops and pan-seared cod for dinner (brunch is available too).
All Thai Chili 2 Go locations are honoring Mom with a free meal (with additional entrée purchase) all day on Sunday, May 13.
Perk Eatery in Scottsdale is highlighting specialty menu items in recognition of moms this Mother's Day, including huevos rancheros, wine country French toast, Napa Valley salad, a variety of cocktails and more.
Nook Downtown offers a special brunch menu in honor of moms this Mother's Day. The mid-morning meal offerings dedicated to mom have fun names like the Pick Up This Mess Omelet featuring three eggs, sausage, potatoes, caramelized onion, mushrooms and roasted peppers and the Peace and Quiet Berry Crepe with fresh berries and citrus mascarpone wrapped in warm crepes with vanilla whipped cream.
Match Restaurant & Lounge reveals a special brunch menu available exclusively on Sunday, May 13, with dishes like lobster benedict, herb-crusted lamb rack, grilled swordfish and more.
Midici, Neapolitan Pizza Company is treating these special ladies to a free margherita pizza with any other pizza purchase.
Enjoy a relaxing and family-friendly Mother's Day lunch and concert on the Mighty Wurlitzer at Organ Stop Pizza from 11:30 a.m. to 1 p.m. (doors open at 11:15 a.m.)
Press Coffee has two great offers for moms on Mother's Day: a free cup of drip coffee or half off a latte – any size. Press Coffee has seven locations in North Scottsdale, Chandler, Downtown Phoenix, Phoenix Biltmore, and Tempe.
Kneaders Bakery & Cafe is offering complimentary Chunky Cinnamon French Toast to all mothers on Saturday, May 12, since most locations are closed on Sundays. Breakfast is served from 7 to 11 a.m. (offer valid with additional entree purchase).
On Sunday, May 13, Thirsty Lion is giving all moms a free box of chocolate. Stop into to any of the three Valley locations in Tempe, Scottsdale and Gilbert to enjoy the new spring seasonal menu.
Uptown Alley Surprise is the perfect place to spend a casual afternoon with mom on Mother's Day. Enjoy bowling, laser tag and delicious food at Uptown Alley. With the purchase of an entrée at Red Embers Bar & Grill, mom will receive a free dessert.
There's two ways to celebrate on Sunday, May 13, at Royal Palms Resort and Spa. The T. Cook's brunch takes place 10:30 a.m. to 3 p.m. and includes a chilled starter buffet, choice of entrée and dessert buffet. The ballroom buffet–a full classic buffet–will be held from 9:30 a.m. to 2 p.m.
Wow Wow Lemonade in Scottsdale is offering free lemonade for moms all day on Sunday, May 13, with any purchase.
Dierks Bentley's Whiskey Row in Gilbert is celebrating Mother's Day with Mom Mosas. Bring your mom in to Whiskey Row Gilbert on Sunday, May 13 and get a bottle of Champagne and a carafe of orange juice for one penny with any purchase.
Moms who celebrate at Sushi Roku in Scottsdale will receive a red rose during her meal. The celebration is complete with 50 percent off all bottles of wine and Champagne – all night long. Additionally on Sundays, the restaurant runs happy hour from 2:30 p.m. to close, featuring a variety of $3 to $6 bites and drinks.
Carlson Creek Vineyard will be hosting a special Wine + Cake Tasting at its Scottsdale tasting room this Mother's Day from noon to 5 p.m. All moms can enjoy a glass of their favorite wine and a slice of one of three wine-infused cakes for $10 per tasting ($20 for all other guests). Regular wine tastings will also be available ($10 for a taste of five wines).
Pointe Hilton Tapatio Cliffs Resort has two delicious options for celebrating Mother's Day: a buffet-style brunch at Different Pointe of View with carving stations, a seafood bar and more from 10 a.m. to 4 p.m. or a cool, casual buffet brunch at Pointe in Tyme from 10 a.m. to 3 p.m.
Rico's American Grill at Pointe Hilton Squaw Peak Resort  hosts a buffet-style feast on made-to-order omelets and savory entrees from the oven, chilled salads and displays, bakery favorites, assorted sweets for dessert and much more. The brunch will be served from 10 a.m. to 3 p.m.
Take Mom to any Valley Famous Dave's on Mother's Day, and she'll get a $10 gift card to use for a future visit.
Sel Restaurant in Old Town Scottsdale will spoil moms with a special four-course (hello, Meyer lemon-cured Ora King salmon to grilled Creekstone Farm filet mignon) Mother's Day menu, plus a complimentary glass of sparkling wine and a dessert, on Sunday, May 13.
Celebrate Mother's Day on May 13 at Gertrude's at Desert Botanical Garden entrance. The restaurant is offering two seafood menu specials (crab cake and salmon en croute) to commemorate mothers starting at 10:30 a.m. until they are sold through.
This Mother's Day, toast to Mom with one of True Food Kitchen's Mom-osas: a pomegranate mimosa with prosecco, lime, pomegranate and antioxidant tea; an orange vanilla mimosa with prosecco, lime, vanilla and orange; and a non-alcoholic sparkling lavender lemonade with lemon, honey, lavender and sparkling water.
Over Mother's Day weekend (May 12 and May 13), Flower Child will offer a special strawberry mimosa for $7.50. Plus, moms with little ones need not worry about keeping the kids entertained as Flower Child will be providing Mother's Day-themed coloring sheets.
Alongside the regular menu, Doughbird will be offering a special prime rib for mom: the Mother's Day 8-oz. prime rib.
Little Cleo's Seafood Legend, normally closed on Sundays, will be opening its doors from 10 a.m. to 3 p.m. with a special brunch featuring $5 bubbly. The menu includes fresh shellfish and seafood and select brunch specials.
Treat your mom with a special meal at Culinary Dropout, opening early at 10 a.m. (to 10 p.m.) this Mother's Day. The menu will feature two brunch specials: asparagus toast, made with black truffle, crispy potatoes, mascarpone, Meyer lemon, and sunny-side-up eggs; and lobster benedict, with poached eggs, tavern ham, lobster hollandaise, breakfast potatoes and fresh herbs.
Zinburger is cooking up a Mother's Day special: The Brunch Burger, made with Wagyu beef patty, ham, fried egg and hollandaise sauce.
Two Brothers Tap House and Brewery invites Valley moms and family members to join them for an all-inclusive brunch (with cheesy egg scramble, tres leches French toast and much more) on May 13 from 10 a.m. to 2 p.m.
Scottsdale's Dorian, normally closed on Sundays, will be open on Mother's Day, May 13, offering their brunch menu from 11 a.m. to 3 p.m. The menu will feature an array of breakfast and lunch items including steak or salmon and eggs, eggs Benedict, lemon cakes pancakes, and more. Each entrée order will come with a complimentary glass of Champagne.
Moms eat free (free choice of any entrée, no purchase necessary) at Cold Beers & Cheeseburgers on Mother's Day.
At Famous 48, enjoy a special Mom's Day brunch and live music from 10 a.m. to 3 p.m.
Bourbon & Bones welcomes a special brunch menu in honor of the holiday from 11 a.m. to 3 p.m.
Treat Mom to a morning of relaxation and good taste with a three-course brunch at Crudo, featuring traditional brunch favorites, plus twists on traditional brunch dishes.  Plus, kids will have their choice of their own two-course menu.
Moms who stop by the just-opened Hotel Adeline for brunch will be offered a free mimosa or Bloody Mary.
RA Sushi is inviting guests to roll up their sleeves–and their dinner–alongside Mom in celebration of Mother's Day. The Mother's Day Sushi & Sake 101 class includes a memorable evening of food and fun  including a sushi-rolling lesson, meal and sake flight pairings. The event takes place at RA Sushi's five Phoenix area locations on Wednesday, May 9, at 8 p.m. The event price is $40 per person with sake and $35 without, and advance reservations are required through Eventbrite.