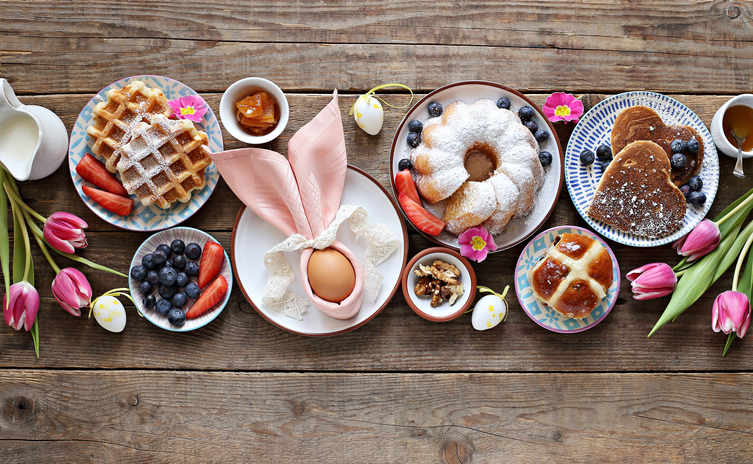 Easter Sunday is April 21, and we've rounded up the Valley's best brunches and other festive Easter eats. Make your reservations now (reservations are required in most instances)–hop to it!
MATCH Restaurant & Lounge is offering its delicious brunch menu from 10:30 a.m. to 3 p.m. on Easter Sunday (try the fresh spinach frittata, avocado toast, hearty breakfast burrito or a selection of salads, pizzas and sandwiches). Plus, the restaurant offers a sweet holiday special: red velvet pancakes with white chocolate syrup, whipped cream, white chocolate chips and berries.
Sanctuary on Camelback's elements restaurant dishes up a decadent three-course, prix-fixe Easter menu from Chef Beau MacMillan, with the likes of savory french toast, heirloom tomato panzanella, green chili pork stew, Moroccan-spiced lamb two ways, barbecue shrimp and grits, pineapple upside down bread pudding and much more on tap. Easter brunch is available 10:30 a.m. to 2 p.m.
The Scottsdale Resort at McCormick Ranch, A Destination Hotel dishes up brunch (with the likes of leg or lamb, glazed ham, a raw seafood bar and more) in the Vista Verde Dining Room from 10 a.m. to 3 p.m. Following the gourmet meal, guests are invited to enjoy an afternoon of family activities including a visit with the Easter bunny and entrance into the petting zoo in the resort's Bennie's Courtyard.
On Saturday, April 20, Omni Scottsdale Resort & Spa at Montelucia hosts its Easter Bunny Breakfast with a visit from the Easter Bunny, an egg hunt, cookie-decorating and a delish breakfast. Spend Easter Sunday at Prado for a traditional brunch with a Spanish twist. Feast on made-to-order items and savor live music and stunning Camelback Mountain views.
Fairmont Scottsdale Princess serves its famous Easter Brunch in the Palomino Ballroom from 9 a.m. to 3 p.m. In addition to tastes of all the Princess restaurants (think sushi from Toro and shortribs from Bourbon Steak), brunch guests enjoy complimentary access to all Easter activities including photo opportunities at the Mad Hadder Tea Party, with the Easter Bunny, Easter egg hunts, Bunnyland experience and Build A Bear Pop-Up Retail Shop.
Enjoy Easter brunch 1,800 feet above the Valley at Different Pointe of View at Pointe Hilton Tapatio Cliffs Resort in Phoenix. Easter brunch will be served from 10 a.m. to 4 p.m., with carving stations with slow-roasted aged prime rib and roasted lamb top rounds, savory entrees from the oven and a vibrant display of salads, seafood, and vegetable dishes and desserts.
A savory Easter buffet will be served at Pointe Hilton Squaw Peak Resort featuring made-to-order farm-fresh egg stations omelets, a variety of carving stations serving prime rib and honey baked ham, fresh salads and home-made desserts. Seating times include 10 a.m., 12 p.m. and 2 p.m. Or, on Saturday, April 20, enjoy cookie decorating, breakfast and photos with the bunny from 8 to 11 a.m. 
Hyatt Regency Scottsdale Resort & Spa's Easter Celebration features a brunch buffet in SWB from 10 a.m. to 4 p.m., live music, a "larger-than-life" Easter egg (home to a live bunny), a petting zoo and Mr. and Mrs. Cottontail as they host their 32nd annual Easter Egg Hunt (available to all resort guests and those joining for Easter brunch).
The Wrigley Mansion is set to host a delicious and decadent brunch fit for the whole family. The Easter Bunny will be on-hand to greet guests and pose for photos with children; kids can also participate in two Easter egg hunts at noon and 3 p.m. Guests may reserve their spot at one of two seatings (10 a.m. and 1 p.m.) and enjoy chef-manned food stations dishing up holiday favorites.
LON's at the Hermosa Inn offers a three-course Easter brunch, from 9 a.m. to 2:30 p.m., with a variety of starters, entrees and desserts. Plus, a cast-iron skillet of LON's famous fresh baked brioche monkey bread welcomes diners as they then choose between six appetizers, six entrees and three desserts.
Arizona Biltmore's Wright's at the Biltmore hosts an extravagant Easter brunch buffet from 9 a.m. to 2:30 p.m. while Frank & Albert's serves a lavish breakfast buffet featuring a Bloody Mary and mimosa bar from 7 a.m. to 1 p.m. Or, reserve your spot for Mad Hatter Tea, a festive twist on the time-honored tradition of afternoon tea, will seatings at 12 p.m., 1 p.m., and 2 p.m.. Join tea and enjoy teas, pastries, cakes and sandwiches. 
Andaz Scottsdale Resort & Bungalows serves a delectable brunch that will be served at signature restaurant Weft & Warp Art Bar + Kitchen from 11 a.m. to 3 p.m. Standout dishes include slow-roasted prime rib.
Mastro's Steakhouse hosts a Grand Buffet with fresh pastries and breads, sliced-to-order prime beef, made-to-order omelettes and waffles, a shellfish bar  and many other decadent eats from 9 a.m. to 2 p.m. Plus, the dessert bar will have individual servings of its adored warm butter cake!
Tempo Urban Bistro unveils a brunch buffet with three seatings throughout the day (10:30 a.m., noon, 1:30 p.m.) Expect eats like baked salmon, roasted citrus chicken, prime rib and much more. 
Ocean Prime hosts a special holiday brunch with smoked salmon, lobster toast, crab and eggs and many other surf and turf delicacies.
Easter guests have the opportunity to choose from a prix-fixe, plated brunch at the Royal Palms' signature restaurant, T. Cook's, or a traditional Easter buffet in an elegant ballroom setting. In addition, resort and brunch guests are also invited to the annual Easter egg hunt on Vernadero Lawn at 10 a.m. and 1 p.m., where they can search for the golden egg prize that includes a one-night stay.
Beckett's Table will host Easter dinner with service beginning at 4 p.m. Enjoy Chef Just Beckett's festive deviled eggs colored with saffron, beets and spinach, complete with "peas and carrots" garnish and other Easter dining specials.
Southern Rail will celebrate with an Easter brunch with Chef Beckett's beloved brunch items, like fried green tomato benedict and sweet potato hash. Plus, the weekly Jazz & Jambalaya Series will take place from 5 to 8 p.m. on Southern Rail's patio. Half-off bottles of Arizona wine will also be offered all day.
Indulge in a lavish gourmet brunch at Talavera from 10 a.m. to 2 p.m. or hop over to Proof, An American Canteen for a more casual celebration from 7 a.m. to 1 p.m. at Four Seasons Resort Scottsdale at Troon North. Stay for the resort's  Easter egg hunt at 10 a.m. and 1 p.m. The Easter Bunny will make special appearances throughout the day, and activities like face painting, balloon animal making, crafts and games will be open to resort and brunch guests.
The Boulders' Grill Kitchen & Bar will be offering a specialty Champagne brunch complete with live music, a visit from the Easter Bunny, a bacon station, a fry bread station, an omelet bar, desserts and more from 11 a.m. to 4 p.m.
The Market by Jennifer's is featuring a special brunch menu available from 9 a.m. to 3 p.m. Dishes include ricotta pancakes, chicken and biscuits, avocado toast and many more festive dishes.
From 6:30 a.m. to 2 p.m., the Original Breakfast House will feature crab omelet, lamb hash, shrimp and grits, steak and eyes and more for the holiday.
Easter brunch at Urban Margarita begins at 9:30 a.m. In addition to regular brunch menu dishes, the restaurant is featuring crab and lobster benedict, bananas foster French toast and much more.
Roaring Fork restaurant will be offering a specialty Easter brunch from 10 a.m. 2 p.m. The buffet-style menu offers a bread table, savory cold and hot item station, egg and meat carving tables as well as a tasty dessert station.  
The Valley Ho Easter Buffet in Sands offers a prime rib-carving station and a made-to-order omelet setup from 10 a.m. to 2 p.m. Chef Russell LaCasce at ZuZu will also be serving brunch from 6 a.m. to 2:30 p.m. or savor the seasonal dinner menu from 5 to 9 p.m., featuring a specialty slow-braised lamb shank. Plus, the 14th Annual Easter Egg Hunt will commence at 9 a.m. with prizes awarded to those who collect the most eggs as well as the bearer of the lucky golden egg. 
At Hearth '61 at Mountain Shadows, celebrate the holiday with a special brunch buffet from 9 a.m. to 2 p.m. and Easter egg hunt for kiddos with special prizes (at 9 a.m.) For dinner, enjoy the seasonal dinner menu from 4 to 9:30 p.m. with a hearty Yankee Pot Roast as the Roast of the Day.
Guests are invited to celebrate Easter with the Rusconi's American Kitchen family with a special brunch menu. From 10 a.m. to 3 p.m., guests can enjoy a three-course brunch with options like steak and eggs, pan-roasted halibut, grilled beef tenderloin and more.
Keeler's Neighborhood Steakhouse is offering two delicious options for Easter feasting. From 10 a.m. to 2 p.m., Keeler's features a sprawling brunch buffet with in-restaurant as well as courtyard seating. Beginning at 5 p.m. (with last seating at 8 p.m.), the restaurant hosts a a special prix-fixe Easter dinner menu.
Salty Sow will be offering a specialty Sunday brunch from 9 a.m. to 2 p.m., featuring honey ham, its signature fried chicken and waffles, rotisserie turkey, banana chocolate chip French toast and more.
Guests of both Liberty Station American Tavern and Smokehouse locations can celebrate all day long with brunch (10 a.m. to 3 p.m.) and dinner specials until 9 p.m. Dinner specials include jumbo prawn cocktail, smoked and seared lamb and twin lobster tails. 
The VIG restaurants will be offering a specialty brunch menu with live music (at select locations: Fillmore, McCormick, McDowell Mountain, Arcadia and Uptown) in addition to $4 Bloody Marys and mimosas and half-priced bottles of wine from 10 a.m. to 2 p.m.
Tres Tempe Restaurant will enjoy a festive brunch beginning at 10 a.m. with options like herb scrambled eggs, honey-peppered bacon, paella, mini desserts and much more.
Dorian will be serving Easter brunch from 10 a.m. to 3 p.m. Enjoy a buffet-style brunch with a plated main course option and dessert buffet. Guest will have a choice of salmon, prime rib or honey-cured smoked ham served with mashed potatoes and roasted vegetables.
Enjoy a relaxing and family-friendly all-you-can-eat pizza buffet and concert on the Mighty Wurlitzer at Organ Stop Pizza in Mesa from 11:30 a.m. to 1 p.m.
Hop on in to Rainforest Cafe as the Easter Bunny and Cha! Cha! will be hosting an 'breakfast buffet filled with all of the breakfast favorites, as well as offer a goodie bag for kids and an exclusive retail discount. During the event, kids can also take part in the Easter egg hunt and Easter basket raffle.
Jake's Unlimited hosts its annual Easter egg hunt and breakfast, with traditional a.m. eats plus mimosas and Bloody Marys for parents. The egg hunt will follow, with children having the opportunity to fill their baskets with prize-filled eggs (a free birthday party is even up for grabs!) After the hunt, games and rides will be open, and kids  have the opportunity to take photos with the Easter Bunny, have their faces painted or spin the prize wheel. 
Morton's is serving a steak and lobster oscar, a succulent 8-oz. filet topped with a whole Maine lobster and bearnaise sauce.
Pomelo at the Orchard will be hosting an Easter brunch from 10 a.m. to 4 p.m. with specials like La Frittata, with fresh-cracked eggs, sausage, bell peppers, mushrooms, red potatoes, avocado and topped with herb goat cheese; sweet cream crepes; and a crab cake benedict.
On Easter Sunday, J&G Steakhouse is serving up its full regular dinner menu of award-winning steaks, seafood and more, alongside the three-course Easter menu with dishes like seared scallops and roasted lamb loin.
Hash Kitchen is offering a special menu Friday, April 19, through Monday, April 22, at all locations from 7 a.m. to 3 p.m. (Only walk-ins are available.) Easter dishes include Panettone French toast with Italian holiday bread, sweet mascarpone, berries and  maple syrup; brown-sugar ham hash with carved ham, crispy potatoes, poached eggs and fried leeks; Tomaso's Famous Lasagna and more.
Scramble – a Breakfast & Lunch Joint offers Easter specials featured at all four of its locations on April 21. Kids who visit on Easter Sunday will receive free Easter egg treats (while supplies last). Also featured that day is an Easter Peep Mocha (hot or iced) with espresso Italian roast topped with a festive Peep and Monin Toasted Marshmallow Syrup.
On Easter Sunday from 10:30 a.m. to 2:30 p.m., the Valley's oldest Irish pub, Padre Murphy's in Glendale, will be hosting a special Easter Sunday brunch buffet with made-to-order omelets, banana-stuffed French toast and much more.
A festive holiday brunch, complete with seasonal desserts, will be presented at CORE Kitchen & Wine Bar at The Ritz-Carlton, Dove Mountain this Easter. The celebration of Easter and all things spring will feature appetizers, a fresh raw bar, salads, sides, breakfast favorites, a chef's carving station, main courses, vegetables, and an array of desserts. 
Join Roka Akor for Easter dinner from 5 to 10 p.m. featuring seasonal dishes and signature favorites including an 8-oz. wagyu filet, yellowtail nigiri and an ube pot de crème for dessert.
On April 21, True Food Kitchen will be serving an Easter brunch chef's feature: strawberry quinoa pancakes ($11), made with marinated organic strawberries and topped with lemon-coconut whipped cream. This gluten-free feature will be offered alongside the regular brunch menu.
CIVANA hosts a carefully curated selection of savory dishes at its exclusive Easter Sunday brunch buffet, with two carving stations, delicious entrees, a charcuterie bar, a dessert bar and more. The buffet is available 11 a.m. to 2:30 p.m. on the holiday.
Postino will be hosting an Old Skool Hippity-Hop Brunch. During brunch service, all Valley Postino locations be playing old-school hip-hop tracks in addition to pouring $5 glasses of rosé all day. Select locations will be featuring DJ's spinning 90's hip-hop tracks.