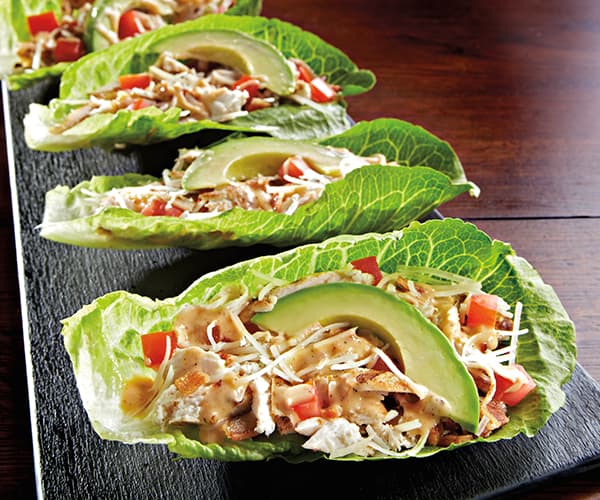 It's that time between Thanksgiving and Christmas when you know you should be eating right, but it's just so darn hard with hot cocoa and gingerbread at every turn. Well, Dave & Buster's Tempe Marketplace has made eating healthier a little easier while entertaining holiday guests with the introduction of its Healthy Halo menu featuring chef-crafted creations (we're not talking about kale salads here, either).
The tasty new menu has a little bit of everything: hearty entrees and lighter fare, meaty mainstays and seafood dishes. The bourbon-marinated Drunken New York strip will satisfy even the heartiest appetite while the perfectly flaky pan-seared Atlantic salmon, over seasoned zoodles and veggies and drizzled with a divine ginger-lime crema, is our favorite of the new dishes.
Chicken makes an appearance in several of the Healthy Halo dishes, including handhelds like the chicken and avocado sandwich on toasted ciabatta and caesar chicken lettuce wraps (pictured) that are kicked up with ancho chile-caesar dressing. The chicken chimichurri bowl is medley of yummy texture and flavors (it's topped with avocado, cilantro, cojita and addictingly delicious Mexican street corn), and is sure to be a table favorite.
Best of all, after ordering from the Healthy Halo menu, a bite of the loaded tots, nachos and chicken wings feels a little less guilty, right?