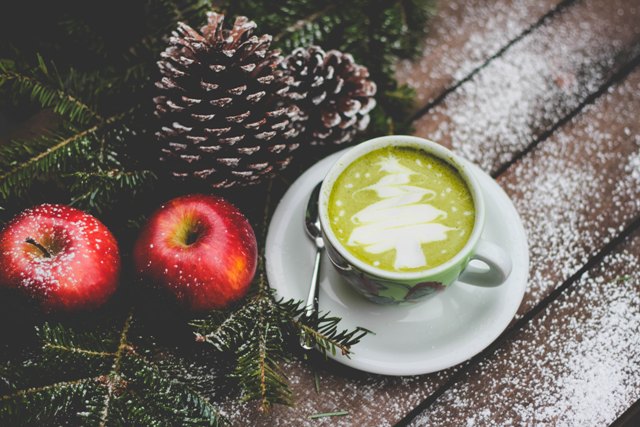 After the gifts have been opened and the carols have been sung, savor your Christmas holiday with a brunch, lunch or dinner at these top-notch restaurants. (All listings are for Christmas Day, unless otherwise noted. Be sure to make reservations.)
Celebrate the season at The Ritz-Carlton, Dove Mountain with a festive four-course Christmas Eve dinner at CORE Kitchen & Wine Bar from 5 to 9 p.m.; delish eats from CORE's à la carte menu on Christmas Day from 5:30 to 9 p.m.; and, also on Christmas Day, dinner at Cayton's Burger Bistro from 5:30 to 8:30 p.m. (there will be a holiday special to enjoy). While there, take part in the Gingerbread Workshop from 2 to 4 p.m. on Dec. 24 at the Tortolita Ballroom.
El Chorro is dishing up two festive ways to savor a festive Christmas feast, via its buffet and Christmas Day menu. (El Chorro will be taking reservations as early as 3:30 p.m. on Christmas Eve.) The buffet will offer the likes of salmon, ham, turkey, prime rib and a selection of tempting salads and desserts. The prix fixe menu offers a choice of turkey, filet mignon or vegan wellington, alongside a choice of starters and desserts. And be sure to save room for El Chorro's famous sticky buns.
Sanctuary on Camelback Mountain Resort & Spa invites guests in for Christmas Day dinner–with a side of Camelback Mountain views–at the resort's acclaimed elements restaurant for a delectable four-course feast prepared by Executive Chef Beau MacMillan from noon to 8 p.m. (Highlights include pecan-crusted swordfish and coffee-rubbed New York prime strip.) The full holiday menu can be found here.
On Christmas Day, Prado at Omni Scottsdale Resort & Spa at Montelucia offers a traditional brunch with breakfast breads, fresh fruit, live action stations, meats and seafood–as well as live music and patio seating–from 7 a.m. to 1 p.m. Come dinnertime (3 to 8 p.m.), guests can dig into a four-course, prix fixe menu featuring steak, seafood and house-made desserts. Festive holiday music will complement the dining experience.
Culinary Dropout is inviting its guests to eat, drink, and rock their ugliest holiday sweaters for a chance to win a bottle of Pappy Van Winkle's Family Reserve 23-year-old bourbon. Dec. 22 through Dec. 24, those wearing their ugly sweaters can enter the contest by posting a picture of themselves at a Culinary Dropout location and tagging the photo with #averyuglyCDOxmas. Culinary Dropout will also offer a special Ugly Sweater Punch made with Eagle Rare whiskey, Becharovka, pear liqueur, Luxardo cherry and smashed orange.
Pointe Hilton Tapatio Cliffs Resort's Different Pointe of View offers guests a spectacular buffet dinner overlooking the city from noon to 7 p.m. Guests can enjoy carving and grill stations with Chef Anthony DeMuro's delectable specialties including slow-roasted prime rib, roasted turkey breast and grilled pork loin. Pointe in Thyme restaurant will be offering a comfortable and cozy holiday buffet dinner from noon to 6 p.m.
Pointe Hilton Squaw Peak Resort's Rico's American Grill will be serving a festive holiday lunch buffet with seating times at 12 p.m., 2 p.m. and 4 p.m. with carving stations featuring glazed pork belly, oven-roasted tri-tip, glazed ham and more. Hole-in-the-Wall Barbecue dishes up a feast with seating times at 2 p.m., 4 p.m., 6 p.m. and 8 p.m. that includes bottomless salad, cornbread and muffins, an entrée platter with choice of three sides and chef's selection of seasonal desserts.
Arizona Biltmore offers a variety of ways to savor the holiday. Wright's at the Biltmore will offer an elegant four-course dining experience available 5 to 9:30 p.m. on Christmas Eve and 1 to 8:30 p.m. on Christmas Day. Frank & Albert's will offer a Christmas Eve enhanced breakfast buffet and prix fixe dinner. The breakfast buffet will be available from 7 to 11 a.m.; the Christmas Eve dinner will be available from 5 p.m. to close. On Christmas Day, the dining extravaganza will begin with a breakfast buffet from 7 to 11 a.m., followed by a lunch and dinner buffet from 1 to 9 p.m.
The Westin Kierland Resort & Spa's deseo is offering a four-course prix-fixe Christmas Eve and Christmas Day dinner featuring an amuse, starter, entrée and dessert while Nellie Cashman's Monday Club Cafe is dishing up a three-course prix-fixe Christmas Eve and Christmas Day lunch and dinner in honor of the holiday.
Four restaurants–that's seven chefs–will come together for a memorable Christmas brunch at Fairmont Scottsdale Princess. Diners can expect traditional breakfast eats, chilled shellfish, pastas, a selection of meat and seafood, sushi, a plethora of festive desserts and much more from 10 a.m. to 3 p.m.
Arcadia's High Dive delivers holiday cheer via a lineup of special holiday cocktails, including GINgle Juice, Creme Brulee Martini, Toasted Pecan Old Fashion and more festive sips.
Hearth '61 at Mountain Shadows is open on Christmas Day to enjoy the seasonal breakfast menu from 6 to 11:15 a.m., or savor the special prix fixe holiday menu from noon to 9:30 p.m., with a choice of starter, salad, entrée and dessert.
Join family and friends for a memorable holiday celebration at LON's at the Hermosa, and enjoy a three-course prix fixe meal featuring contemporary Southwestern takes on traditional holiday favorites. The menu is available on Christmas Eve from 4 to 8 p.m. and Day from noon to 8 p.m.
Celebrate the holidays in grand style at The Scottsdale Resort at McCormick Ranch, A Destination Hotel's Vista Verde Dining Room with brunch selections from 10 a.m. to 3 p.m. New this year, the resort offers a family-style Chinese dinner on Christmas Day (think lo mein, fried wontons, hot and sour soup and more) from 5 to 9 p.m., inspired by "A Christmas Story."
The Hotel Valley Ho Christmas Buffet in the Sands venue will feature a delicious assortment of starters, entrées, desserts and a carving station with prime rib and ham. The hotel's ZuZu is serving up dinner from 4 to 9 p.m.
Royal Palms' T. Cook's offers a three-course prix fixe menu on Dec. 24 from 4:30 to 9 p.m. and on Dec. 25 from 11 a.m. to 8 p.m. The resort's Palmera Salon also hosts a festive brunch buffet from 10 a.m. to 3 p.m.
On both Christmas Eve and Day, Match Restaurant and Lounge invites guests to indulge in special menus to celebrate the spirit of the holiday. The Traditional Mexican Christmas Eve dinner is offered from 5 to 10 p.m., while the Christmas menu is available 11 a.m. to 6 p.m.
Mastro's City Hall, Mastro's Ocean Club and Mastro's Steakhouse will be open on Christmas Eve from 3 to 10 p.m. and Christmas Day from 2 to 9 p.m. In addition to the regular menus, a selection of seasonal dishes will be available, including the pumpkin butter cake.
Roka Akor will be celebrating Christmas Eve in style from 4:30 to 9 p.m. with a four-course tasting menu of sashimi, black cod, ribeye and more.
Rusconi's American Kitchen invites diners in on Dec. 24 as the restaurant's family celebrates Christmas Eve with a special three-course menu.
Jennifer's Catering in Phoenix is now offering festive holiday appetizers and stations to-go in eco-friendly packaging. Customers  need to call at least 48 hours in advance, order and pick-up ($50 minimum and prices starting at $50. Sold per dozen or by station.) Options include pancetta-wrapped shrimp, mini beef wellington and much more.
Hyatt Regency Scottsdale Resort & Spa offers a variety of holiday dining options. Christmas Day will bring its holiday buffet to SWB from 10 a.m. to 4 p.m.; SWB will also host a Christmas Breakfast Buffet from 6:30 a.m. to noon. Alto ristorante e bar will serve dinner from 6 to 10 p.m. In addition to its regular menu, it will be offering a Christmas special.
From 11 a.m. to 6 p.m., Blue Hound Kitchen & Cocktails offers a menu of traditional Christmas classics with a modern and contemporary twist.
Indulge in a multiple-course feast at Tanzy Restaurant from Dec. 23 to Dec. 25. The four-course menu includes a spinach and ricotta gnudi, herb-crusted prime rib and more.
JW Marriott Camelback Inn Resort & Spa's Lincoln, a JW Steakhouse offers a three-course Christmas dinner from 5 to 9 p.m. while Rita's Kitchen dishes up a Christmas Day brunch from 10 a.m. to 2 p.m. and a three-course dinner from 5 to 9 p.m.
JW Marriott Desert Ridge Resort & Spa hosts a variety of holiday dining options, like Christmas dinner at stonegrill Restaurant and MERITAGE, an urban tavern from 4 to 9 p.m.
Artizen, Crafted American Kitchen & Bar at The Camby will offer a selection of locally curated, holiday-inspired dishes during a Christmas Day buffet that will run from 11:30 a.m. to 3:30 p.m. (A Christmas Eve prix fixe menu will be available Dec. 24.)

Liberty Station American Tavern and Smokehouse, with two locations in Scottsdale, offers menu specials on Christmas Eve: peppercorn-crusted prime rib and grilled diver scallops.

Tempo Urban Bistro in Buckeye is celebrating the holidays with special dining events starting with Christmas Eve dinner from 5 to 8 p.m. Dig into a seafood tower, lobster bisque and more.
To celebrate the holiday season, Rainforest Cafe hosts a Breakfast with Santa on Dec. 22 from 8 to 10 a.m. Families can enjoy a special breakfast with raffle, prizes, sweet treats and, of course, photo time with Santa.
Enjoy the flavor of a Big Apple Christmas feast at Chompie's. Through Jan. 1, diners can dig into the Happy Merry Chrismukkah feast. All locations are open on Christmas Eve and Christmas Day.
Allow the team at Ko'sin at The Sheraton Grand at Wild Horse Pass treat you to a delightful three-course holiday prix fixe meal on Christmas Eve and Christmas Day. Ko'sin will be open on Christmas Eve and Christmas Day from 5:30 to 8 p.m., extending its traditional dinner menu in addition to a la carte and prix fixe options.
Luci's Healthy Marketplace and Luci's at the Orchard is dishing up festive gingerbread pancakes and gingerbread lattes in honor of the holiday season.
Splurge at the Orchard introduced a Candy Cane Milkshake, featuring peppermint-vanilla gelato with crushed peppermint candy, whipped cream, candy cane garnish and a chocolate sprinkles=covered cup. On National Candy Cane Day (Dec. 26), the Candy Cane Milkshake will be 10 percent off.
Padre Murphy's will be open on Christmas Eve (11 a.m. to 7 p.m.), as well as host a special dinner on Christmas Day from noon to midnight. The restaurant will also have live music by Ronnie Winters from 5:30 to 8:30 p.m. and delish holiday-themed beverages.