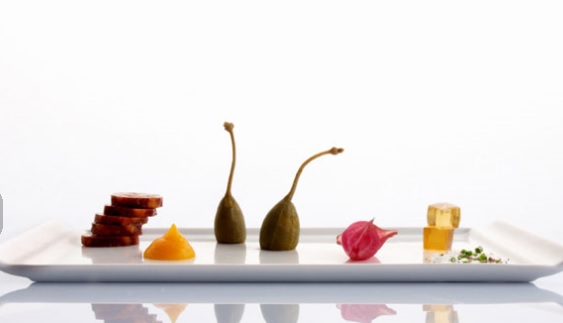 Whether for graduation, Father's Day or simply to catch up before it gets too hot outside, visitors are heading to the Valley–and they are ready to dig in. Here are six must-try Phoenix restaurants that are unique–or uniquely Arizona.
At the super high-end Binkley's Restaurant in Cave Creek, it is all about taking your time and savoring Chef Kevin Binkley's four-, five- or six-course tasting menus. James Beard Award-nominated Binkley uses quality ingredients in his highly rated dishes to make presentations (pictured) so stunning you might think twice about indulging. Tip: Be sure the babysitter is around all night, as a tasting at Binkley's can take a few hours, and it is well worth the time spent. http://binkleysrestaurant.com/.
A unique gem in the desert, The Farm at South Mountain in Phoenix features three tasty restaurants and plenty of space for the family to spread out, catch up and enjoy some divine food. (The Farm at South Mountain is especially great for those with kiddos.) Enjoy a delicious breakfast at Morning Glory under the pecan trees, savor a casual sandwich or salad at The Farm Stand or take in an elegant farm-to-table feast at Quiessence, where the menu is so fresh it changes daily. http://www.thefarmatsouthmountain.com/.
Posh in Scottsdale offers a truly one-of-a-kind dining experience that will make out-of-town guests giddy. Posh boasts a menu of "improvisational cuisine," meaning that at the start of the meal diners are given a checklist on which to designate preferences and allergies. From there, Chef Josh Hebert creates a tempting multi-course meal that is full of surprises–perhaps popcorn soup or seared monkfish. www.poshscottsdale.com.
A local landmark, El Chorro in Paradise Valley has been around since the 30's, originally starting as a school. After a closure, El Chorro was opened again in 2009 and still celebrates the site's rich history. El Chorro is a great spot for an alfresco meal and be sure that guests load up on the restaurant's famed sticky buns. www.elchorro.com.
The Valley's only Forbes Five Star Award and AAA Five Diamond Award restaurant, Kai at Sheraton Wild Horse Pass is a local treasure and will impress even your most discerning visiting foodie family member or friend. The menu celebrates the creativity, history and Native American culture, using locally farmed ingredients from the nearby Gila River Indian Community. Note: Kai will be closed from July 28 to Sept. 5. www.wildhorsepassresort.com.
For more than 10 years, Barrio Cafe has been a top Phoenix destination for authentic Mexican fare. From the kitchen of James Beard Award winner and a 2013 Arizona Foothills Magazine Woman Who Moves the Valley, Silvana Salcido Esparza is one of the Valley's most respected culinary luminaries and offers a real treat for the taste buds. Plus, the walls are filled with vibrant rotating works of art and, outside, you can check out graffiti art from some of the top graffiti artists, with the help of local kiddos. www.barriocafe.com.