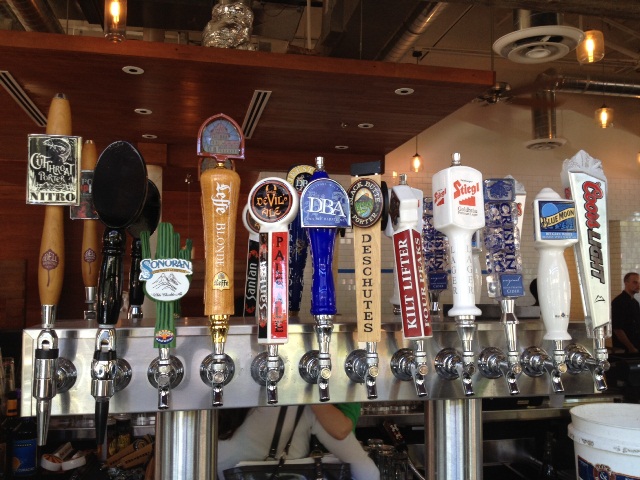 Mill Avenue in Tempe now has another spot for beer lovers and bike riders to gather, eat, drink and people-watch. Handlebar, which is brought to you by Julian Wright, the man behind Mill Ave.'s La Bocca Pizzeria and Canteen Modern Tequila Bar, is modeled after the beer gardens in Europe. The hip space features reclaimed wood (originally used in a barn), brickwork, a large patio surrounded by bike racks and a glass garage door that opens to allow for even more alfresco dining. If you sit at the front of the restaurant, at a bar top that extends a good portion of the restaurant, diners get a front-row seat for people-watching along Mill Ave.–always an interesting way to spend an afternoon or evening.
The European-inspired menu is small but satisfying with brats, burgers, hand-cut fries and fresh-from-the-oven pretzels. To drink, there is an ever-changing list of bottle and draught beers. Handlebar even has its own resident "beer geek," Billy Clayton, who oversees the beer selections and is happy to provide recommendations, or simply talk beer, with guests. Plus, the beer selection is divided into sections like "fruity" or "malty," giving diners a good idea of what they're ordering. (This season, try a cider mixed with a white chocolate beer that is currently on the menu at Handlebar for a festive fall sip.)
When it comes to the eats, the traditional brat with sweet peppers and homemade sauerkraut is amazing. Juicy and flavorful, the brat is situated in a fresh-made, fluffy bun. On the side, the hand-cut fries are tops, especially when paired with Handlebar's unique dips: blue cheese and bacon, a sriracha ketchup and a zesty pesto with sun-dried tomatoes. http://handlebaraz.com/.
For more fab foodie news, follow us on Twitter @AZFoothillsFood, become a fan on Facebook and check us out on Pinterest.