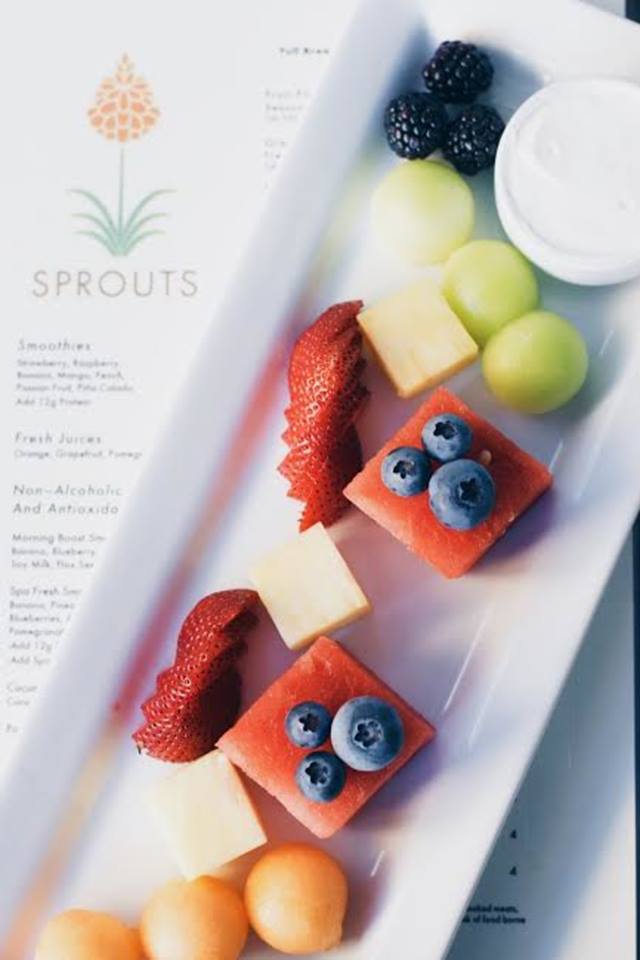 Now that we are firmly in July, light, refreshing dining sounds pretty perfect right about now. Sprouts, the spa restaurant at Camelback Inn, fits the bill when it comes to satisfying yet healthful dishes that sound delicious on a summer day. Here are some of our favorite dishes from a recent visit to Sprouts:
Shrimp Bowl: Sprouts' shrimp bowl is a widely adored staple on this spa menu. It basically has a cult following. And we think it is totally deserving of all the hype. The bowl features a rainbow of nutritious ingredients: honey-garlic shrimp, vegetable brown rice, purple cabbage, broccoli and green onions. Even though this is a "spa" dish, the serving size is hearty and there is no skimping on the sweet, lightly glazed shrimp.
Brushetta Trio: This delectable threesome features thin-cut crostini–so you're not stuffed with bread–that acts as the perfect canvas for the fresh ingredients. The rosemary goat cheese with fig jam and pine nuts was the table favorite. Creamy, crunchy, sweet, salty–it had all the things.
Strawberry Salad: This beauty of a salad spotlights organic greens, romaine, strawberries, goat cheese, cucumber, candied pecans and a light strawberry vinaigrette. Add some grilled chicken or salmon, and this might be the perfect salad.
Chocolate Fondue: A day of self-care has to include chocolate, right? Sprouts' delicious chocolate fondue dessert spotlights juicy, seasonal fruit, fresh berries, fluffy clouds of angel food cake and a huge dollop of whipped cream for a sweet ending to "me day."
Sprouts is open for breakfast and lunch, until 5 p.m.