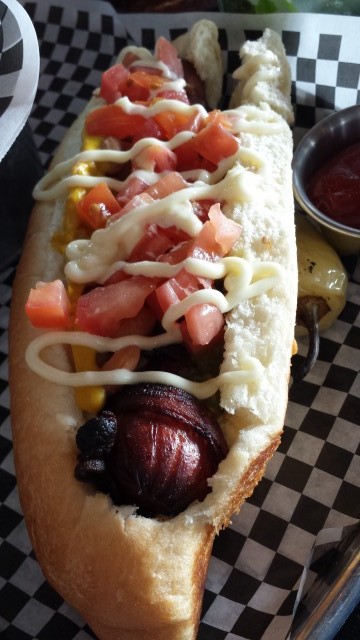 With a name like Sir Veza's Taco Garage, you know that the newly opened eatery at Chandler Fashion Square has to serve up a tasty taco. But we were pleasantly surprised by more than just Sir Veza's namesake nosh. First off, Sir Veza's takes "garage" very seriously; the restaurant is industrial and cool, with touches that are reminiscent of a mechanic's shop. In the bathroom, for instance, many rear-view mirrors are placed together to create a bathroom mirror. Other standouts of the space include Sir Veza's large patio and pinball machines, which will keep the kiddos busy until the tacos make it to the table. Speaking of kiddos, Sir Veza's is able to be kid-friendly (with a great kid's menu of tacos, burritos, chicken and more with sides) and still attract the masses looking for a day-drinking hot spot. Speaking of drinks, the margarita menu at Sir Veza's in plentiful–there is a selection for every taste–with favorites being the Pink Paloma with Casamigos Silver, grapefruit soda, prickly pear nectar and lime while the jalapeno-spiked Cheech & Chong dishes up a touch of spice.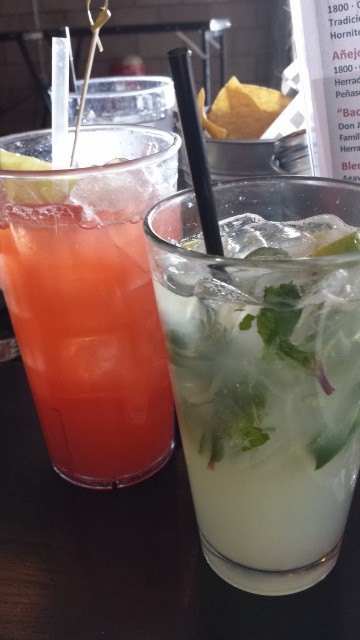 To kick the meal into drive (we are in a garage, after all), the tableside guacamole is a must. Though not terribly special or unique, there is always something really appealing about fresh, made-to-order guac to kick off a meal of Mexican eats. Another starter, the Johnny Vegas roll, is Sir Veza's take on sushi. Chicken, avocado, cilantro, chopped greens and jalapeno cream cheese and rolled into a chipotle wrap and drizzled with baja sauce. A little sweet and a little spicy, the rolls are sure to please the entire table. But don't eat too many before digging into you entree; each bite is quite filling.
Sir Veza's has two claims to fame among its entree selections: the tacos, of course, and the ingredient-packed "Sir"noran dog. There are nearly a dozen tacos to choose from and diners can take a two- or three-taco tour. The Jalopy is a hearty combo of ground beef, potato, cheddar, sour cream, tomato, lettuce and olive, nestled in a crispy shell. There are few pairings more comforting than beef, potato and cheese and this taco definitely conveys that. Another favorite is the flavor-packed Diablo Shrimp. Sweet meets savory in this taco as it features sriracha- and agave-glazed shrimp, toasted sesame and avocado.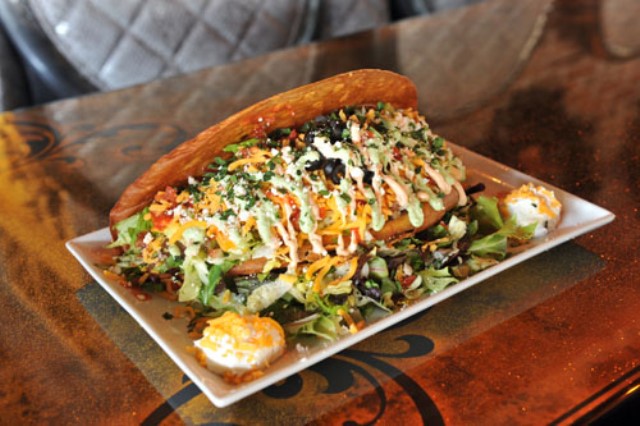 For a real showstopper, order up the "Sir"noran dog, Sir Veza's take on the Sonoran hot dog. The half-pound Angus beef dog–which is a quality frank–is towering with ingredients like applewood-smoked bacon (which is wrapped around it), charro beans, jalapeno street salsa, tomato, mustard and mayo. The massive hot dog is best shared, as you will definitely want to get a taste of it but still want a little stomach space for a taco or two–and the Candy Apple Chimi dessert. The sweet treat is a large chimi, full of roasted apples and pecans, and topped with ice cream, dulce de leche and cinnamon-dusted tortilla strips. It may be a doozy on the eyes, but it sure is delicious. sirvezas.com.