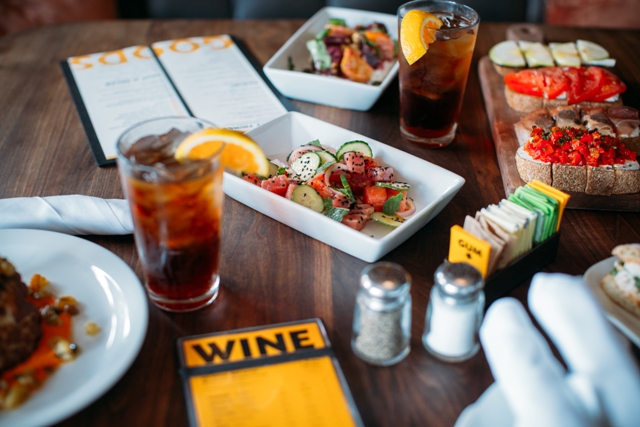 Postino has long been a favorite for kicking back with a board of bruschetta and a bottle of red. And now the restaurant is offering up a slew of new "snacky things" options to its beloved menu; basically, they are small, shareable plates that, together, can make a meal or enjoyed before a salad or sandwich. Here are a few of our favorite new Postino "snacky" starters:
Roasted Beets & Herbed Ricotta: A perfect fall dish. The colorful concoction features roasted beets, curried pistachios, arugula and poppyseed vinaigrette on a thick blanket of herbed ricotta. The pistachios add a delightful crunch, while beets and ricotta is a velvety, mouthwatering match made in heaven.
Meatballs & Goat Cheese: The skillet of house-made meatballs is a comforting classic, topped with pomodoro sauce and little dollops of goat cheese. They proved to be a table favorite (who doesn't love a good meatball?); request a few slices of bread for soaking up the delicious pomodoro sauce.
Blistered Shishito Peppers: Shishito peppers have been making the rounds on Valley menus, and the Postino offering is a standout thanks to the tangy Sierra Nevada mustard it is paired with. Fun fact: You might find a few more hot peppers in your bunch as they tend to get spicier in the cooler months as a defense mechanism.
Crispy Cauliflower: Cauliflower seems to be making its way into every dish nowadays, but this offering doesn't try to disguise the floret as pizza crust or faux rice. It displays the veggie in its full glory! Postino's crispy cauliflower plate is a sweet and savory showcase with sultana raisins, salty capers and, the star of the plate, a divine romesco. Again, that bread will come in super-handy for enjoying every last ounce of the sauce.
Seasonal Chef's Crudo (pictured, in center): Another colorful, eye-catching dish is the crudo. Tangy, sweet, herbal–this dish has a lot going for it. It features Ahi tuna, watermelon, cucumber, red onion, sesame seeds, mint and a orange-chili vinaigrette. Utterly refreshing and light, this beautiful dish is a nice balance to the season's heavier, richer plates.