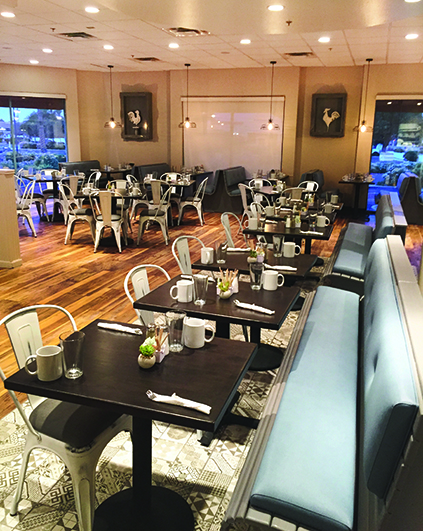 Breakfast is the most important meal of the day, so why not do it up? Eggstasy is now open at Market Street at DC Ranch, giving North Scottsdalites a reason to skip the snooze button.
The farmhouse-y space is big, bright and airy, complete with a great patio, a super-cool succulent wall, cozy booths and unique lighting fixtures that would make Chip and Joanna proud. But the food is what will really perk you right up.
If you prefer to kick off your day with a hearty, savory dish, Esggstasy has more than 20 (20!) omelettes for you to choose from. There is a bunch of more traditional egg plates, benedicts and skillets, too. We opted for the omelette with roasted garlic, toasted almonds, mushrooms and asparagus, which is drizzled with a sweet balsamic reduction and paired with a choice of fruit or hash browns as well as toast or pancakes (for an small up-charge). The omelette was large and thick, chock-full of fresh veggies and melty cheese. This dish promises to keep you full straight through to dinnertime.
Perhaps you are in the camp that likes a little something sweet in the a.m. Well, Eggstasy has you covered with quite the lineup of waffles, pancakes, French toast and crepes. (Heck, there is even chocolate-covered bacon on the appetizer menu.) The lemon-ricotta pancakes, crowned with a tangy lemon curd and blueberries, are refreshing and sweet. They are like a summer day on a plate.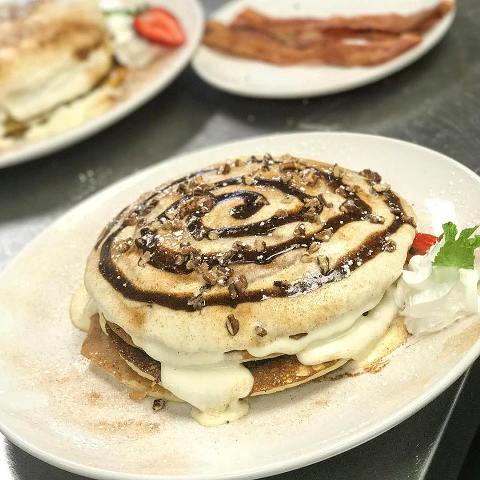 The pumpkin cheesecake pancakes read like a tooth-achingly-sweet offering. However, the are quite the opposite. Instead of over-the-top saccharine, they offer a lot of warming fall spices. And the pumpkin pancakes themselves are fluffy and moist, while the cheesecake sauce that finishes the dish is like the swirl of whipped cream that we crave on our pumpkin pie.
Since we're coming up on Halloween after all, we also recommend a current special that is offered at Eggstasy: the cookie butter crepe. The delicate crepe is coated with decadent cookie butter, rolled up with sliced banana and topped with whipped cream and, of course, a Biscoff cookie. This baby is sweet, but light; it's the perfect dish to pair with a hearty and savory egg dish.
Eggstasy is open every day from 6:30 a.m. to 3 p.m.