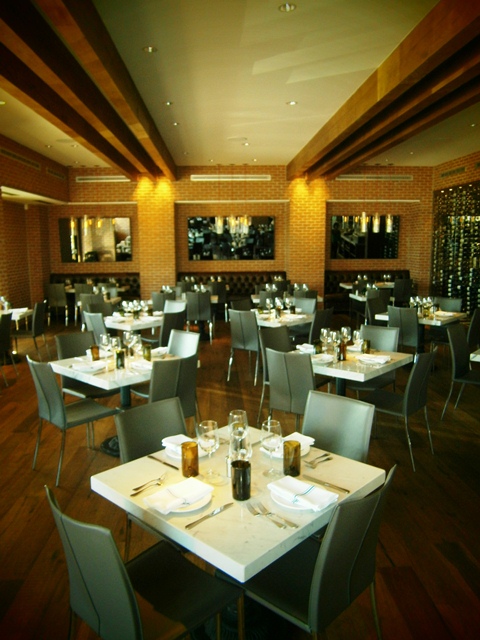 In the fall, Central Bistro opened in a primo spot–formerly housing Zen32–in Phoenix to dish up Italian and French eats. Though Central Bistro, which comes from the folks behind Scottsdale's Local Bistro, is nestled in the high-end Biltmore neighborhood, upon first glance diners might think they are enjoying their lunch in a more spacious Manhattan eatery. Exposed brick makes up the walls, rustic chandeliers hang from the ceiling, warm reclaimed woods fill the space and, most notably, the space is largely indoor/outdoor with a spacious patio welcoming guests at the front of the restaurant. The dining area is welcoming and cozy, yet undeniably cool.
The food has that same appeal, as well. For starters, the wood-grilled octopus might not seem like it would suit everyone, but the dish is a sure crowd pleaser. Delicate pieces of mild octopus are paired with purple potatoes, garbanzo beans and a bright citrus pesto in a dish that is unique yet comforting (thanks to those potatoes and beans). A panini is a must-get when dining during the lunch hour. While a club sandwich might sound like a snoozer, Central Bistro's A-plus ingredients make its club something special. The sandwich's turkey has been smoked in-house, and the shallot jam is a slightly sweet surprise. Get the fries on the side. (For a bonus treat, ask for a side of Central Bistro's truffle aioli.)
Though the Bolognese is one of the bistro's signature dishes, try the whole wheat lemon stringozzi with clams for something different–and amazing. The pasta is bright and flavorful all on its own thanks to the hint of lemon (the pasta is cooked to perfection, to boot), and is only made more delicious when topped with clams, chorizo and crispy micro arugula. This plate is perfect to share as it is generous with the clams.
For dessert, don't skip out without indulging in Central Bistro's tiramisu–it is made using the recipe of Chef Andrea Volpi's mom.  http://centralbistroaz.com/.