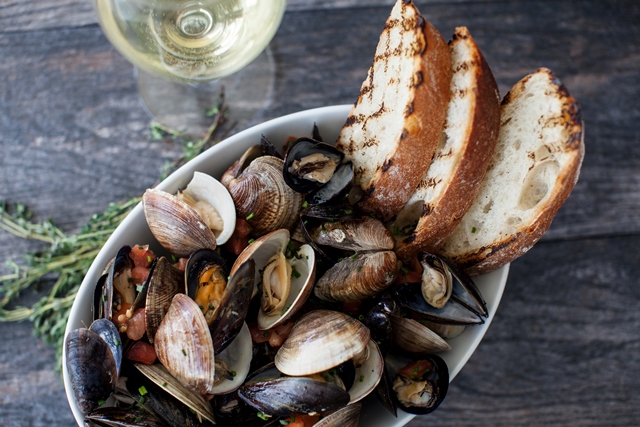 Geordie's Steak at Wrigley Mansion kicks off a new wine dinner series on Tuesday, Jan. 24 (with additional dates throughout the year) with a "New Oregon" wine event featuring fine, sustainably produced varieties from across the Pacific Northwestern state. The multi-course meal features multiple fine wines expertly paired with each offering.
Geordie's Steak's 2017 Wine Dinner Series:
New Oregon – Jan. 24
From the Willamette Valley to the Dundee Hills, wine-growing is taking over Oregon. Join Geordie's Steak for a multi-course meal where fine, sustainably produced Pacific Northwest wines will be served alongside an array of inventive and complementing culinary offerings.
Freemark Abbey – May 10
Sip and sample your way through an array of fine wines from the Napa Valley's Freemark Abbey Winery. Enjoy the dinner on its own or sign on to take part in a blending seminar, where Freemark Abbey winery representatives and guests will self-blend barrel samples straight from the winery's headquarters in St. Helena, California.
Compare & Contrast – June 20
When it comes to California wine, does Sonoma or Napa Valley reign supreme? You be the judge at Geordie's "Compare & Contrast" wine dinner, where we'll be featuring the finest wines from two of the United States' most revered and visited wine-growing regions.
Cruising Highway 101 – August 23
Take a tasting trip through some of the nation's most notable wineries at Geordie's "Cruising Highway 101" wine-pairing dinner. U.S. Highway 101 runs north-south through California, Oregon, Washington and Arizona, and this multi-course meal will give diners a glimpse of the different techniques, flavors and wine-producing practices preferred in each state.
A Taste of Tuscany & Beyond – Sept. 19
Italy is arguably the center of the worldwide wine trade, and with good reason. This multi-course dinner delves into the wide word of Italian wine production, and diners will enjoy a broad array of outstanding wines served up alongside regional tastes and flavors.
Around the World – Oct. 12
Join Geordie's Steak for an "around-the-world" wine-pairing dinner featuring some of the finest wine varieties from Italy, France, the United States and beyond. Enjoy each glass alongside a culinary specialty from the region of the world the wine comes from, and compare and contrast the flavors and tastes of each while deciding for yourself which region reigns supreme.
Cabs & Cuts – Nov. 15
Save the cooking for Thanksgiving and join Geordie's for "Cabs & Cuts," an expertly planned wine-pairing dinner featuring different cabernet blends and an abundance of premium-quality beef. Compare cabernet varieties alongside various cuts of Arizona-raised Cedar River Farms beef, plus enjoy oysters and an array of other special extras along the way.
Wine Dinner Series dinners begin at 6:30 p.m. and are $75 per person tax and gratuity. Seating is extremely limited at all events in Geordie's Steak's 2017 Wine Dinner Series, so reserve a space today by calling 602.955.4079.