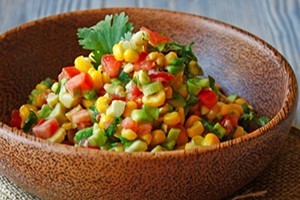 Celebrate the last few weeks of summer (perhaps for your Labor Day party?) with two entertaining-friendly recipes from Salt for Life, an alternative to regular table salt that boasts never-before-seen levels of sodium reduction and the addition of potassium, a necessary nutrient. (In fact, most people only consume about half of the daily recommended value of potassium.)
Grilled Avocado Stuffed with Tomato and Feta
1 ripe avocado
1 small ripe tomato, cut into ¼-inch dice
1 tbsp crumbled feta cheese
1 tbsp freshly squeezed lime juice
Olive oil
Salt for Life
Freshly ground pepper
Yields:  2 servings
Turn on grill. Cut avocado in half and remove the seed. Brush lightly with olive oil and place slices on grill for 2 minutes. Season with Salt for Life and pepper to taste. Top each half with tomato and feta. Garnish with lime juice.
Sweet Corn Salsa
1 cup fresh corn, cut off the cob (or if not available frozen corn-1/2 of a 10oz. package, thawed)
1/4 cup chopped sweet red pepper
1/4 cup sweet green pepper
2 Tablespoon chopped red onion
1 Tablespoon snipped fresh cilantro
1-1/2 Teaspoon lime juice
1/8 Teaspoon ground black pepper
Salt for Life
Yields: 1-1/2 Cups
In a small bowl, combine corn, peppers, onion, cilantro, lime juice and salt and pepper to taste. Cover and chill up to 24 hours. Let stand at room temperature for 1 hour before serving. Serve with tortilla chips.