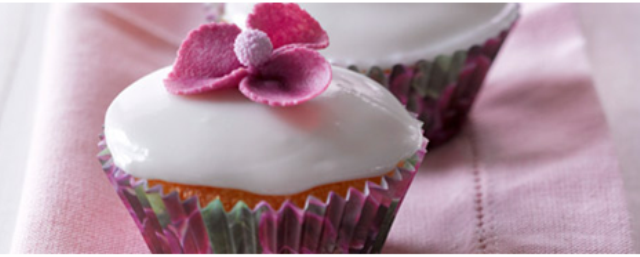 Now that Christmas and New Year's are behind us, it is time to start thinking about Valentine's Day, right? Well, a great way to get in the lovely dovey spirit are these European marzipan recipes from Odense Marcipan, a company that the great grandfather of the Valley's own Charlotte Wetche founded in Denmark in 1909. (Tammie Coe is a big fan of Odense Marcipan.) Wetche was kind enough to share three tasty Valentine's Day-friendly recipes using the traditional marzipan.
Wild Berry Cupcakes (pictured)
(12 cupcakes)
Cupcakes:
5/8 cup butter, softened
2/3 cup sugar
2.65 oz Original Odense Marcipan with Wild Berries
3 large eggs
2/3 cup wheat flour
1 tsp. baking powder
½ cup milk
Frosting:
Icing sugar (confectioners)
Water
Stir butter, sugar and grated marzipan until soft and creamy. Whisk in the eggs one at a time. Sift flour and baking powder into the batter and add milk. Divide the batter into a cupcake pan and bake at 350°F for 20-25 min. Cool on a wire rack. Decorate with white icing and marzipan flowers.
Marzipan Tart with Garden Fruits
(Two 9-inch round pies)
500 g Original Odense Marcipan or Odense Ready-to-Bake Marcipan
1 2/3 cup sugar
5 eggs
7/8 cup wheat flour
Filling: 4 apples, cored, peeled, and sliced or rhubarbs, wild berries or similar
Grate the marzipan. Combine with sugar. Add the eggs little by little. Once blended, add the flour and combine. Line pie forms with baking paper and pour mixture into the pans. Place the fruit decoratively on top, and garnish with vanilla sugar. Bake 40 minutes at 350° F.
Dipped Hearts
This is a unique Valentine's Day treat combining the rich flavors of European marzipan with delicious chocolate. They are very easy to make and a fun project to do with kids. Plus, the shape can be changed depending on the time of year, think eggs for Easter, stars for Fourth of July, etc.
-Cut hearts out of 1-inch thick slices of Original Odense Marcipan.
-Put the hearts on lollipop sticks.
-Dip the hearts in melted white or dark chocolate coating.
-Decorate with sprinkles, chocolate, sugar balls, etc. if desired.
*Note: The chocolate can also be brushed on.