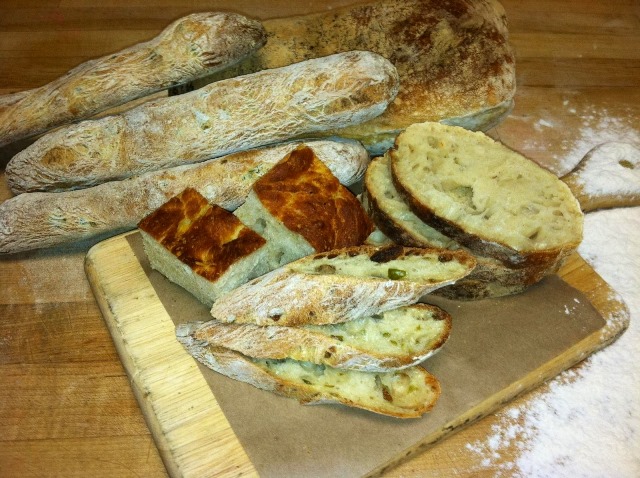 Chef Chris Nicosia of Sassi in North Scottsdale bakes all of the Italian restaurant's bread by hand each day–and you might be surprised to hear that he uses a super-easy bread recipe that requires no special tools or equipment besides a mixer. (He even makes the recipe at home with his kids.) Whether as a fun activity for you and your little ones or as a delicious addition to your Mother's Day brunch, try this easy focaccia recipe.
Focaccia
makes 1/2 sheet pan
8 C All-purpose flour
2.75 tsp. Dry instant yeast
1 qt. Water
2 T Salt
1 T Sugar
Extra virgin olive oil, as needed
Place flour and yeast in bowl of large hobart or kitchen mixer. With the paddle attachment, mix on #3 speed for two minutes. Set timer for 10 minutes and start mixer, add water and mix for entire 10 minutes. Add salt and sugar and mix for another 15 minutes until dough pulls away from sides of bowl. If after eight to nine minutes the dough has not pulled away, add more flour a little at a time until dough pulls away. Coat a large mixing bowl liberally with olive oil. Place dough into mixing bowl and turn to coat with oil, cover bowls with plastic, and allow to rise until double in size. Coat half-size sheet pan with ample amount of olive oil, and turn dough out onto pans. Let sit for about eight minutes to let gravity help form dough to pan. Carefully stretch dough to form to pan, make dimples with your fingers in dough. Drizzle with olive oil, top with maldon salt and chopped rosemary (or whatever toppings you wish). Bake at 400 degrees high fan, rotating until evenly baked and brown. Remove bread from pan immediately, and place on racks to cool (if you leave them to cool on pans, bread will be soggy).