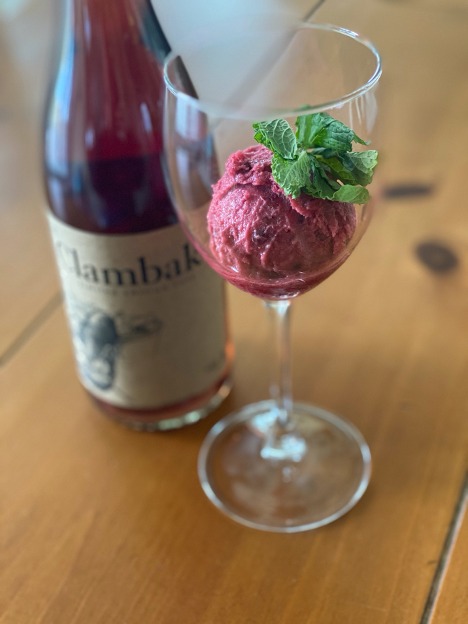 If you thought rosé couldn't get any summery-er, think again. This refreshing sorbet from The Clambake Rosé begs to be enjoyed poolside or to cap off a barbecue.
Clambake Rosé Sorbet
2 C Clambake Rosé Wine
¾ C pomegranate juice
½ C sugar
12 frozen black cherries
Put the 2 cups of rosé in a saucepan bring to boil and reduce to ¾ cups. Cool.
Make a simple syrup using ½ cup sugar and ½ of pomegranate juice. Put both ingredients in a small sauce pan over medium heat. Stir until sugar is dissolved. Add the frozen cherries an let seep until cool.
Combine the reduced rosé, simple syrup with cherries and the remaining ¼ cup pomegranate juice into a blender and puree.
Chill well in refrigerator.
Using your ice cream maker. Follow instructions to make the sorbet.
Freeze at least four to six hours. Yield: 1½ cups of sorbet.