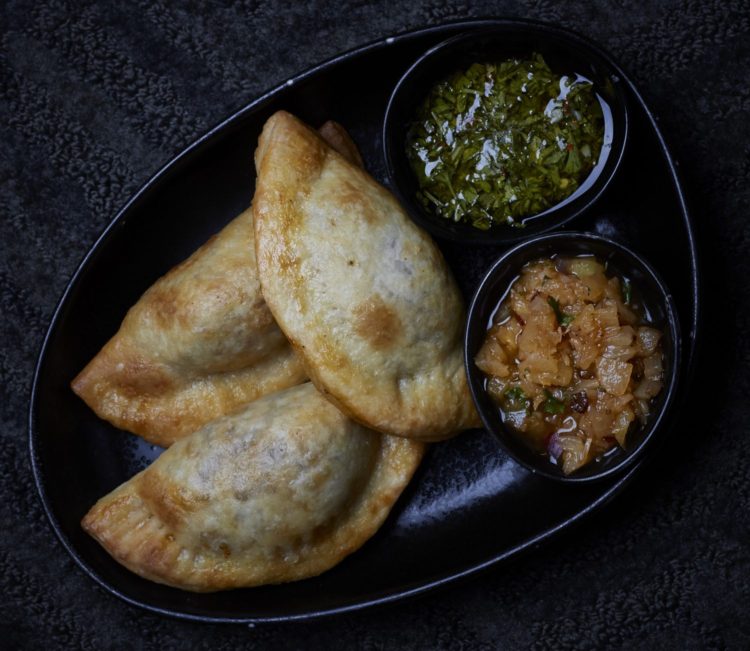 Though it's tempting to hang up the decadent dishes now that the holidays are over, we promise you won't want to miss out on trying Chef Lisa Dahl's famous empanadas from Mariposa Latin Inspired Grilled, this time with portobello, poblano and three cheeses.
Ingredients:
½ C Vegetable Oil
1 C Onion, cut to ¼" dice
4 C Portobello Mushrooms and Stems, cut to ¼-in. dice
2 C Button Mushrooms and Stems, cut to ¼-in. dice
½ C Roasted Poblano Chile, cut to small dice
2-3 Garlic Cloves, finely minced
½ tsp Truffle Salt
1 tsp Sea Salt
½ tsp Black Pepper, coarsely ground
¼ tsp Crushed Dried Chiles (optional)
1 tsp Truffle Oil
½ C Vegetable Stock (plus more, if needed for moisture)
1 TB Gorgonzola Crumbles
1 oz Chevre
½ C Gouda or Truffled Gouda, grated
Method:
Coarsely chop mushrooms by hand (Substitution: Use a food processor if desired, in small batches; pulse until texture looks hand-cut but chunky). Transfer to large bowl and set aside.
Heat medium-sized saute pan over medium-high heat. Pour oil into hot pan; as it spreads, carefully add onions. Lower heat to medium to allow onions to soften and slowly caramelize. When onions are evenly golden, add minced garlic and cook one to two minutes more, taking care not to burn garlic. Increase heat slightly and add mushrooms. (Chef's Note: Higher heat allows mushroom liquids to reduce and mushrooms to sear.) Stir often to prevent burning. When mixture is golden, add poblano peppers. Season with salt and pepper, then lower flame and add vegetable stock. Allow mixture to reduce but remain moist. Add truffle oil.
Turn off heat. Allow mixture to cool slightly, then fold in cheeses in order listed above. (Chef's Note: Now is the time to adjust seasonings, since the cheeses will bring plenty of salty flavor to the table.)
Transfer to a bowl and chill until empanadas are ready to be stuffed.
Assemble and Bake Empanadas
Ingredients:
1 egg
1 tsp milk (Substitution: Use water.)
Method:
Make Egg Wash:
Whisk egg and milk briskly together to combine.
Form and Bake Empanadas:
Preheat oven to 425°F.
Using a manual tortilla press, a rolling pin, or the heel of your hand, press each dough ball into a 6-in. round, about 1/8-inch. thick. Mound 2 TB filling in center and fold over, forming a half moon. Use a dinner fork or plastic empanada press to crimp outer edges shut. Repeat with remaining dough rounds and filling.
Transfer completed empanadas to parchment-lined baking sheet. Prick each empanada twice with a fork.
Bake empanadas until they begin to color, about 15 minutes. Remove from oven. Brush with egg wash. Bake until golden brown, approximately one to three minutes more.