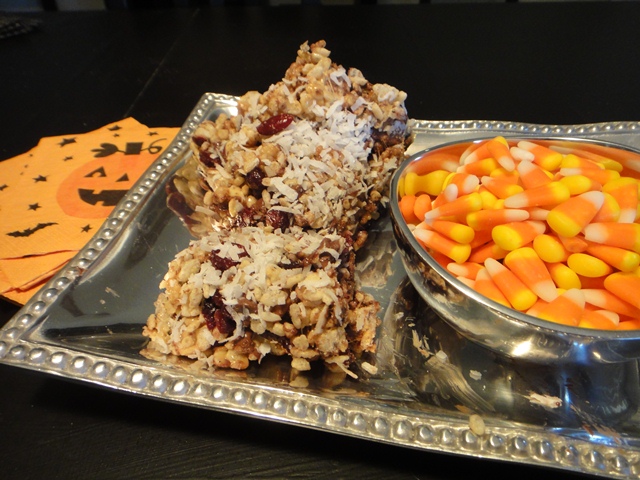 Looking for a last-minute treat to whip up for the wee Supermen and Cinderellas who about to be knocking at your front door? Try this sinfully good Marshmallow Crisp from Bryan Hulihee of Roaring Fork in Scottsdale. Lots of butter + chocolate chips + coconut + marshmallows = a treat that'll please the kiddos and act as an ooey gooey indulgence for their moms and dads. Calories don't count on holidays, right? Plus, wouldn't this be fun wrapped up in a goodie bag for your child's teacher or neighbors?
Marshmallow Crisp
1 bag marshmallows
2 tablespoon butter
1 cup dried fruit
4 cups of Rice Krispies or Corn Flakes cereal
1/2 cup slices almonds or choice of nut
1/4 cup chocolate chips
1/4 cup shredded coconut
In a sauce pan on medium heat melt butter and marshmallow. Remove from heat and add fruit, nuts, chocolate chips and cereal and mix well. With a stick of butter coat a 9-inch by 9-inch pan. Place into pan and smooth ingredients flat. Sprinkle coconut on top and press in. Let cool and serve.