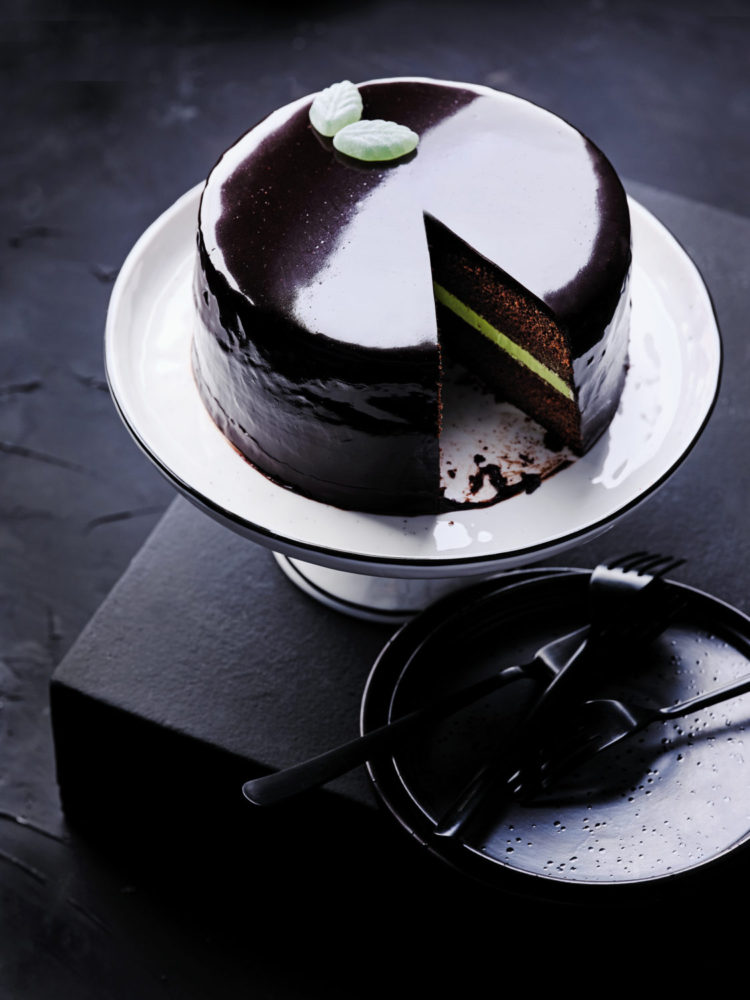 We follow up Katherine Sabbath's amazing Bondi Hipster with a perfect holiday offering full of rich chocolate and festive mint.
Slice of Choc-Mint Heaven
Serves 16
Choc-heaven cake
Cooking oil spray
2 cups (320 g) self-raising flour
1¾ cups (385 g) caster sugar
¾ cup (85 g) cocoa powder
1 teaspoon bicarbonate of soda (baking soda)
½ teaspoon salt
1 teaspoon instant coffee powder
1 cup (250 ml) buttermilk, at room temperature
½ cup (115 g) melted coconut oil
2 large eggs, at room temperature
2 teaspoons vanilla extract
1 cup (250 ml) boiling water
Preheat the oven to 160°C (320°F) fan forced. Grease two 18 cm (7 inch) round cake tins with cooking oil spray and line with baking paper.
Using an electric mixer fitted with the paddle attachment, whisk the flour, sugar, cocoa, bicarbonate of soda, salt and coffee powder until combined.
Add the buttermilk, coconut oil, eggs and vanilla and mix on medium speed until well combined. Reduce the speed, carefully add the boiling water and mix until well combined.
Divide the batter between the cake tins. Bake for 45–50 minutes or until
a skewer inserted into the centre of the cakes comes out clean. Remove from the oven and allow the cakes to cool for about 20 minutes, then remove from the tins and transfer to a wire rack to cool completely.
Mint buttercream
½ cup (125 g) unsalted butter, softened
1½ cups (210 g) icing (confectioners') sugar, sifted
Green gel food colouring
2 teaspoons peppermint essence
Using an electric mixer, beat the butter until pale and creamy.
Add the icing sugar, one large spoonful at a time, beating constantly until smooth and combined. Tint with the green colouring until the desired shade is reached.
Add a small amount of the peppermint essence and beat until combined. Continue adding the peppermint essence until you're happy with the taste.
Chocolate Gaze
7 (11 g/¼ oz) gelatine sheets
1 cup (220 g) caster sugar
⅔ cup (75 g) cocoa powder
100 ml (3½ fl oz) thick (double) cream
½ cup (125 ml) water
50 g (1¾ oz) dark chocolate,
roughly chopped
Put the gelatine in a shallow bowl of cold water to soften for 5 minutes.
Combine the sugar, cocoa, cream and water in a saucepan over medium heat. Stir until melted, then bring to the boil, stirring until smooth. Remove from the heat, add the chocolate and stir until melted. Set aside to cool
for 5 minutes.
Squeeze any liquid from the gelatine sheets and stir into the chocolate mixture until dissolved. Pour through a sieve into a bowl. Transfer the
glaze to the fridge to cool and thicken for about 1 hour or until it reaches
the consistency of thick mayonnaise.
Assembly and decoration
2 tablespoons apricot jam, sieved
2 gummy spearmint leaves
Working on a cake turntable or lazy Susan, use an offset spatula to cover the top of the bottom layer of cake with a generous amount of buttercream, spreading it right to the edge.
Place the second layer of cake on top and gently press down to secure. Use an offset spatula to smooth the excess buttercream so that it very lightly covers the side and gives a smooth edge.
Gently warm the apricot jam and lightly brush it over the cake, covering
the side and top. Chill in the refrigerator for 30 minutes.
Place the chocolate glaze in a heatproof bowl and gently stir over a pan
of simmering water (or microwave at 20-second intervals, stirring after each) until melted. Allow to cool slightly for 5–10 minutes.
Transfer the chilled cake to a wire rack sitting on a large baking tray to catch any excess glaze. Pour the glaze over the cake, making sure it completely covers the cake. Use an offset spatula to carefully smooth
over the top and side, if needed.
Leave the cake to set for an hour or so, then carefully transfer to a cake stand or cake board. Decorate the cake with gummy spearmint leaves.
Decorating Tips
I use a large barbecue spatula and a large offset spatula to transfer
the finished cake to the cake stand, board or platter.
storage
The cake is best served at room temperature. It can be refrigerated for 5 days or frozen for 2 months.
The glaze can be made up to 3 days in advance and stored in the fridge, covered with plastic wrap. Gently reheat it and allow it to cool slightly before pouring onto the cake.