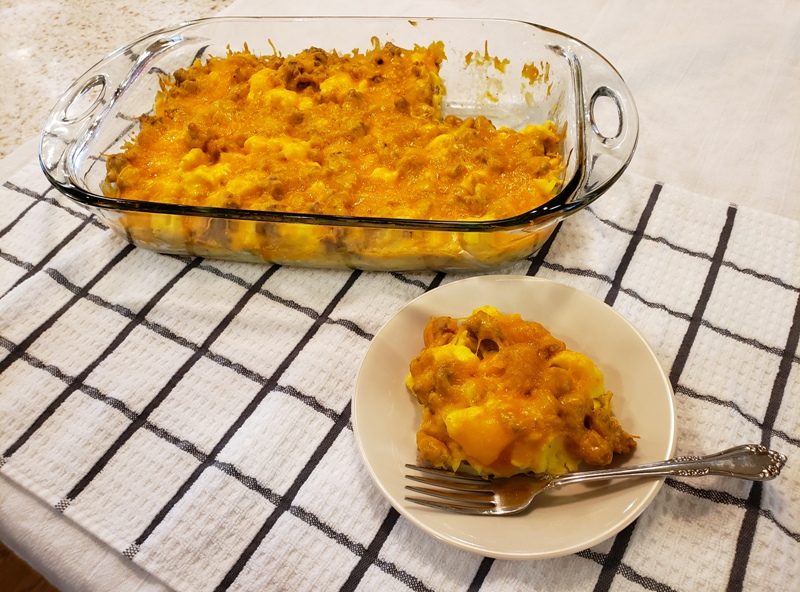 With the end of May also comes the close of National Egg Month. To end it with a delish bang, try out this egg-tastic brunch recipe this weekend from Farmers Hen House–a real pleaser for the entire family.
Irma's Scrambled Egg Casserole
1 dzn Farmers Hen House free-range organic eggs
1 1/2 T butter
2 T milk (optional)
1/3 tsp salt
3 C frozen hash browns (thawed)
1 C cheddar cheese
1/8 C fresh chives finely chopped (optional)
To make sausage gravy:
1 lb breakfast sausage
2 T flour or flour substitute
2 C milk
1 C cheddar cheese
Salt and pepper to taste
Preheat oven to 350 degrees.
Place thawed hash browns in the bottom of buttered 9-by-13 baking pan.
Crack 12 eggs in a bowl, removing any shells. Add 2 T of milk and 1/3 tsp. salt. Whisk eggs and milk together until fully beaten. Melt butter in skillet, pour egg mixture into skillet and scramble eggs lightly in skillet over low heat till just cooked through. Layer scrambled eggs on top of hash browns in baking pan.
Brown 1 lb sausage in a large non-stick skillet on medium heat, about 10 minutes. Add in 2 T flour and stir, gradually stir in 2 cups of milk and cook until thickened. Stir in 1 cup of cheddar cheese reserving the other cup for later. Add salt and pepper to taste.
Pour sausage gravy mixture on top of eggs.  Sprinkle with the remaining cup of cheddar cheese. Bake for 350 degrees for 30 minutes. Serve immediately. Add fresh chives, if desired.