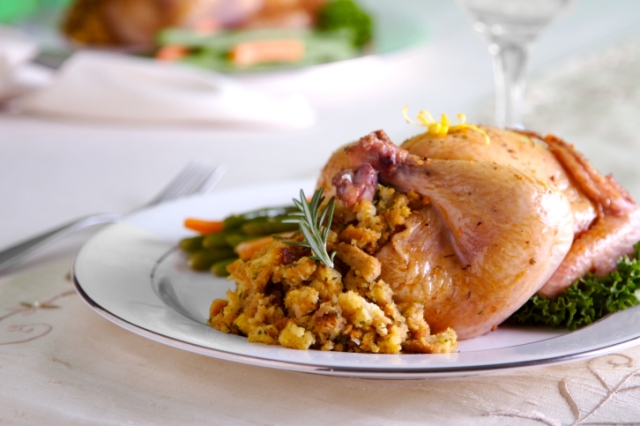 In this week's Grocery Great segment, guest writer ForXx suggests Cornish game hens as a Thanksgiving alternative to traditional turkey.
If you're looking for a great alternative for your holiday feast, why not try Cornish game hens? Each person could pretty much have their own bird. They are tender, easy to take home and easy to store using a lot less room in the fridge when the festivities are all over. Your stuffing could be custom if you wanted to get fancy from a cranberry-orange to rice and celery. With the Cornish hens, you can really creative with the glaze; try a peach, orange or pear jam. (The glaze I recommend is a dark raspberry one.) Warm it up and brush on to the birds when they are just browning in the oven. The other bonus is that Cornish game hens take a lot less time to prepare.
Some sides you may be considering would be mashed potatoes and gravy, green-bean casserole, sweet potatoes baked with a brown sugar or marshmallow topping and, of course, cranberry sauce. An excellent bread choice is the authentic French brioche. Lightly sweetened, soft as butter and shared by each person tearing off a piece to enjoy. If you serve it warm like you would dinner rolls, I suggest warming it slightly so it doesn't get too crunchy. I found a good one at Whole Foods.
The game hens can be purchased just about anywhere in the freezer section. As traditions go, we combine collard greens with cabbage, add a big turkey leg, some seasoning and dive in!