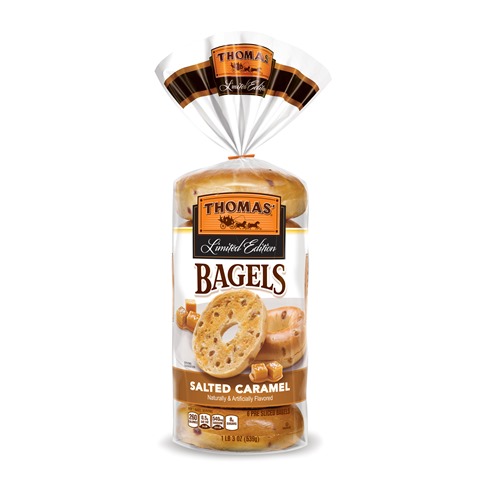 We may be in the middle of summer, but that doesn't mean we can't get an early start on some beloved fall flavors. Last week, Thomas unveiled its Limited Edition Salted Caramel English Muffins and Bagels–a flavor that is sure to reach the cult status that the brand's beloved Pumpkin Spice variety has.
While salted caramel is typically very saccharine and can sometimes have an artificial-ness to it, the English muffins and bagels feature only a subtle sweetness via small, chewy bits of caramel. The bagels are plump and pillowy, delicious straight from the bag for a truly on-the-go breakfast or toasted and topped with a bit of butter. After being toasted, the English muffin is likewise delicious with butter–or for a more decadent start to the day, slick on some peanut butter and pile on sliced banana or strawberries, both which complement the salted caramel.
The new lineup of English muffins and bagels are available through mid-October. Both the muffins and bagels are sold in packs of six; English muffins are $4.49 while the bagels are $4.79.