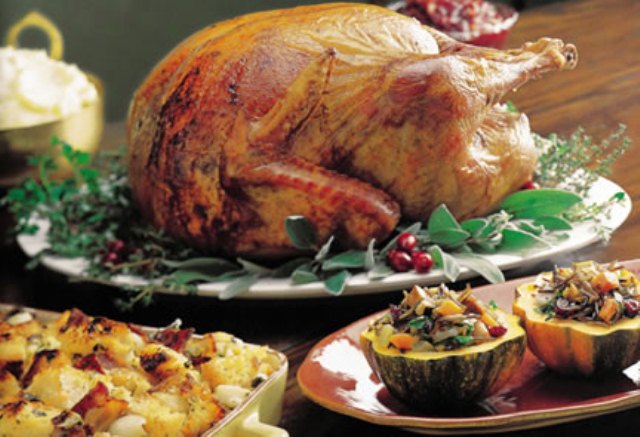 With a little more than a week until Thanksgiving (say what?!), your mind is most likely thinking turkey. To answer some of your questions and ease some of your frustrations, Jeff Anderson, Executive Chef of the Safeway Culinary Kitchens, has graciously provided tips for making Turkey Day a delicious and successful one.
Purchasing
• Preparation is Key: Before heading to the grocery store to the ingredients needed for Thanksgiving dinner, it is important to know where to save and how to stretch the dollar during this busy time. To help with this, the Safeway Just for U digital savings application helps shoppers find personalized offers saving 10-20 percent more.
Preparing
• Add an Element of Surprise with Unique Turkey Recipes: Guaranteed to please any palate, Safeway has unique recipes that offer a twist on festive flavors. Some simple, yet delicious dishes can be found on the Safeway Holiday Site such as chipotle lime, bacon-wrapped, or honey bourbon-glazed turkey breast recipes – all of which pair well with any traditional side dish.
• Turn Up the Heat for a 2-Hour Turkey: The Safeway 2-Hour Turkey recipe, available via the Safeway Chef Assistant App, is a time-saving solution allowing hosts to spend less time in the kitchen and more time with friends and family. Whether frozen, fresh, natural or organic, this recipe provides the secret to crisp brown skin and a tender, moist and juicy meat. The Safeway Chef Assistant App offers a simple step-by-step method to cook the perfect 2-Hour Turkey, along with an easy-to-use recipe timer.
Wine
• Choose the Perfect Wine Pairing: Whether white or red, shoppers can find an assortment of wines for any meal at price points that make picking up a bottle easy. The Safeway wine selection provides a wide assortment from which to choose. New this year, the Safeway desktop and mobile websites include an interactive Beverage Calculator to help calculate the ratio of the number of guests invited to the right amount of alcohol to purchase, making it easy to plan any party.
• Resource: Visit the Safeway Holiday Site or the App Store™ to download the free Safeway Chef Assistant App.