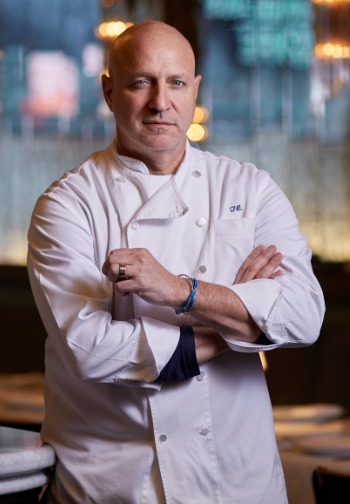 You may know him as a judge of "Top Chef" but Chef Tom Colicchio is also quite the sandwich expert. He is even lending this expertise and recipes to America's Better Sandwich® Contest, hosted by Oroweat Bread. To get you jazzed about all things sandwich, here are some sandwich-making tips, tricks and a recipe that will fit right in now that the fall season is upon us.
Always use the freshest ingredients you can find; there's no substitute for a perfectly ripe piece of produce.
Create sandwiches that fit your and your family's palates, not what the latest trends tell you to.
At the same time, don't be afraid to experiment with new things! You can always try again tomorrow.
The architecture of the sandwich is as important as what you put in it. If it isn't built solidly it will fall apart:
If you're using messier ingredients, like roasted vegetables or condiments such as dressing, try lightly toasting or searing one side of each bread slice until crisp and stack your sandwich with the toasty sides facing in. This will make your sandwich sturdier and help prevent sogginess.
Build sandwiches from the bottom up, starting with the driest and heaviest ingredients first before adding your favorite toppings, like lettuce and tomato. Finally, spread condiments on the second slice of bread before topping the sandwich.
Most importantly, don't overload your sandwich to the point of ingredients falling out when you take a bite!
If served cold, put cheese next to the bread to help reinforce the stability of the sandwich. If served hot, put cheese next to the meat so the flavors can properly play off of one another.
Greens should be dressed prior to placement in the sandwich to ensure consistent seasoning throughout.
Don't overdo it with condiments; the more you mix them, the more muddled the flavor becomes. Pick one that will really accentuate the flavors you're highlighting.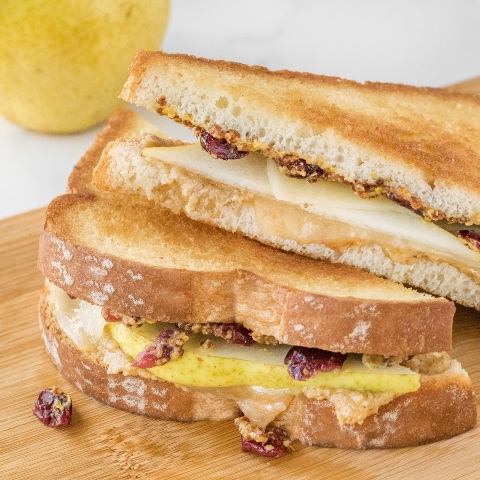 Grilled White Cheddar with Pears, Walnut Pesto & Cranberry Mustard
Ingredients (four servings)
Ingredients for Sandwich:
8 slices Arnold, Brownberry, Oroweat Country Buttermilk bread
8 slices white cheddar cheese
2 Bartlett pears (peeled, cored and sliced)
Walnut pesto (recipe below)
Cranberry mustard (recipe below)
Extra virgin olive oil
Ingredients for Walnut Pesto:
2 cups walnuts
¼ cup extra virgin olive oil
Kosher salt
Fresh ground black pepper
Ingredients for Cranberry Mustard:
1 cup grain mustard
¼ cup dried cranberries
Directions for Walnut Pesto: Preheat the oven to 300° F. Spread the walnuts on a sheet pan and toast in the oven until fragrant (approximately 5-10 minutes). Transfer the walnuts to a food processor and roughly chop. Slowly add the oil and continue to process until you have a spreadable (but not too smooth) pesto; the walnuts release their own oils so be patient while adding oil. Season with salt and pepper and refrigerate for up to one week.
Directions for Cranberry Mustard: Plump cranberries by soaking in warm water for 30 minutes. Drain and roughly chop. Add to grain mustard, stir together and refrigerate.
Directions for Sandwich: On four slices of Country Buttermilk bread, spread the walnut pesto. Add one slice of cheese to each, then sliced pears, then last piece of cheese. Top with cranberry mustard and second slice of bread. In a medium skillet, heat olive oil over medium-high heat. Place sandwiches one at a time in skillet and cook for 3-5 minutes before flipping (check for color and temperature: cheese should be melted and bread golden). If the bread is sticking, allow to cook slightly longer and it will unstick itself. Remove from skillet, pat dry of any excess olive oil, cut in half and serve.