Toca Madera, located outside of Scottsdale Fashion Square Mall, re-imagines traditional Mexican cuisine by taking a modern approach pairing locally-sourced ingredients with bold flavors.
Whether you've eaten at Toca Madera before or have yet to try the restaurants' delicious modern take on classic Mexican cuisine, these new dishes created by Executive Chef Nick Foegal are sure to get any food connoisseurs mouth watering!
New Offerings Fall '20
Atún Pequeño – ahi tuna, pickled kohlrabi, sambal aioli, daikon sprouts, fried garlic, chile tepin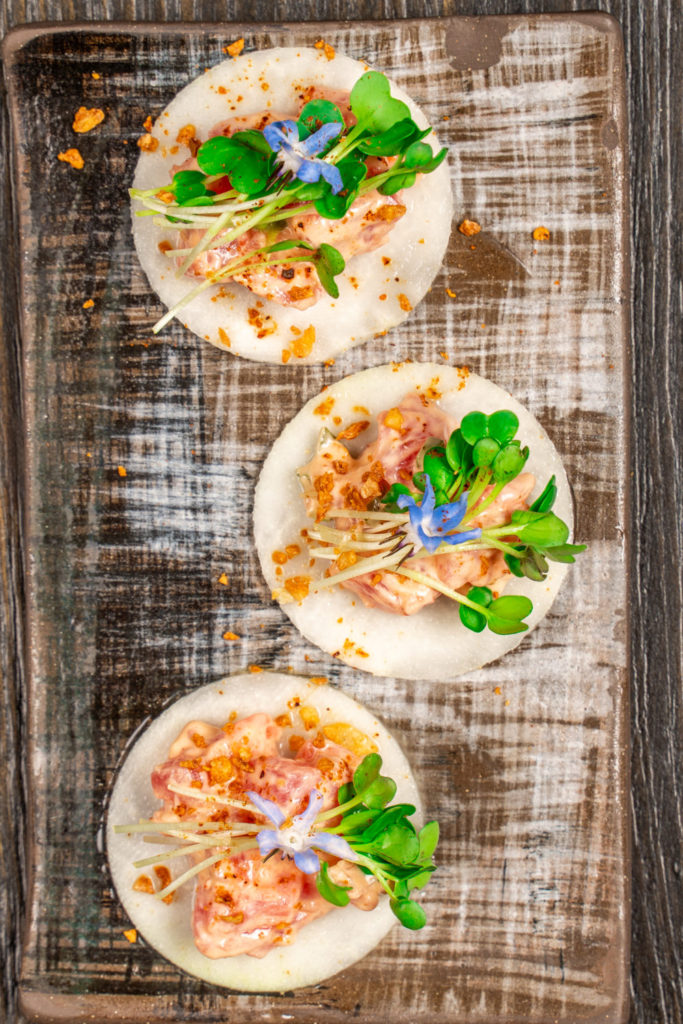 Start the meal off with Toca Madera's latest addition to their "Raw Bar" that brings some of the highest quality seafood ingredients here in the Arizona desert. The Atún Pequeño is a perfect way to begin your meal, with three bite-sized delicacies that will make any seafood lover wanting more!
Taco El Padrino – japanese A5 wagyu, escabeche purée, whipped creme fraiche, gold leaf, caviar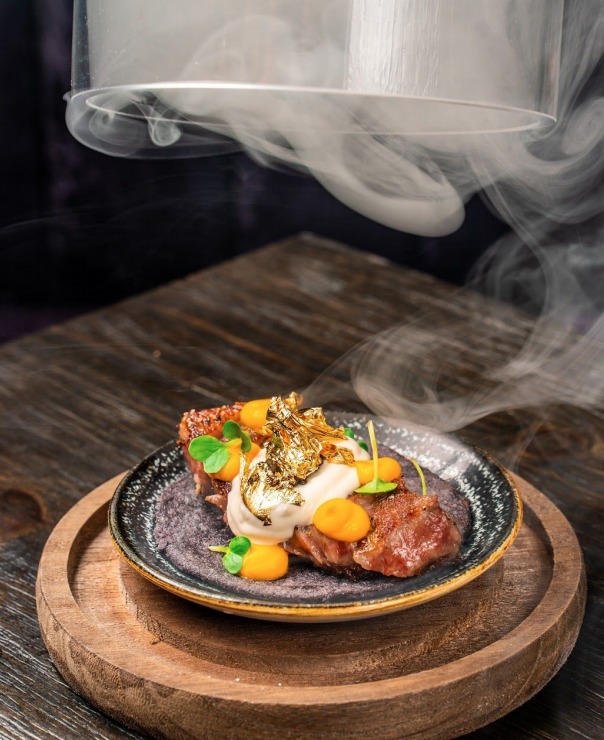 The Taco El Padrino is, hands down, one of the most flavorful tacos in the Valley. The A5 wagyu beef accompanied with whipped creme fraiche melts in your mouth the moment you take a bite.
Executive Chef Nick Foegal tops it off by smoking the Taco El Padrino moments before it arrives at your table, giving the dish another layer of flavor.
Yucatán-Style Whole Fish – whole dorada, heirloom tomato-sauce vierge, with cucumber, radish, and grilled cabbage jalapeño slaw, served with homemade fresh flour tortillas & charred lime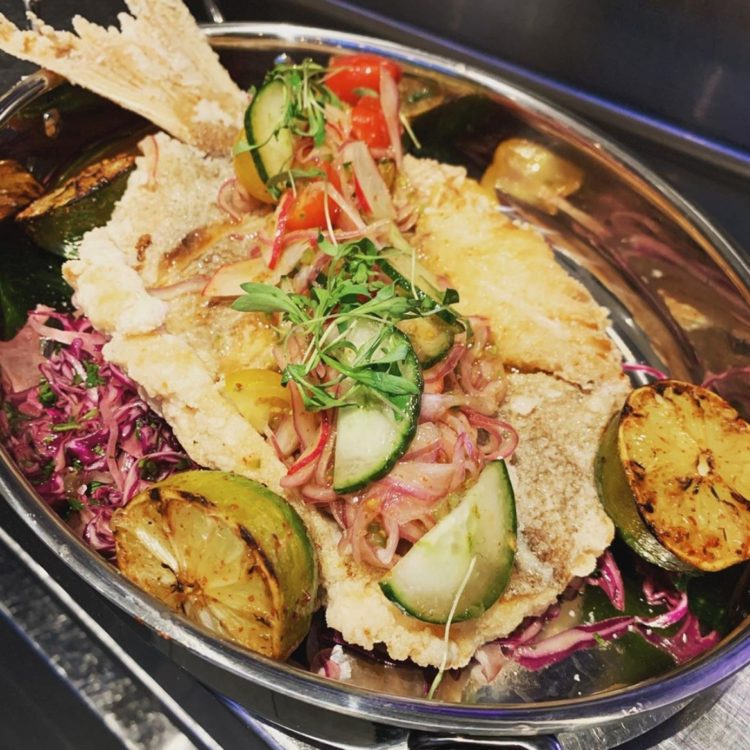 The Yucatán-style whole fish is a beautiful dish for seafood lovers.
The heirloom tomato-sauce, cucumbers, radish, and grilled cabbage jalapeño slaw with the side of flour tortillas, turn this dish into a full-blown meal.
Only Toca Madera can bring top-notch seafood into the Phoenix desert. It takes just like farm to table, or in this case, ocean to table.
Toca Tomahawk – 40oz chipotle charcoal rubbed Snake River Farms American Wagyu served w/ artisanal salts, garlic toreados & truffle butter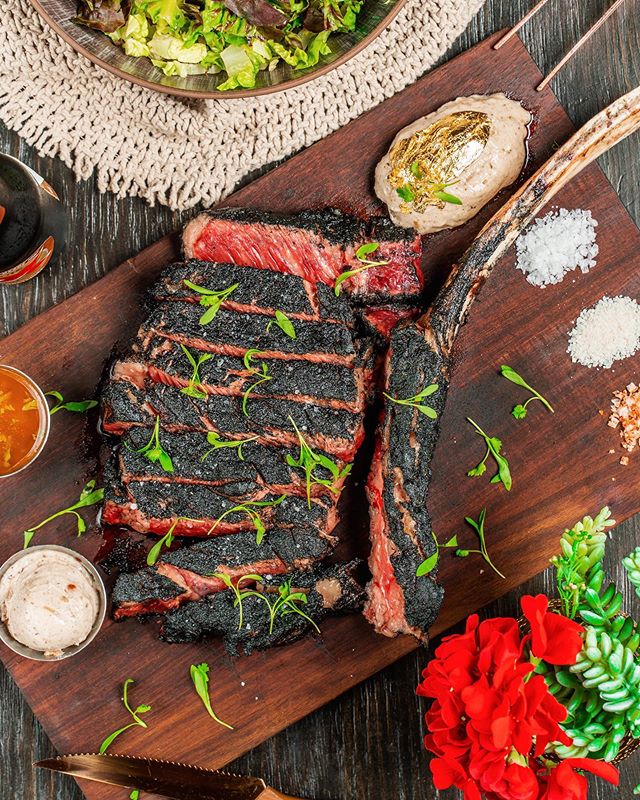 Last but not least is the Toca Tomahawk. This massive 40oz charcoal rubbed American wagyu steak is a perfect meal for two or one (no judgments here).
On the side are three artisanal salts to sprinkle on top of every bite AND a delicious dollop of truffle butter.
The steak alone has a perfect flavor from the charcoal rub, but the salts and butter make it even more delectable.
Oh, and don't forget the side of truffle mac and cheese and street corn. Just in case the 40oz Toca Tomahawk isn't enough!
Cocktails!
Oh, and you can't forget the amazing and original craft agave cocktails at Toca Madera.
Here are a few of the house favorites:
GHOST RIDER – altos plata, fresh mint, lime juice, agave
LOS MUERTOS – el tesoro anejo, blood orange, lime, activated charcoal agave, hibiscus
AGUA FRESCA (in case tequila and mezcal aren't your favorite) – ketel one, coconut water, canela, lemon, pineapple, aperol
For more information or to make a reservation at Toca Madera Scottsdale, visit: https://www.tocamadera.com/