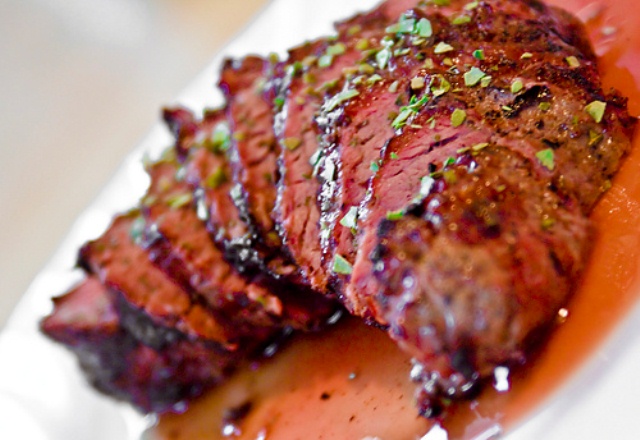 In his brand new book, The Complete Idiot's Guide to Smoking Foods, Chef Ted Reader gives readers easy tips to follow when it comes to firing up the smoker. To get you starter, Reader provides five tips for smoking meat.
1. Be prepared: As we have always been taught, proper and thorough preparation is very important, especially to be successful in meat-smoking. Assuming you already have a smoker, the first step would be the food preparation. Your final result out of the smoker will only be as good as the ingredients you put into it, and it is important to always buy good-quality ingredients. Before bringing your food out to the smoker, a fire will need to be created to prepare the smoke. You'll need to prepare your smoker ahead of time, keeping in mind how long your meat will take to smoke, and what fuel sources you will need during the process.
2. Be patient: Timing is crucial, that's all there is to it. Waiting for foods to smoke, and tending the fire to maintain a consistent temperature can be tedious, but are important to successful smoking. If you have the perseverance to wait it out, you'll discover the art of creating truly delicious foods.
3. No peeking: Do you remember baking cookies, and being yelled at by your mother to stop opening the oven? It's easier said than done, but meat smoking follows the same guidelines. A seemingly-harmless 30-second peek could add approximately 20 minutes to your smoking time. The less you peek, the sooner you eat.
4. Practice makes perfect: Every time you smoke, it's a chance to improve on what you did last time and create new flavors that will make you and your guests deliciously happy. Perhaps try challenging yourself by timing how long it takes for charcoal to reach its perfect white-hot temperature. Keeping track of what you have done will only help make you a better smoker, so try keeping notes and set goals to improve each time you cook.
5. Have fun: It takes the right combination of ingredients, time and patience to infuse wonderfully smoky flavours. A job well done is only measured by how tasty the food is and how much fun you had while preparing your meal.