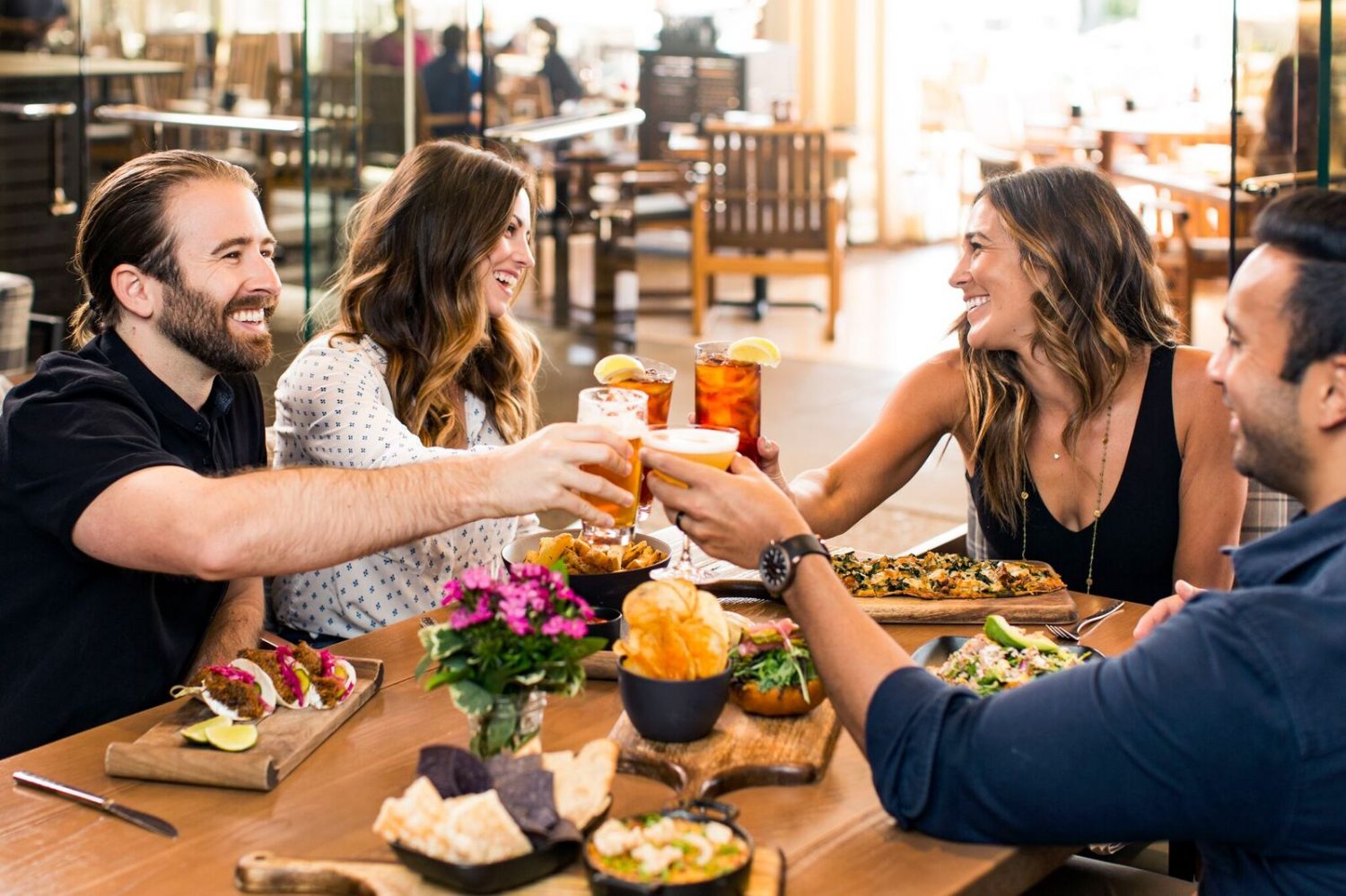 Foodie news roundup for the week of June 17. 
Mowry & Cotton at The Phoenician (pictured) has joined forces with O.H.S.O. Brewery & Distillery to present the ultimate Local-Love Happy Hour, happening at the Mowry & Cotton bar, inside the dining room and on the restaurant's climate-controlled porch. Launching Friday, June 21, and continuing every Monday through Saturday from 5 p.m. to close, guests can sip and sample their way through a colorful selection of $5 O.H.S.O. Arcadia Vodka cocktails.
FJI, a boutique food and beverage interior design studio in Scottsdale, has kicked off its third-annual Design It Forward (DiF) campaign (remember meeting the firm's Dala Al-Fuwaires here?) DiF allows FJI to donate its interior design services to one lucky recipient in the food and beverage industry. Chefs, coffee connoisseurs, wine enthusiasts, home bakers, food truck owners, foodies, entrepreneurs and everyone in between is encouraged to apply for this innovative campaign. FJI is seeking anyone with new concept, expanding concept or remodeling existing location, in the Greater Phoenix area to apply. Food and beverage concepts must be a locally owned and operated, new concept or existing looking for a remodel within 800 to 3,000 square feet of front-of-house space to qualify. The winner of DiF will receive design renderings, valued at $10,000.00, that include a fully developed concept, design drivers, floor plan, reflected ceiling plan, materials and finishes, furniture and lighting and a 3D rendering. Applications close July 12, 2019, and the winner will be announced early August.
Wow Wow Lemonade has released three tasty new watermelon-y menu items for the summer, available now through August 15 at all Wow Wow Lemonade locations. The new items include Watermelon Colada Bowl, a blend of fresh watermelon, coconut, coconut water, banana, strawberry and adaptogen blend, and topped with Local Laura's Granola, fresh watermelon, pineapple, coconut flakes and local honey; Watermelon Colada Smoothie, a blend of fresh watermelon, coconut water, coconut, banana, strawberry and an adaptogen blend; and Watermelon Colada Lemonade, a float of fresh watermelon in the signature coconut lemonade.
The beautiful new Brunch Café in Scottsdale is now hosting a fun-filled morning gathering for all parents with babies called "Breakfast Babies" every Monday morning from 9 to 10:30 a.m. in their large private dining room. All parents will receive complimentary coffee and a chocolate-covered strawberry with the purchase of any meal.
Stop by Juby True on Friday, June 21, to enjoy 20 percent off all smoothies. Plus, guests can also stay hydrated all summer long with Juby True's summer rewards program; now through Labor Day, buy nine juices or smoothies, get the 10th free.
Tres Tempe Restaurant rings in National Selfie Day on Friday, June 21. Happy hour specials begin at 3 p.m. in designated areas, and the outdoor bar will be open on the patio at 5 p.m. with a photo booth and props so guests can take their selfie game to the next level. Happy hour drink specials will also be available on the patio from 5 p.m. on while enjoying live music by Andrew Gork beginning at 6 p.m.
Get kiddos off the iPad and into the kitchen this summer! Give your little chef a celebration with a Fired Pie party package, which includes a behind-the-scenes kitchen tour and interactive pizza-making experience. Fired Pie's certified pizza chefs will give the group a glimpse into how the kitchen makes the pizza magic happen and then will teach the kids how to whip up their own pizza creation. The party also includes a customized pizza, Pookie (half-baked, warm cookie) and a soft drink for every child. Fired Pie will also throw in a free Pookie for your next visit! The cost is $6 per child and parties are designed for kids 10 and under, the maximum is 20 children per party.  Hours will vary per location, but most tours are available to be booked between 10 and 11:30 a.m. To schedule your party, contact info@firedpie.com.
From June 21 to June 23, Morton's The Steakhouse will offer a three-course, lobster-centric menu for  $69. Diners can savor their love of shellfish with their choice of a starter, entrée and a side including items like lobster bisque, lobster-cargot, lobster thermador and lobster mac and cheese. Guests can pair these dishes with a bottle of Butter Block, Chardonnay, Santa Maria Valley for an additional $49.
Congrats to LON's at The Hermosa Inn! For the fifth consecutive year, LON's has been named one of OpenTable's 100 Best Al Fresco Restaurants in America for 2019. The list of honorees is based on an analysis of 12,000,000-plus reviews, canvassing more than 30,000 restaurants across the country, all submitted by verified diners.
In honor of National Vanilla Milkshake Day on June 20, ZuZu will be celebrating in tropical style with the Dreamsicle "Show Stopper" Shake that is inspired by the Hawaiian entertainer Don Ho. The shake has a vanilla ice cream base mixed with passion fruit, orange and guava and will be topped with an orange creamsicle ice pop, pineapple upside down cake, coconut macaroon, candied coconut, orange jello, toasted macadamia nuts and a passion fruit tart with tropical fruit. This shake will be available now through June 30.
From Monday, June 24, to Sunday, June 30, MODERN OYSTERBAR CHOPHOUSE will raise a toast and celebrate negronis—all in the name of charity. The restaurant has created three unique Negroni cocktails that will only be available that week, with a portion of proceeds going to No Kid Hungry. The three variations of Negroni cocktails, available only during negroni week, are The Classic Negroni (made with Botonist Gin, Campari and Carpano Antica Sweet Vermouth), the Negroni Agave (made with Codigo Blanco Tequila, Aperol and Carpano Antica Sweet Vermouth) and the Modern Negroni (made with Prosecco, Campari, Carpano Antica Sweet Vermouth, Hibiscus Simple Syrup and lemon juice).