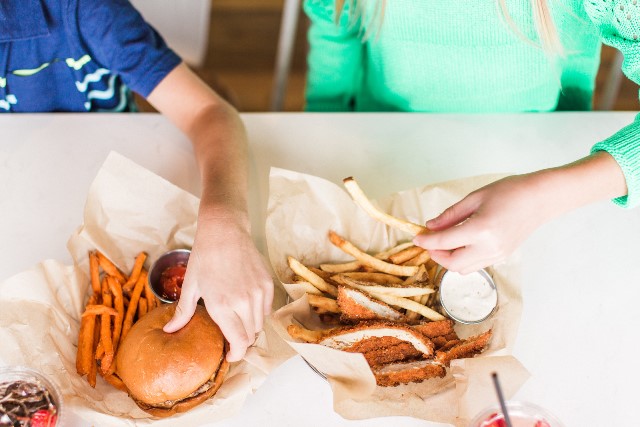 Foodie news roundup for the week of July 9.
Fox Restaurant Concepts knows that no parent wants to spend these hot summer nights over a stove. So now through August 31, children 12 and under can enjoy any item off the kid's menu at Zinburger (pictured) for just $4. Tots get to choose from a hamburger, cheeseburger, grilled cheese or crispy chicken strips alongside a choice of hand-cut fries, sweet potato fries or ranch salad for a hearty (there is no skimping on size just because it's a kid's meal!) spread that little diners will actually want to eat.  The meal also includes a soft drink or, our favorite, a refreshing strawberry lemonade. Plus, for just $2 more, kids can add one of Zinburger's shakes or floats to their meal. We recommend the Butterfinger milkshake with whipped cream.
Cold Beers & Cheeseburgers is treating frequent fans this summer with the No Peeking pull tab promo now through Labor Day. How does it work? Dine in at Cold Beers & Cheeseburgers and receive one No Peeking pull tab to redeem at a future visit. The next time guests dine in, give the pull tab to an authorized Cold Beers & Cheeseburgers staff member, and they will reveal the prize (think $1,000 Visa gift cards, complimentary lunch, a two-night stay at a local resort and much more). Each guest wins at least 10 percent off their order.
Nico Heirloom Kitchen in Downtown Gilbert is hosting a special summer dinner series on Thursday, July 19 called "A Tribute to Anthony Bourdain." The two-hour four-course dinner starts at 6:30 p.m. featuring some of  Bourdain's favorite dishes (like steak frites and whole roasted hog) along with cocktail pairings. Cost is $50 plus tax and tip per person.
Pita Jungle wants customers to show their "in-DIP-endence" by simply sharing photos of their favorite hummus flavor for a chance to win free Pita Jungle for a year. The social media contest runs now through July 31 and one winner will receive $25 in "Pita Dough" (gift certificates) per month for an entire year. How to enter: Visit any of the 20 Pita Jungle locations in Arizona. Take a photo of your favorite Pita Jungle hummus flavor. Upload a photo via this link. And enter daily to increase your chance of winning.
Ono Hawaiian BBQ is continuing its expansion with a new restaurant in Phoenix. The 73rd location will celebrate its grand opening with a festive luau Friday, July 13,  complete with a ribbon cutting ceremony, raffle (50 $100 gift cards will be given away on the spot), Hawaiian dance performers and an offer of buy one, get one free for all food items during business hours.
Off-menu summer flavors and rosé pairings can be found at ZuZu's Monday Night Chef's Table on July 16. Each month inside Hotel Valley Ho in Old Town Scottsdale, executive chef Russell LaCasce and the special guest will guide you through a special four-course menu with wine pairings. July's dinner is a special event showcasing four different wineries, with wines thoughtfully selected by winemaker Mark Lyon with pours from Veuve Clicquot, Château Gassier, Ferrari Carano and WillaKenzie. Dinner starts with canapés, followed by Duncan's Trading Co. exotic melons, black truffle carbonara, and salted caramel panna cotta with candied cashews. Each event starts at 6:30 p.m. and is $75 per person, plus tax and gratuity.
The Gilbert area welcomes Thai Chili 2 Go's latest location at 1887 E. Williams Field Road, Suite 101. Scheduled to open July 17, the newest Thai Chili 2 Go will feature technology via ZIVELO, a local computing technology company that offers self-order kiosks and digital signage solutions for any industry. The first 100 customers receive a free entrée on July 17 (and free dumplings to other customers once 100 entrees have been given). Then, from July 17 until August 17, buy one entrée, receive 50 percent off the second.
In honor of National French Fry Day on Friday, July 13, Macayo Mexican Restaurants Valleywide are celebrating all weekend long with specials from Friday, July 13, through Sunday, July 15. Guests are invited to get their fill of fries at any Macayo location with red or green chile fries (regularly $8.99) for just $5.
Throughout the month of July, when guests purchase a pound of fudge from Rocky Mountain Chocolate Factory at Tempe Marketplace the store will donate a pound of fudge to overseas troops via Packages From Home, a Glendale-based nonprofit organization dedicated to service men and women overseas. In addition to the donations, guests can write a "thank you" note to military service members, and Rocky Mountain Chocolate Factory will ship them with the donations.
On Thursday, July 19, at 6:30 p.m., MidiCi Neapolitan Pizza Company offers a light four-course wine pairing dinner for  $35 per person. The food will be served family style so that the event encourages conversation and making new friends. Each course will be accompanied by a wine that complements every bite, including artisan meat and cheese board, fresh salads, authentic Neapolitan pizzas and mini dessert calzones. Reservations are highly encouraged (but not required).
MOD Pizza has unveiled its first'ever "Impact Pizza" – The Isaac (named after a boy named Isaac who had a special relationship with his local MOD Squad in Naperville, Ill.) – and a partnership with The Jed Foundation (JED), a nonprofit organization that exists to protect emotional health and prevent suicide for our nation's teens and young adults. The Isaac Pizza will shine a light on teen suicide and mental health. The Isaac Pizza will be available at all 350-plus MOD locations across the U.S. now through October 1. MOD is also donating $50,000 to help JED shine a light where it's needed most.
In honor of Fired Pie's fifth-year anniversary, the restaurant will be celebrating with a different deal or special at all 20 locations from Wednesday, July 11, to Monday, July 16:·
· Thursday, July 12: any guest who purchases an entrée will receive one free medium soft drink.
· Friday, July 13: every guest who makes a purchase in-store will receive a free Pookie card for use on their next visit.
· Saturday, July 14: Fired Pie will offer salad for just $5.55 (plus tax)
· Sunday, July 15: guests who order in-store will receive 10 percent off their entire purchase.
· Monday, July 16: to wrap up the week of deals, Fired Pie will be offering a buy one entrée, get one free deal with the purchase of two beverages.
The above deals are valid at restaurant only, with a limit of one per person. Deals not available through third-party delivery.