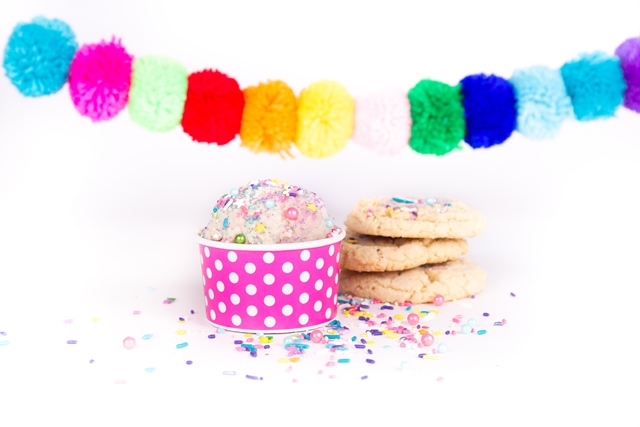 Foodie news roundup for the week of July 2.
Unbaked (pictured), an edible cookie dough eatery, is now open in Old Town. The too-cute shop, brimming with fun "dough" puns and bright signs, specializes in safe-to-eat cookie dough in flavors like peanut butter, cake batter, chocolate chip, cookies and cream and much more. Get it in a cup, a homemade waffle cone or between two (baked) cookies. Also, don't miss out on Unbaked's incredible from-scratch ice cream flavors, with strawberry short cake being a favorite.
The Arizona Animal Welfare League has released a local, ethical and bold Rescue Brew roasted by Flagstaff-based Matador Coffee for the state's largest and oldest no-kill shelter. Each bag of the medium-roast coffee sold covers the cost of core life-saving vaccines for one homeless pet. You can pick up a 12-oz. bag of coffee for $20.49 (which includes shipping) online or directly from the main Phoenix shelter or AAWL's Chandler Fashion Center location.
Crudo in Phoenix is hosting a special pop-up event that's temporarily transforming the adjacent Bar Crudo into "Barh Mi" and serving up a globe-spanning feast featuring Banh Mi sandwiches and more. Hosted for two weeks during their annual summer vacation and refresh, (July 11 to July 14 and July 18 to July 21), enjoy a full menu of these savory Vietnamese-French sandwiches. Hosted exclusively in the bar area, guests are invited to eat at the bar, or sit down in the cozy bar area seating for a full-service feast. Plus, on Saturday, July 14, Crudo will host a Bastille Day celebration with French-inspired eats and drinks. Note: Crudo's sit-down dining room will be closed from July 1 to July 23.
Southern Rail invites guest to celebrate the classic American dish in honor of National Fried Chicken Day with Birds & Bubbles on Friday, July 6. The event will last from 5 to 10 p.m. and guests who order Southern Rail's fried chicken will receive a complimentary glass of bubbles. Southern Rail's  fried chicken dish features Yukon gold mashed potatoes and corn on the cob for $22. Reservations are recommended; click here.
Valley Famous Dave's locations will once again team up to help in a Back to School Supply Drive benefiting Southwest Human Development. People are encouraged to drop off new school supplies and new backpacks at any of the four Valley Famous Dave's locations during normal business hours from July 2 to July 31 to help families and children in need. As a special incentive during this school supply drive, if you donate a new, book-size backpack at one of the Valley Famous Dave's locations, you will receive a voucher for a free Georgia Chopped Pork Sandwich. Limit one per person.
MidiCi Neapolitan Pizza Company announces its Pajama Night every Tuesday starting July 3 through August 28. Children 12 and under who come to the restaurant dressed in their sleepwear between 5 p.m. and 9 p.m. will receive a free kids' margherita pizza with purchase of another entrée. Disney movies will be on rotation, and interactive games for the kids to participate in will be available during this time. (One free kid's pizza for every regular-sized entrée purchased, when PJs are worn).
For both every regularly priced margarita at Sandbar Mexican Grill and every regularly priced pizza at Bottled Blonde purchased during the month of July, $1 will be donated to purchase water to donate to the hydration stations around the Valley. In addition, to the donation at the end of the month from the purchased margaritas and pizzas, Bottled Blonde and Sandbar will donate additional bottles of water to the UMOM New Day Centers throughout the month.
Press Coffee is coming to the neighborhoods of Tempe and Ahwatukee. The newest café for the specialty coffee roaster is part of the Palette Collective on the Southwest corner of Priest and Elliot Roads. To celebrate the first week of its grand opening, from July 8 to July 14, Press Coffee at the Palette Collective Tempe will have its daily drip brew available in any size for only $1. It will donate 100 percent of the proceeds from drip coffee sales that week to the Phoenix Children's Hospital Foundation as part of its Press On Charities program.