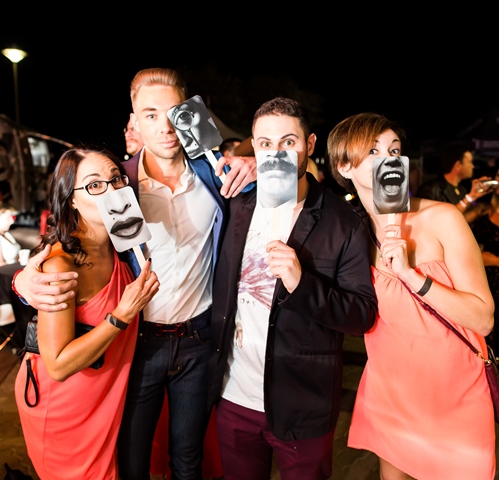 Foodie news roundup for the week of April 2.
Through April 12, Chēba Hut Toasted Sandwiches in Ahwatukee hosts the "Sheriff Schmoe" Look Alike Contest. Contestants should check out the Chēba Hut Ahwatukee page at https://www.facebook.com/Chebatukee/ to submit their video for the contest. Deadline to submit a video is 11:59 p.m. Thursday, April 12. Videos are to be no more than two minutes to be considered for the contest winner. A panel consisting of the Chēba Hut staff will then choose the best "Sheriff Schmoe" impersonator based on the set of criteria consisting of but not limited to looks, mannerisms, quotes or any other type of representation of the Sheriff. The 10 finalists will be announced prior to April 17, with the winner of the contest being contacted on April 18. The winner must be able to appear in person at the restaurant Grand Opening Event on April 20 at Chēba Hut in Ahwatukee and will receive $500 and free Chēba Hut sandwiches for one year (one sandwich per week for 52 weeks). For complete contest rules, click here. 
National Beer Day is on April 7 in celebration of the Cullen Harrison Act,  the law allowing people to buy, sell and drink beer in the United States. And Two Brothers Tap House & Brewery is saying cheers in a unique way: any guest who comes to the Scottsdale brewery and repeats, "I think this would be a good time for a beer," the famous remark made by Franklin D. Roosevelt upon signing the legislation, will receive their first beer for $1 (excluding special releases).
Join Trapp Haus BBQ on Friday, April 6, at 6 p.m. for good eats and a great cause! The crew at Trapp Haus BBQ are proud to support local DJ Louanna Faine (part of the Beatlocker on 101.1 The Beat)  in her quest to become Ms. United States. On Friday, April 6, Trapp Haus will donate $1 from every brisket or pulled pork sammitch sold, to Faine and her non-profit, the Real Change Foundation, that seeks to end child trafficking and supports foster children. Faine will participate in a dunk tank where fans and friends alike can "sink" her in the water for a donation. Mr. Softee Ice Cream truck will also be part of the festivities as well as a live DJ.
Set your DVR: Phoenix chef and co-founder of CRUjiente Tacos, Rich Hinojosa, will appear on Food Network in an upcoming episode of "Chopped." The episode will premiere on May 1. Tune-in time is at 7 p.m. MST to watch!
On Thursday, April 5, ALL Valley Dutch Bros. locations will participate in Coffee Day of Giving. Buy any drink all day long and $1 will be donated Phoenix Children's Hospital. All Dutch Bros. will be dressed as superheroes as a show of strength for Phoenix Children's patients.
In honor of National Burrito Day and National Beer Day, all Macayo's Mexican Restaurant locations are offering a special "Burro and Beer" combo exclusively from Thursday, April 5, through Saturday, April 7. During this time, guests can enjoy a red or green chile burrito with a draft beer for just $10.
The Joy Bus is pleased to present the Prom Night Gala, a festive and food filled fundraiser and dinner featuring Arizona's Seven Chefs collective. Hosted at the Hotel Valley Ho on Sunday, April 15, at 6 p.m., this culinary event will feature top local chefs from this collective dedicated to raising the profile of Arizona's dining scene, and supporting worthy local charities, by hosting chef-led dinners. At the Prom Night Gala, each chef will handcraft and prepare a custom course paired with craft beer and fine wines. The featured chefs are Keenan Bosworth (Pig & Pickle), Tracy Dempsey (Tracy Dempsey Originals), Josh Hebert (Chef Lounge), Stephan Jones (The Larder + The Delta), Bernie Kantak (Citizen Public House, The Gladly), Russell LaCase (ZuZu) and Gio Osso (Virtu Honest Craft, Nico). In between guests will be able to socialize with the chefs while browsing exciting silent auction items and learning more about the amazing work The Joy Bus does in the community. Tickets to The Joy Bus' Prom Night Gala are $92.78 and available here.
Kicking off the Scottsdale Culinary Festival weekend for the second year in a row, mark your calendars for The Cocktail Society (pictured) on Friday, April 13. The Cocktail Society will be a night to remember with a spectacular lineup of live music, local restaurants and show stopping performances including aerial and flair bartending, stilt walkers, contortionists, balancing acts, magicians, living art displays and edible sensory experiences. Presented by the Scottsdale League for the Arts, The Cocktail Society is held at the Scottsdale Center for the Performing Arts. Doors open at 7 p.m. Tickets are all inclusive with food, beverages and entertainment for $85 each during online presale and $100 at the door. This is a 21-and-over event.
For more fab foodie news, become a fan on Facebook and a follower on Twitter @AZFoothillsFood and Instagram @AZFoothills.