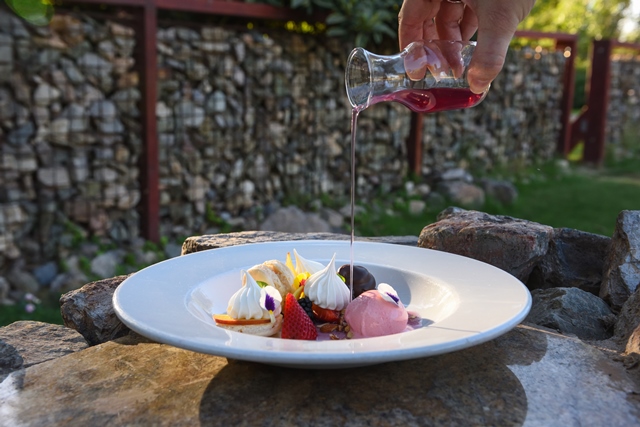 Foodie news roundup for the week of August 7.
Every Tuesday, Wednesday and Thursday through the end of August, the special once-a-year "Taste of Quiessence" menu spotlights hyper-seasonal, Arizona ingredients displayed throughout a three-course dinner from Chef Dustin Christofolo at the Farm at South Mountain restaurant (pictured). The special Chef's Tasting price will be available to the first 12 diners who reserve during the special event dates. The three-course "Taste of Quiessence" will be $45 per person (not including tax and gratuity). A wine pairing option will also be available for each guest for an additional $20.
One of our favorite breakfast spots is coming to the Camelback Corridor next month. Over Easy will open its newest location, a 3,000-sq.-ft. space, at the Biltmore Center II (2398 E. Camelback Rd.) at 24th Street and Camelback in September with a fresh, from-scratch menu.
Nekter Juice Bar, will celebrate the launch of the newest Skoop (a new, healthy frozen treat) flavor, Simply Strawberry, with a buy-one, share-one-free at all 14 restaurants in Arizona. Simply say the word "radio" upon ordering to get the deal. The special is available now through August 20, from 5 p.m. to close.
Award-winning, Michelin-starred chef Alex Stratta has accepted the position of Culinary Director at MATCH: Restaurant & Cocktails located at 1100 North Central Avenue, inside the FOUND:RE Hotel. He plans to debut a new menu in September at the wood-fired, locally focused restaurant.
Brat Haus in Scottsdale is going all out this year for National Bratwurst Day on August 16. Brat Haus guests can dig into the Goldwurst Brat made with Goldwater Brewing Company's, Goldie Ale, free to all patrons with a $6 minimum purchase from 4 to 10 p.m. The best part? The brat will be infused with gold flecks.
Local favorite Rita's Italian Ice is debuting a new concept – Rita's Italian Ice & Creamery – and Phoenix is home to two of the first concept locations nationwide, including one of the only completely brand new prototype stores. (Tempe Mill Avenue is anticipated to open on August 10 and Chandler's prototype store is anticipated to open mid-September) .Rita's Italian Ice & Creamery will feature its Hand-Scooped Frozen Custard, a rich and indulgent handcrafted treat that is the marquee item of the new concept.
Celebrate National Bowling Day on Saturday, August 12, at Uptown Alley. The venue is offering free shoes and one free game of bowling from 8 to 10 a.m. and will dish up a special breakfast menu available that morning that will include a breakfast burrito, egg and cheese quesadilla and a traditional egg breakfast dish served with toast and bacon or sausage.
For more fab foodie news, become a fan on Facebook and a follower on Twitter @AZFoothillsfood and Instagram @AZFoothills.