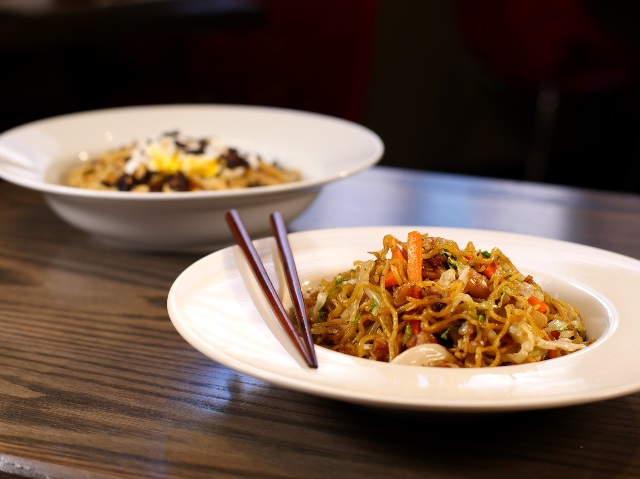 Foodie news roundup for the week of Sept. 26.
Chef Marco DiSanto of Phoenix's Noodle Bar (pictured) has crafted a week-long promotion celebrating noodle dishes from around the world in honor of National Noodle Day, happening Thursday, Oct. 6. From Friday, Sept. 30 to Wednesday, Oct. 5, enjoy $6 ramen dishes, $6 Italian pasta dishes and $6 special international noodle dishes. On National Noodle Day–the 6th–savor a one-day-only menu of all six special international noodle dishes for $6.
Coco21 and W Scottsdale have partnered to host an social media photo contest! All you have to do is show off your best and most creative photo with your favorite flavor of Coco21. Winner will receive a one-night stay and cabana at W Scottsdale on Oct. 22. Coco21 is available at all local grocery stores. Post your best photo by Oct. 15; voting will take place the 16th through the 19th (one vote allowed per day), with a winner announced on Oct. 20. Must be 21-plus to enter and photos must be clean and fun. Link to submit: https://www.facebook.com/coco21cocktails/app/515720611858523/.
In celebration of Breast Cancer Awareness Month in October, Salty Sow in Scottsdale will be offering a specialty Pink Drink–its house Blanche Margarita, for the special price of $5 Monday through Sunday.  The margarita is made with gold tequila, triple sec, margarita mix, and blood orange puree.
Every Wednesday, Lululemon shoppers can enjoy wine provided by Sorso Wine Room on their patio while they shop in the late afternoon at Scottsdale Quarter. Sorso will also provide Lululemon shoppers a gift certificate that offer them 10 percent off of food or a "buy one bottle get a second bottle (of equal or lesser value) 50 percent off" at Sorso's Wine Market. The certificate will be good every Wednesday between 6 and 9 p.m.
On Oct. 8 at 6 p.m., Coup des Tartes hosts the Mafioso Murder Mystery Dinner for $65 per person. Come join the Godfather and his Mob and see if you can figure out who ordered the "hit" while savoring a three-course menu. For reservations, call 602.212.1082.
Served throughout the entirety of the 2016 State Fair of Texas (Sept. 30 through Oct. 23), TEXAZ Grill's TEXAZ State Fare menu features Lone Star State favorites like "Fletcher's Original State Fair Corny Dog" and the iconic Frito Pie. Plus, wash it all down with TEXAZ Grill's signature Cotton Candy Lemonade cocktail.
The Four Peaks Oktoberfest is headed back to Tempe Town Lake Oct.r 7-9 for the 44th year of the event. As always, proceeds from the Four Peaks Oktoberfest will continue to benefit Tempe Sister Cities, which helps to provide international exchange programs to cities all over the world for students, educators and professionals. For the first time, though, the Four Peaks Oktoberfest will be charging guests an admission fee for entrance to ensure a premiere festival going experience. Pricing on the beers will remain the same, $6 per beer no matter the style, allowing all guests to enjoy and sample a wide variety of flavors. Wine will be available for purchase too. For dining, there will be bratwursts with all the fixings for those looking for traditional German style fare–but there will be something for everyone. The festival will be full of food vendors offering everything from lobster mac and cheese to street tacos to your traditional festival food.(All food and beverage tents this year will have the ability to accept credit/debit cards and cash. ATMs will also be available on-site.) Music acts include Whiskey's Quicker, Jared and the Mill, Royal Bliss, Mogollon, Aubachtal Sextette, DJ Munition and Grammy award winning DJ, Lil Jon. The Landings Credit Union Kinderfest will also be a big hit for family fun and entertainment. Pre-sale tickets start at $7; $10 at the gate. VIP tickets are also available.
On Oct. 1, enjoy a Mexican brunch feast cooking class at El Palacio Mexican Restaurant showcasing chilaquiles, huevos rancheros, margaritas and Micheladas starting at 10 a.m. Cost is $15, and includes class, brunch and a cocktail. To reserve a spot visit: http://bit.ly/2aZ8JfE.
For more fab foodie news, become a fan on Facebook and a follower on Twitter @AZFoothillsFood and Instagram @AZFoothills.