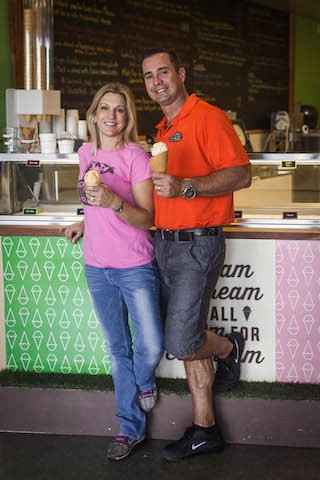 It's difficult to imagine a brand of ice cream that isn't good. The refreshing and often-decadent taste of the cold, sweet dessert is especially popular here in Arizona – where locals and visitors flock to local ice cream shops during the summer months to escape the heat and indulge in a refreshing treat.
While ice cream may be good, most flavors certainly can't be held in the same light or even be measured in the same standards, as the ice cream at The Screamery. Each flavor and ingredient is crafted with so much attention to detail and care, with an authentic desire to truly cultivate an ice cream of sensational quality. 
And quality was what first inspired the inception of The Screamery. Owners Kenny and Linda Sarnoski came upon the idea several years ago, in the midst of a new diet – of all things. Their diet required that they refocus their eating habits on more natural and wholesome meals, thus eliminating dessert favorites like ice cream.
So, when store-bought ice cream failed to meet their new diet criteria, they vowed to make their own. Through their unparalleled ambition and hours of experimentation, a new ice cream was born.
The Screamery is the first ice cream shop in Arizona that has been certified to pasteurize its own ice cream – and the quality of the dessert is present in its taste. The base is crafted with milk from grass-fed cows and natural ingredients.
Beyond the ice cream, The Screamery also maintains a warm and inviting ambience – a trait that feels like it is rarely, if ever afforded, in many modern ice cream chains. Visitors don't just grab their treat to-go; they take time to unwind, connect and appreciate some of the best things in life.
The same level of care that is invested into each of the Screamery's creations is also paid to each guest who visits any one of their shops. The cozy and safe feel of the space, as well as its workers, is what continues to draw people back –often with even more family and friends in tow each visit.
The Sarnoskis look to continue their expansion of their vibrant and remarkably young brand. The Screamery now has five locations across the state, with even more expected to open this year. Though they hope to grow the business, they want to ensure that the magic and quaintness of The Screamery isn't somehow lost in the translation.
"We're really gonna take the time to figure out how to maintain our brand, and then just continue to grow and continue to make it a place where people still want to hang-out," says Linda.
The Screamery has locations in Tucson and Phoenix.
For more information on The Screamery, visit its official website. -Kyley Warren