Before we know it, fall will be upon us–as will endless pumpkin spice lattes, Halloween candy and other not-so-good-for-you eats. In order to make sure you are getting proper nutrition as we head into the fall months, try out these delicious, and healthy, eats (one each for breakfast, lunch and dinner) from Felicia Romero, a celebrity fitness trainer, former fitness cover model and cast member on the upcoming season of A&E's "From Fit to Fat to Fit."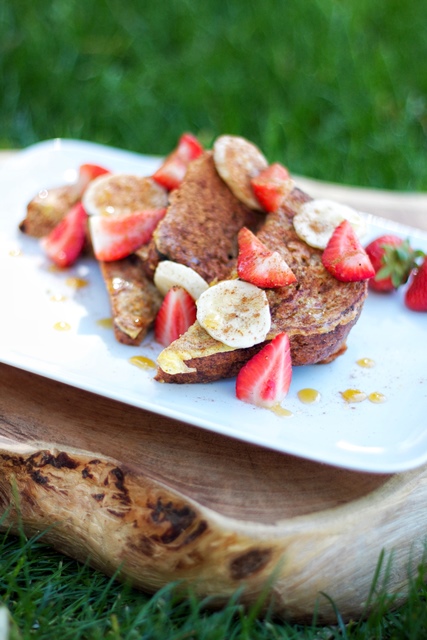 Healthy French Toast
Serves 1
2 slices Ezekiel bread
2 eggs
2 tablespoons Almond Milk
1 tablespoon cinnamon
1 teaspoon coconut oil
Toppings:
1 table spoon of raw honey
1/3 cup of chopped strawberries and bananas
Heat a non-stick pan over a low to medium. Grease pan with the coconut oil. Scramble the eggs, milk, cinnamon in a medium bowl. Transfer the egg mixture in a low-set bowl. Soak the Ezekiel bread in the egg mixture for 10-15 second on each side. Cook the Ezekiel bread for 2-3 minutes on each side until golden brown. Serve warm with toppings of choice and enjoy.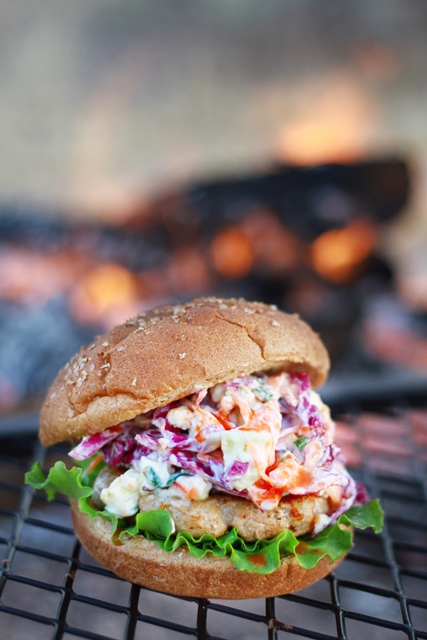 Healthy Spicy Turkey Sliders
Serves 8
Burger and Buns:
1 pound ground turkey breast
1/2 cup diced onion
1 large clove garlic, grated
1 tsp. salt
1/4 cup of dads favorite buffalo sauce (save some for garnish as well)
6 whole wheat buns
Slaw:
2 green onions, sliced and divided
2 Tbsp. low-fat mayo or Greek yogurt
5 Tbsp. buttermilk
1/4 tsp. salt
2 Tbsp. crumbled blue cheese
3/4 cup shredded carrot
3/4 cup shredded red cabbage
Combine the turkey breast, onion, garlic, salt, buffalo sauce and 1 green onion in a medium bowl. Form into six patties. Heat a grill pan or nonstick skillet to medium-high heat. Add the sliders and cook until they're golden brown on both sides and cooked through, about 2-3 minutes per side. While the patties are cooking, whisk the mayo or Greek yogurt, buttermilk, salt and crumbled blue cheese together in a small bowl. Add remaining green onion, shredded carrot and red cabbage. Toss in the dressing and season with salt and pepper. When the patties are finished cooking, brush with a little bit more hot sauce. Place the patties on slider buns, top with slaw and serve.


Healthy Mason Jar Spring Greens & Berry Salad with Poppyseed Dressing
Serves 4 to 6
Salad:
1 5 oz. bag of fresh spring greens mix
6 ounces fresh raspberries
6 ounces fresh blueberries
4 whole strawberries, hulled and sliced
4 large strawberries, chopped
Dressing:
 2/3 cup avocado oil
1 egg (preferably pasture-raised)
½ teaspoon mustard powder
1 teaspoon lemon juice
½ teaspoon sea salt
2 tablespoons honey
2 tablespoons apple cider vinegar
2 teaspoons poppyseeds
Mix the avocado oil, egg, mustard powder, lemon juice and salt in an immersion blender and mix well (about 60 seconds). Add the honey, apple cider vinegar & poppyseeds to the container and blend with the immersion blender again until well combined. When finished, take 32 oz mason jars and use 2-3 tablespoons of dressing at the bottom of each jar. Then begin layering other ingredients, starting with the wet ingredients closest to the bottom. We recommend layering in this order: berries, chicken, greens. Top with a lid and store until ready to serve. Finally, when ready to serve, shake jar lightly to mix ingredients and pour into a bowl for an easy on-the-go healthy meal.