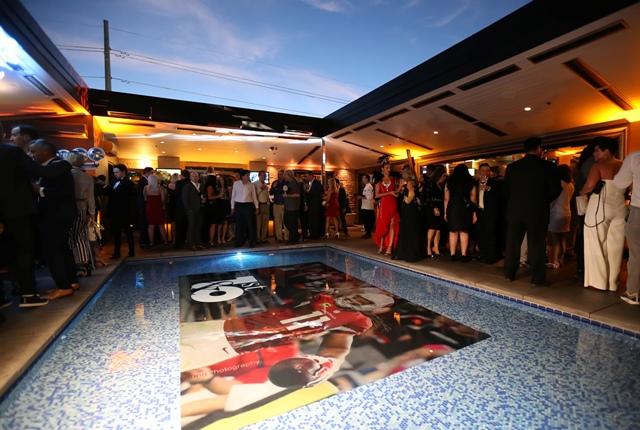 Prime Steak Concepts, the folks behind Steak 44, Dominick's Steakhouse and the soon-to-open Ocean 44, not only please Valley palates with some of the tastiest cuts of beef but are also one of the most philanthropic groups in the area.
Prime Steak Concepts has been keeping busy. In addition to the opening of Ocean 44 in Scottsdale in November, Steak 44 will debut a renovation in early 2019 and Dominick's Steakhouse kicks off the fall with two charitable events.
Steak 44 is known for being one the easiest-on-the-eyes restaurants in the Valley, and it is upping its luxe factor even more with its current renovation. Oliver Badgio, chief brand officer for Prime Steak Concepts, says that the group gained control of the fitness center located behind Steak 44, which has allowed them to expand the restaurant, adding new dining rooms and a dining bar and embark on a state-of-the-art renovation of the kitchen. Approximately 80 additional seats will be added during the million-dollar renovation. (The usual restaurant operations are not interrupted at all as the restaurant expands.)
Over at Dominick's Steakhouse, the restaurant is gearing up for two highly anticipated charitable evenings—just a few of the philanthropically focused events that take place at Prime Steak Concepts during the course of the year. "We spend all of our resources on philanthropic outreach, and it is a wonderful opportunity for good will," Badgio says. In March, Steak 44 hosted Dinner of Champions with Tony LaRussa and ARF to fundraise for LaRussa's pets-for-veterans organization. In May, the restaurant raised money for veterans and student athletes during an event for Honor House and Sun Devil Athletics. More recently, Dominick's Steakhouse paired up with Larry Fitzgerald yet again for his beloved Fitz's Supper Club event to aid Larry Fitzgerald First Down Fund.
This month, Dominick's Steakhouse hosts two not-to-be-missed charitable evenings. The 17th Annual Night for Sight event takes place on Oct. 13. The annual event raises funds to create awareness and opportunities for blind or visually impaired children. Mike Mastro has a personal connection with the organization as his dear friend from childhood is the president of the foundation. Then, from 4 to 9:30 p.m. on Oct. 17, all food and beverage sales go directly to Make-A-Wish. The event takes place during the board's annual Phoenix convention. "Whether it is general public or the people from Make-A-Wish in town for the convention, come to dinner at Dominick's and Dominick's donates proceeds from that dinner," says Badgio. "It is all for a spectacular cause."