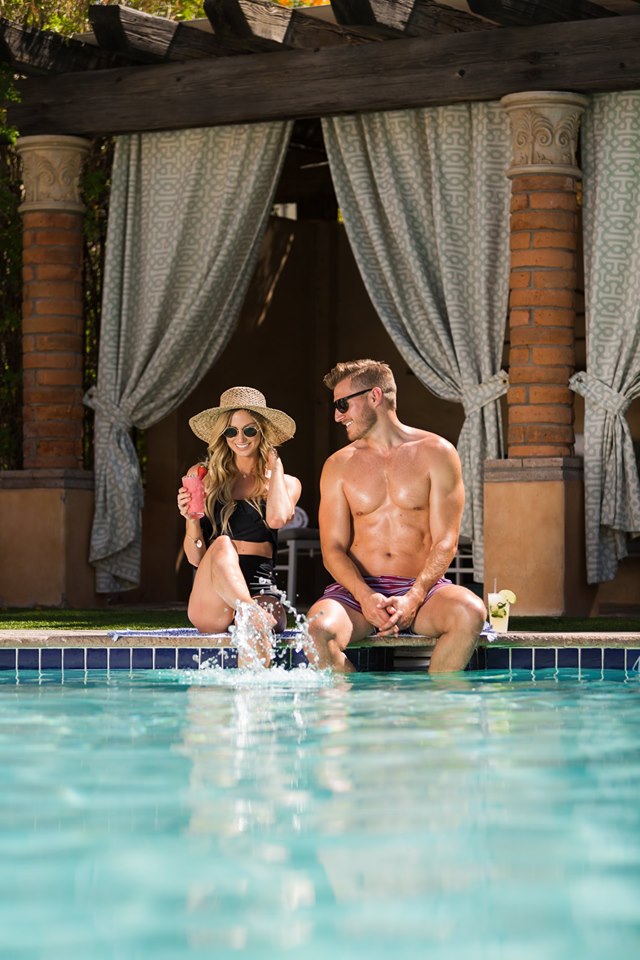 Is the sight of pumpkins at your local grocery store having you mourning the end of summer? Don't throw in the (pool) towel just yet, as Royal Palms Resort and Spa is offering a wallet-friendly special and some delicious fun in the sun through Labor Day.
Guests can save up to 20 percent on advance purchase bookings (book by August 27) for vacation dates through Labor Day (Sept. 2.) Once you have your stay on the calendar, how will you fill your time during your so-long-to-summer respite? Though dinner at T. Cook's and a treatment at Alvadora Spa are both musts, we recommend reserving a cabana at the mother-of-pearl tile pool for sipping on icy cocktails and digging into a full menu of appetizers, entrees and sweets from the Cabana Cafe in the utmost comfort.
The picante margarita, with tequila, jalapeno, cilantro, agave and lime, is our favorite poolside sipper, offering a little heat, which we welcome even on a triple-digit day. And it doesn't get more "cocktail by the pool" than the Cabana Fever, with pineapple rum.
For lunch, the Cabana Cafe menu dishes up an array of options, from light and refreshing (like salads and smoothies) to heartier and indulgent (hello, beef sliders and cheeseburger). We adore the Garden Vegetable Salad, with the addition of salmon, which is bursting with color and crispness with tomato, kale, corn, haricot vert and a tangy cucumber-oregano vinaigrette. The shrimp taco is basically a staple of poolside feasting, and the Cabana Cafe option is divine and a favorite of the resort staff.
To cap off your poolside escape, how about an ice cream sandwich? Because what is the point of a summer staycation if you can't finish it off with dessert.