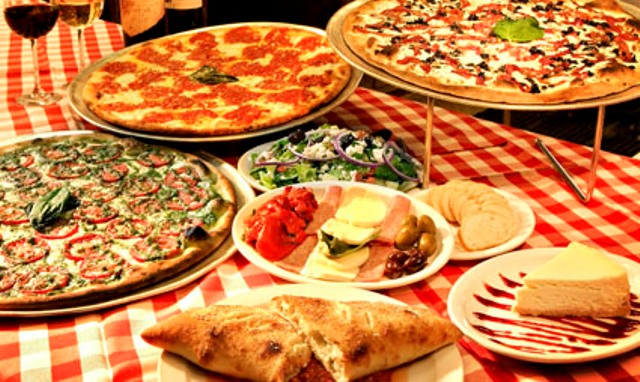 I've made it no secret on this blog how much I adore Grimaldi's and its super-yum pizzas. So, I asked Grimaldi's Executive Chef Cory Lattuca to provide a few pizza-making tips for at-home chefs.
• High-quality ingredients – It sounds obvious, but the better the ingredients you start with, the better your finished product will be. Whole mozzarella, crushed Italian tomatoes (no need to make sauce, you can add the herbs and seasoning at the end), freshly grated parmesan, meats from the deli counter, fresh vegetables and herbs. If it tastes great on it's own, it's going to taste great on your pizza.
• Pizza Dough – It all starts with the dough. The more time you spend here, the more you will be rewarded later. If you don't have the time or skill to make your own dough, call your local pizzeria. They can usually sell you some dough.
• Pizza Stone – Pizza begins and ends with crust. If you want the crispy yet chewy crust you are craving, get a pizza stone. They are relatively cheap and easy to find and you can leave them in your oven all the time, no need to move it when not in use. Using a pizza stone is also a great way to heat up your Grimaldi's takeout the next day.
• High Heat – Crank your oven all the way up. High heat is essential to the perfect combination of chewy and crispy. Make sure you keep a close eye on it though, It won't take long to cook.
Tasty combinations to test out:
• I try and stick with contrasting flavors on my pizza – Spicy Italian sausage and roasted sweet peppers. Sweet Italian sausage and spicy cherry peppers. Garlic and prosciutto with arugula (the richness of the proscitutto and the bitterness of the arugula is phenomenal). Kalamata olives and salami.
• Play around with what you like. It's hard to go wrong with a pizza!
Want more at-home cooking ideas from Valley chefs? Let us know what you want to cook up at @AZFoothillsFood on Twitter!