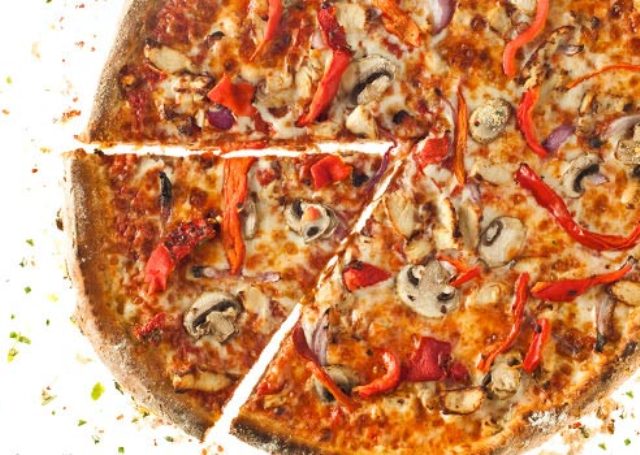 If you're anything like me, a new pizza place is always welcome. Lucky for Valley residents, New Orleans-based Naked Pizza has chosen Phoenix as the site for its new corporate development hub. Score! The company–known as the national all-natural pizza franchiser–plans to build and operate at least 12 store locations. Six of the 12 locations are planned to open by the end of 2011, with the first making its debut this month at 4747 E. Elliot Road. Naked Pizza will also open a franchisee training facility in the Litchfield Park area.
Don't worry, fast food-phobics. Naked Pizza isn't just another run-of-the-mill, unhealthy dining option. Naked Pizza's mission is to demonstrate by example that fast food can be a part of the solution to the global epidemic of obesity and chronic disease related to diet. "Our recipe is based on a 200,000-year-old nutritional blueprint and is meant to achieve two primary health goals: reduce the amount of insulin and improve digestive health in consumers," says co-founder Jeff Leach (Leach is an expert in ancient diets and nutrition). "By doing so, we're helping our customers reduce vulnerability to infections that have been found to contribute to obesity, diabetes and cardiovascular disease. But it's still the delicious pizza we know and love. "
To contribute to its healthy appeal, Naked Pizza's all-natural pizza features an Ancestral Blend crust made with ten grains and seeds, prebiotic-fiber and heat-resistant probiotics (healthful bacteria commonly found in yogurt)—a diversity of ingredients that contribute to a slow, sustained release of energy without the crash resulting from consuming other single-grain, highly processed pizzas. The recipe also boasts an herbed sauce void of added sugar or citric acid, 100 percent natural and rGBH-free mozzarella cheese, and all-natural vegetable and meat toppings free of additives, hormones and antibiotics. "Fast food doesn't have to harm people," says co-founder Robbie Vitrano. "We've created a business model centered around changing the nutritional profile of this $40 billion global carry-out and delivery pizza franchise industry. We're reaching the masses in order to help people, globally, prevent obesity and live healthier lives." http://www.nakedpizza.biz/.