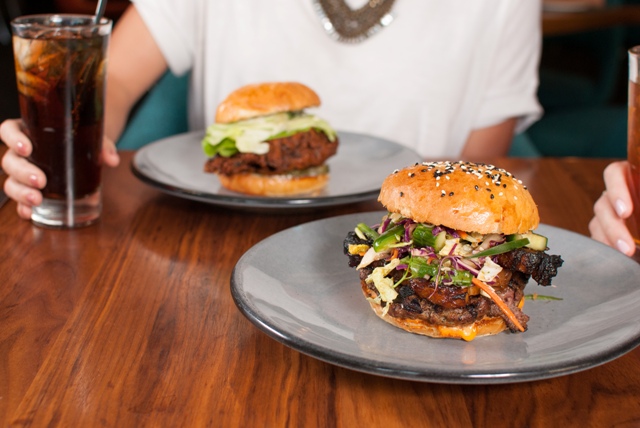 ZuZu at Hotel Valley Ho has long been a Valley favorite for its comforting classics in a retro-cool setting. Recently, the restaurant unveiled several tasty new menu items to its fall lineup, including burrata with grapefruit, mint pesto and sourdough crostini, and a 60-day dry-aged pork porterhouse with candied kombucha squash and brussels sprouts for the dinner crowd.
For lunch, the restaurant is taking on a few trendy eats with the Korean BBQ burger (pictured) and Nashville Hot Chicken sandwich. We sampled the burger during a recent lunchtime visit; this burger is piled high with flavor and sambal aioli, jalapeno cabbage slaw, pickled red fresnos, pork belly and hoisin BBQ on a sesame seed bun. This over-the-top burger was crafted by Angel Rubio, who won the ZuZu burger battle. We also loved the new Hawaiian Ahi tuna poke bowl for a lighter lunch, with pickled veggies, scallion, fresh avocado, furikake, soy-sesame sauce and creamy chili sauce; again, ZuZu took a trendy food item and made it its own.
If you feel like straying from the famous Show Stopper shake (the November offering is pumpkin spiced salted caramel with a salted caramel rim with pie crust crumble, fall spice whipped cream, a slice of pumpkin pie, pumpkin spice crystals, cinnamon marshmallow and soft caramel squares), the new dessert bill features the Troubled German Chocolate Cake, a chocolate sponge cake with German chocolate filling, graham-pretzel crust, espresso cheesecake, buttercream and ganache; and the classic baked Alaska, with almond cake, roasted pineapple sorbet, cherry ice cream and toasted meringue.