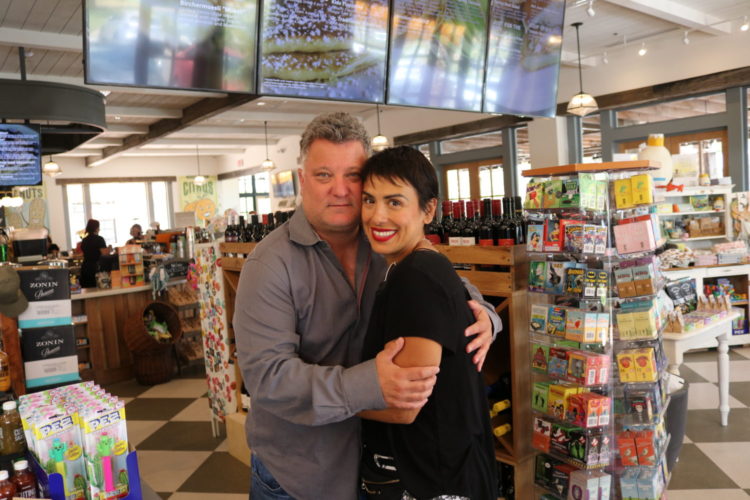 Ken Schnitzer is a Phoenix native and CEO and founder of the local restaurant group, Luci's Urban Concepts. Schnitzer began his career at his parent's business, Custom Food Service. After much success, Schnitzer took over the marketing department and eventually the entire business, but in 2009, he found his true passion. He and his wife, Lucia (pictured with Ken), opened Luci's Healthy Marketplace, named after his wife, a breast cancer survivor. The marketplace represents her good health, happiness and friendship. Since then, the husband and wife and their partner, Jerry Mansoor, have created Luci's at the Orchard, Splurge at the Orchard, Pomelo at the Orchard and their newest concept, Luci's at the Grove. We caught up with Schnitzer to learn more about the group's history, mission and identity.
AFM: What inspired you to begin Luci's Urban Concepts? 
KS: My wife's Lucia (a k a Luci's) brave battle with breast cancer. It was one of those times in life that makes you take stock, and we saw that we wanted to do something we truly love and contributes to our community. We wanted to provide healthy healing food to guests, with a warm community atmosphere while sourcing local ingredients and marketplace items. Launching any new business is difficult and scary and restaurants have a high failure rate. But battling cancer and winning teaches you that living the life you want is way better than worrying about what might happen.
AFM: Have you always been interested in culinary? Tell us about your life before the start of Luci's Urban Concepts.
KS: My parents started Custom Food Service, a local food distributor in 1977. I worked in the family business and later owned it. I sold food to restaurants for over 15 years. It taught me a lot about how the business works and was a good foundation when I decided to put my heart into my work and open Luci's.
AFM: Tell me a little bit about the restaurant group's history.
KS: Lucia and I opened Luci's Healthy Marketplace in March of 2009.We care about our community and wanted to create a place where people come back again and again. It wasn't about opening another coffee bar or restaurant; it was about creating a gathering place where everyone was welcome. From there, we opened Pomelo in May 2016, Luci's at the Orchard in June 2016 and Luci's at the Grove in July 2019.
AFM: Where do you see Luci's Urban Concepts in the future? What are your goals?
KS: We are looking at locations in the East valley and northwest valley for future opportunities. Of course we want to grow this business, but wherever we go, we we focus on cultivating relationships with our neighbors, supporting local businesses and taking care of our surroundings. The original Luci's has become part of the North Central community and a true neighborhood hang out. That's what we want to create in every location.
AFM: What can we expect from Luci's Urban Concepts in 2020?
KS: Big things. More Luci's, more events at Pomelo, and more development of Scottsdale location.
AFM: What is the restaurant group's accompanying mission statement and values?
KS: Here at Pomelo and Luci's: "Servicing our guests is our love. They are our friends, family and community."
AFM: How would you describe your restaurant group's identity?
KS: Local, friendly, and unique community gathering places. While they come from all walks of life, our team and the people who come here are friendly, fun, and warm-hearted.
AFM: What can we expect upon visiting an Luci's Urban Concepts restaurant? 
KS: Warmth, friendship, nostalgia, good food, friendly service and a place that feels comfortable and familiar, whether you're a regular at a Luci's location or just coming into Pomelo for an event. You'll find food that's locally sourced and a staff that's happy, welcoming and truly cares. At Luci's you'll see friends hanging out — some of whom became friends at the coffee bar — families having lunch, and business people meeting. At Pomelo, you'll see people on date night, celebrating a birthday, participating in a company event or even having a wedding. 
AFM: Of course we must ask, what is your favorite dish from any Luci's Urban Concepts?
KS: We have four restaurants and each one has some unique menu items and specialty drinks.
Luci's Healthy Marketplace: Funky Monkey French Toast, Moment of Zen Smoothie.
Luci's at the Orchard: Turkey Lurkey Sandwich, Ice Brewed Coffee.
Luci's at the Grove: Lean Machine Bowl, Luci's Med Pomegranate Ice Brewed Tea. Pomelo: Brussel Sprouts, French Dip, Pomelo Vodka made locally for us in