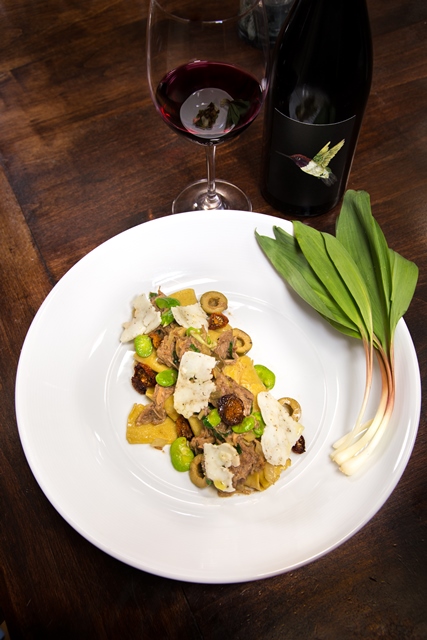 Starting this month, fall at LON's at the Hermosa Inn is hopping with beer dinners, cooking classes and much more. Read on to find out which delicious dates to put on your calendar. (To register for any of the following events, click here.)
Sept. 28, 6 to 9 p.m.: LON'S Presents: Sonoran Beer Dinner
Executive Chef Jeremy Pacheco welcomes Chef Keenan Bosworth, of Pig & Pickle, into the LON's kitchen to create a unique and memorable four-course dinner paired with local brews from Sonoran Brewing Company Brewing, the creator of Seven Wives Saison (named after the Inn's original owner, Lon Megargee and the seven wives he had in his lifetime). The chefs will double the pleasure of the selected craft beers as they will be incorporated into the menu as an ingredient and will be enjoyed as a beverage pairing.
$55 per person, plus tax and gratuity
Oct. 14, 11 a.m. to 1 p.m.: LON'S  Presents: "All Things Pork" Cooking Class
Join Chef Pacheco and his culinary team for a demonstration cooking class featuring all things pork (pictured). From belly to butt, learn about the different cuts of pork and how to prepare them in a variety of ways. Savor the flavors and the recipes during the lunch that follows the lively class.
$69 per person, plus tax and gratuity
Oct. 19, 6 to 9 p.m.: LON's Presents: Del Bac Whiskey Dinner  
Chef Pacheco welcomes Cullen Campbell, owner and chef of Crudo and Okra (co-owner), to team for one night to highlight Tucson's Del Bac Whiskey from Hamilton Distillers. Enjoy a menu focusing on a whole pig, from E&R Pork in Tucson, that has been fed on the mash from the production of Del Bac whiskey. Cocktail pairings will feature Del Bac's award winning Clear Mesquite Smoked Whiskey, "Dorado" Aged Mesquite Smoked Whiskey and LON's Private Barrel Cask Strength Unsmoked Aged Whiskey.
$75 per person, plus tax and gratuity
Oct. 29, 11 a.m. to 1 p.m.: The Hermosa Inn Presents: Sunday Brunch with Adriana Trigiani 
In partnership with Barnes & Noble, LON's presents a one-of-a-kind opportunity to enjoy an intimate brunch while being regaled by the reigning queen of women's fiction, Adriana Trigiani, followed by a book signing. Trigiani is the author of 16 New York Times bestsellers, published in 36 countries, including All The Stars in the Heavens, The Shoemaker's Wife, and Lucia, Lucia. She also wrote and directed the No. 2 romantic comedy of 2015, Big Stone Gap, based on her debut novel featuring Ashley Judd and Whoopi Goldberg. Her just-released Kiss Carlo has quickly soared on the best-selling lists.
$55 per person, plus tax and gratuity