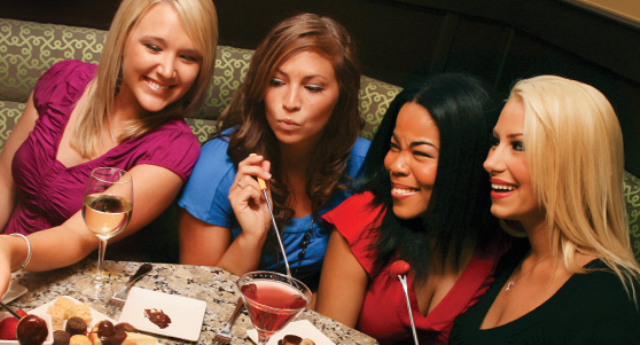 How hard can it be to melt cheese? Much trickier than you might think, especially when you really want to impress dinner guests. The pros at The Melting, the Valley's go-to for delish fondue, provides six tips for hosting your own fondue fete, followed by a tasty recipe to give a whirl.
1) Do not add water to cheese fondue. If it is too thick, add more of the liquid you used for the base. If it is too thin, add more cheese.
2) Keep the heat as low as possible so that the cheese doesn't become rubbery.
3) Wondering what to drink with your cheese fondue? Try more of the wine or beer you used as the base in the recipe!
4) When making cheese fondue, ensure that only small portions of cheese are added then stirred consistently to avoid the "cheese ball" that can form in the center.
5) Have fun experimenting with new dippers – giant black olives, cornichons (sweet pickles), summer sausage, apples, carrots, cauliflower, broccoli, artisan breads are great ways to have the kids try new things!
6) When cooking with Fondue Bourguignonne (canola or cooking oil) or enhanced broth, too many fondue fork in the pot at one time will lower the temperature of the oil and cause the meat to cook improperly.
Zesty Cheddar Fondue – Serves 4-6
2 ¾ cups shredded cheddar cheese
3 tablespoons all-purpose flour
1 cup beer (we recommend light lager)
4 teaspoons prepared horseradish
2 teaspoons Worcestershire sauce
4 teaspoons dry mustard
2 tablespoons finely chopped bacon
2 teaspoons freshly ground pepper
1 tablespoon scallions
Toss the cheese with the flour in the bowl. Place a metal bowl over a saucepan filled with 2 inches of water. You may also use a conventional double boiler. Bring the water to boil over high heat. Reduce the heat to medium and out the beer into the bowl. Press the liquid from the horseradish. Stir the horseradish, Worcestershire sauce and mustard into the beer using a fork. Cook for 30 seconds, stirring constantly. Add half the cheese and cook until the cheese is melted, stirring consistently. Add the remaining cheese a small amount at a time, stirring consistently in a circular motions after each additional until the cheese is melted. Fold in the bacon and pepper. Pour into a warn fondue pot and keep warm over low heat. Garnish with scallions.
Note – the cheese is shredded and tossed with flour to aid in thickening and to improve the viscosity of the fondue. The fondue should be the consistency of warn honey when completed. Monitor the cheese carefully as it is being added. Not all the cheese may be needed and in some cases, more cheese may be needed to reach the perfect consistency.