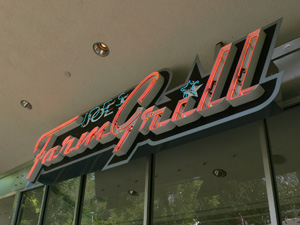 Joe's Farm Grill, in Gilbert, is one of those spots you have to check out as the weather begins to cool. It's incredibly family-friendly, as the kiddos can run around outdoors while the grown-ups enjoy delicious farm-fresh eats on picnic tables beneath a canopy of trees. If that doesn't sound enticing enough, Joe's Farm Grill has another incentive to stop by this month: Joe's Farm Grill is featuring some unique, worldly hot dog combinations throughout the month of September. They have developed 14 different hot dogs, along with their normal hot dog offering (which is delish, by the way). They use all beef, natural casing hot dogs.
Here's this month's hot dog lineup:
1. The Hawaiian
2. The Asian
3. The Cobb
4. The Carolina
5. The 3B
6. The Sonoran
7. The Cordon Bleu
8. The Swedish
9. The British
10. The Trailer Park
11. The Spanikopita 
12. The Reuben
13. The Mediterranean
14. The Buffalo
There is also a breakfast hot dog. Joe's will feature two specialty hot dogs each day, and they will rotate daily so that in a week's time, one can partake of all of them. Calendars will be available in the restaurant and on-line so customers can plan their visits. To go with the hot dogs, Joe's is also serving up freshly squeezed lemonade and strawberry lemonade during the month of September. 3000 E. Ray Rd., Gilbert, 480.563.4745, http://joesfarmgrill.com/.