As promised, here are a few more delicious highlights from my recent holiday in New York:
4. Ferrara. This dessert mecca in Little Italy dishes up superb cannolis, incredible cheesecake (one of my friends had one AND a half pieces of this decadent treat) and cappucinos. Plus, there are plenty of gorgeous wedding cakes on the display that, alone, will make your mouth water. I recommend ordering the dessert trio–this way, you can get a bite or two of three desserts. Read: Much friendlier on your hips–especially after consuming pizza slice after pizza slice because, well, that's a must–and your wallet. PS Little Italy is such a festive place to visit during the holidays–restaurants are decked with stunning wreaths and white twinkle lights are strung from building to building.  www.ferreracafe.com.
5. Butter cookies at A&G Bakery. This goodie is located in North Babylon on Long Island. Whenever my family visits, we always stop here for their incredible butter cookies. The smell of these cookies, the sprinkles, the softness–I love everything about them. I even brought a few boxes home for my family. They loved me for it. www.agbakeshop.com.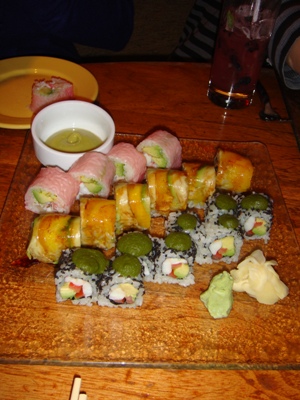 6. Sushi Samba. We met up with my Brooklyn resident sister-in-law at this gorgeous sushi spot. It was a recommendation by her co-worker and, boy, was it a good one. (She later told me this hot spot was featured on Sex and the City.) Here, we feasted on virgin cocktails (the watermelon mojo was yummy, with chunks of ice cold watermelon) because my underage sister was in tow and ate roll after roll of sushi. We loved the Samba Rolls, in particular: Pacific, Maya and Rainbow Dragon. The latter of which was my fave and featured freshwater eel, avocado, mango, cucumber and red bell pepper. The coconut rice was also killer. And if you stop by during your next NYC jaunt, do not miss Sushi Samba's restrooms where you can admire the restaurant's shochu and wine collections. www.sushisamba.com.
7. Virgil's barbecue. Trainwreck fries. Melted cheddar cheese. Smoked bacon. Pickled jalapenos. Ranch dressing. 'Nuff said. (Surprisingly, I'm not even a huge fan of the last three ingredients but this appetizer rocks!)
And a few more, for good measure:
8. Soft pretzels (for me and my pregnant best friend who cites this as her top craving) and chicken kebabs (for my husband) from street vendors.
9. Snowflakes! It snowed on the last day of our vacay, and it's been quite a while since I let snowflakes flutter on my tongue.