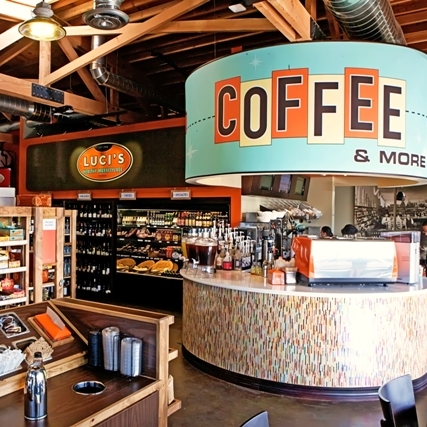 Just three and a half months after opening, Luci's Healthy Marketplace in Phoenix was damaged when a fire ravaged its neighbor, Richardson's, in July 2009. To thank its faithful customers, the re-opened restaurant (they opened their doors again in October) will host a Customer Appreciation Day on Sunday, July 18. Luci's Healthy Marketplace will dole out free house coffee and tea from 8 to 10 a.m. and a 10 percent discount on all marketplace and coffee bar items from open to close. Guests can also expect live music, a fortune teller, kid's activities like free  face-painting and milk and cookies and delish Wicked Bakery samplings. Luci's gift card raffles will also take place during the day.
Luci's is also celebrating with the introduction of four new menu items:
Krabby Pants Omelette: Lump crab meat, smoked salmon with sautéed asparagus, roasted red bell pepper, spinach, chives and Gruyere cheese served with country spuds.
Quesadilla: Melted mozzarella, red onion, and tomato folded in a sundried tomato tortilla with a side of sour cream and tomato cilantro salsa.
Big Boy Breakfast: Three eggs scrambled with your choice of bacon, sausage or ham served with breakfast spuds, seasonal fruit and choice of white or multigrain toast.
What's in the Po'Boy?: Seared fresh fish of the day served with lettuce, tomato, pickled red onion with a wasabi aioli.
For more details and times of specific events, visit http://www.lucishealthymarketplace.com/.